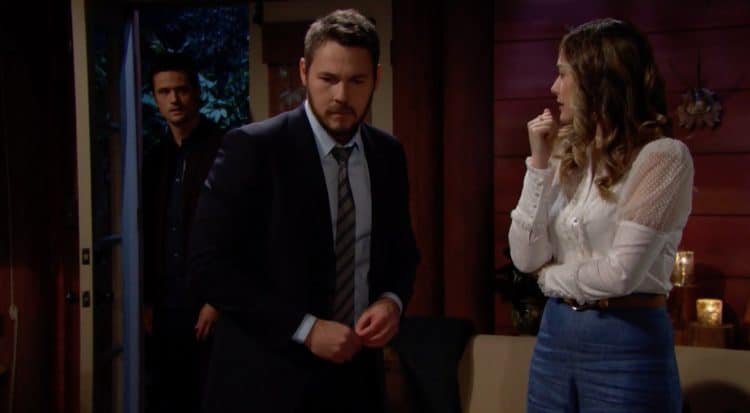 Bold and the Beautiful fans are not surprised that Ridge doesn't love what he heard. He knows that Liam went and asked Hope to marry him, and we know that he doesn't like this idea. Of course he doesn't like this idea. It's not a good one. He's not a fan of this. He has always believed that Liam's choice should be Steffy, and he couldn't do a lot about it when Steffy decided last year that she would do the only thing she knew to do and take herself right out of the running. There is nothing he can do about that, but he can continue to hope that his daughter will see things his way and fall for the father of her child again. He's not happy that Liam is back to taking himself off the market for Hope, and he's making it clear.
However, no one is as unhappy about Liam's proposal than Thomas. He's furious. He's beside himself. He thought he made himself very clear when he told Liam to back off, leave him alone, and stay out of his way. Apparently, he was not clear enough now that he knows what Liam went and did. Even though his own sister just talked to him about his plan for Hope, he doesn't care what anyone else thinks and how they feel about any of this. There is nothing that will make this situation easy on any of them, and it's going to be a problem for so many people. We know this because there is nothing else that will work out for him, but he's going to make Liam's life miserable from this moment on, and we can see it getting very ugly before it gets any better in the future.
What's Happening on Bold and the Beautiful
What do you think Hope will say? #BoldandBeautiful

— Bold & The Beautiful (@BandB_CBS) January 7, 2020
She's too overwhelmed by all of this.
What's Next on Bold and the Beautiful
Liam gives Hope a proposal AND an ultimatum. 💍 Don't miss it this week on #BoldandBeautiful. pic.twitter.com/s73w1YjOkY

— Bold & The Beautiful (@BandB_CBS) January 5, 2020
Thomas is not a man who really loves Hope. Oh, sure, he thinks he really loves her. He doesn't. He loves himself and he wants her. It's not about her at all. It's all about how he feels about her, and the simple fact is that he wants her in his life, and it doesn't matter at all how she feels and what happens when she is hurt. Right now, he's setting her up to end up very hurt, too. He's going to use his own sister in a plan that he's hatched to make it clear to Hope that Liam is not the man for her, and nothing is going to change that. He has a plan, and it will hurt Hope, but he's not worried about that so long as she comes to him. He doesn't even care if it has anything to do with love.
Then there is Brooke, who is ready to have Ridge come home. They both think that they have nothing else to worry about when it comes to Thomas and Hope, and they both know that it was the only thing that was causing them to sign divorce papers, anyway. But, of course, this will last about a half a second before they find out the truth and things really do turn around for them again. And we do not mean that things are going to turn around for the better, either. They won't. This is not how they work. They are not going to get anything positive from this. It's going to end poorly, and we can see it now.
Stay tuned for more The Bold and the Beautiful and be sure to check out TVOvermind daily for the latest The Bold and the Beautiful spoilers, news, and updates.