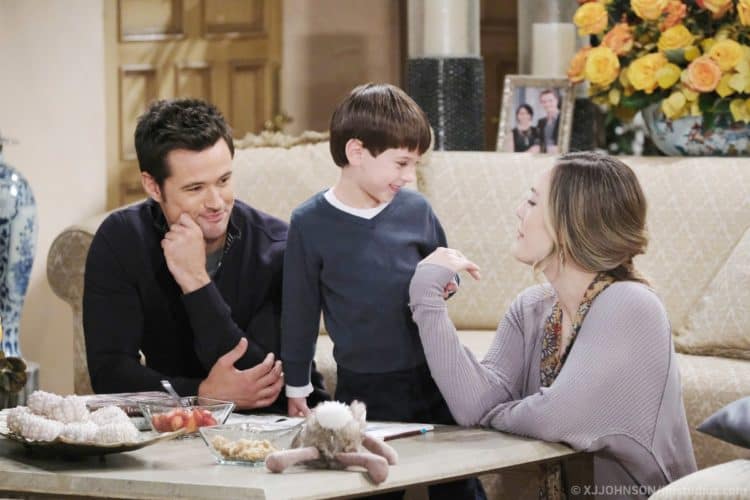 Bold and the Beautiful fans know that Quinn and Shauna have such a history together, but we didn't know just how much of one until they went on and on about it today. Shauna decided to confide in her friend about her life and what that was like for her in the moment, the moment when she kissed Ridge, that is. She has feelings for him, and her friend once had feelings for him, too. She wanted to share that with someone who still supports her and wants to be on her side even though everything that happened did happen. She's not someone who wants to lose her friendship, but she is a person who wants to be with her friend and support her. They had a fun ride down memory lane with one another, and they are clearly bonding about things that might not make much of a difference to them. For now, we will see that bond grow stronger.
Meanwhile in LA, we are also in the middle of a situation where Brooke is going to tell her husband how much she misses him. They will share a tender moment because of this, but we know that it didn't last long. For one, she told him that she misses him and their marriage, and that she loves him, but not enough to actually focus on her marriage without trying to destroy his son's life by taking his own son from him and giving him to her daughter to raise with Liam. She's not backing down from this, and she had to know that Ridge would never be okay with that. He's shocked by her attitude and her way of thinking, but we are not. This is classic Brooke, and anyone who disagrees is beyond insane about it.
What's Happening on Bold and the Beautiful
Just when you thought our Halloween posts couldn't get any cuter…Don't miss all of the costumes this Thursday! #BoldandBeautiful pic.twitter.com/ZHg652l4P7

— Bold & The Beautiful (@BandB_CBS) October 29, 2019
We love seeing our favorite stars all dressed up.
What's Next on Bold and the Beautiful
https://twitter.com/BandB_CBS/status/1188455308483428353?ref_src=twsrc%5Etfw
Halloween is going to be crazy in LA, and most of that has to do with the fact that Eric and Quinn are hosting a party for everyone. It's going to be quite a party since Brooke and Liam decided not to attend, though Hope is there to see if she can get Thomas to sign paperwork giving her half the custody of his son. She is doing this despite the fact that Liam and her mother both feel it's a terrible idea for her to be there doing this, but she's trying. Meanwhile, Ridge and Shauna are there and they are going over their kiss again. We think they both liked it, and it's not going to be that much longer before Ridge is fully invested in a future with this woman who is clearly not his wife. Especially since Quinn knows about it, and we all know how much she detests Brooke.
There is Liam, too. He has his daughter, Beth, and he is taking her to spend the evening with her sister, Kelly, and with Steffy. We don't know if Hope knows that her daughter is spending her first Halloween with another woman who was her mother for so long or not, but she is the one who chose to spend the evening away from her family even though Liam begged her not to. This is her choice, and we can see that this might just ruin her own future with her own family. We get it, but we don't have to like it for her.
Stay tuned for more The Bold and the Beautiful and be sure to check out TVOvermind daily for the latest The Bold and the Beautiful spoilers, news, and updates.