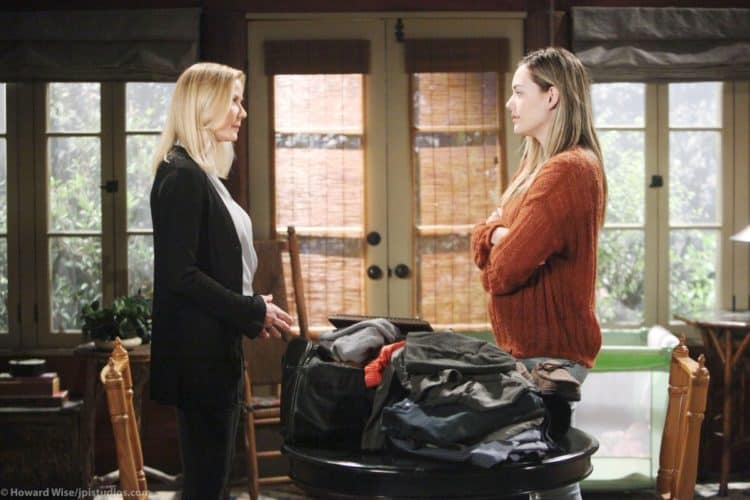 Bold and the Beautiful fans know that there's nothing that will make Hope happy. She is simply a woman who wants it all. While we typically don't have any issue with people who want it all, we have a small issue with the fact that she wants to take one man's child from him, be married to another man, have that man ignore his firstborn and her mother, and she wants to have the man whose son she took fall for her and pine over her and tell her how special she is without actually giving him the time of day and allowing him to move on. She just wants everyone to love her, and she wants what she wants. You can't fault her for that, but you can fault her for being nothing short of entirely selfish considering she's usually unwilling to do anything that's even remotely close to making sacrifices.
She's already spent the first day of the week crying to her mother. She wants to marry Liam, but she doesn't want to give up Douglas to Thomas. She wants to keep her 50 percent custody of this child who is not hers. She also doesn't like that she sees Liam spending time with Steffy and Kelly, even though Kelly is his daughter and his firstborn. She's thinking that things are more than they are — and we all know she has Thomas to thank for making it seem like Liam and Steffy have more going on than they do — but she's crying to her mother about it, and that's a big problem. That's a big problem because we all know that Brooke handles things like that. Poorly and behind everyone's backs and with the desire to make a giant mess of everything in everyone's lives. It's her game.
What's Happening on Bold and the Beautiful
https://twitter.com/BandB_CBS/status/1215349226168709120?ref_src=twsrc%5Etfw
We are a little bit over her dramatics.
What's Next on Bold and the Beautiful
https://twitter.com/BandB_CBS/status/1213837559811362816?ref_src=twsrc%5Etfw
It looks like the day none of us have been looking forward to is here, and that's not good news for Sally more than anyone else. Flo is home from her 'stint' in the hospital after her big surgery, and her mother is going after her to make sure she gets what she wants in life. Shauna just does not feel that lying to her boyfriend from the moment she met him and continuing that lie until someone else called her out on it — a lie that involved faking the death of his own brother's baby and then stealing it, selling it to Steffy, and then watching a divorce, a family fall apart, the heartbreak and devastation, and saying nothing about it — is enough to stop a man from loving her. We are inclined to disagree on this one tremendously, but whatever.
She's back, her mother wants her to fight for Wyatt, and no one seems to care that Wyatt is engaged to be married to Sally. It's weird to us. Steffy is not going to be very happy, either, when she sees what Sally is working on for the fashion show. None of her work is what Steffy thought it might be, but we can see how Sally might be more than a little bit distracted and unworthy in the moment. She's got some big issues in her life, and she's allowing this situation to be more than what it is, which is very rarely ever good news for anyone. We want more from this, we really do.
Stay tuned for more The Bold and the Beautiful and be sure to check out TVOvermind daily for the latest The Bold and the Beautiful spoilers, news, and updates.
Tell us what's wrong with this post? How could we improve it? :)
Let us improve this post!