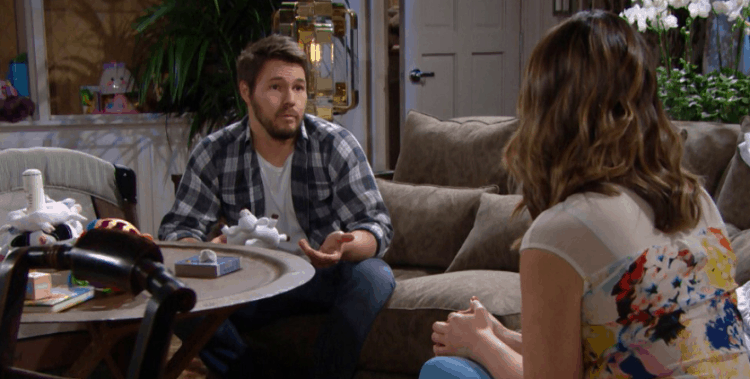 The Bold and the Beautiful fans are not even remotely surprised that Liam would come and confront Thomas about what he is up to. He can't fault him for loving Hope with her sweet personality, but he can fault him for wanting to interfere in the lives of a married couple so that he can get what he wants. It's not good news, and he should have seen this coming when he told Hope about his feelings. There are few things that Liam is going to tolerate at this moment, and this is one of those things. We cannot wait to see how this unfolds, but we suspect that there is not a chance that Thomas will fall back in line and leave Hope to her own devices. He wants to be with her, and he will do anything he can to make that happen. But, how much is Liam going to fight to save his marriage when Hope doesn't seem to know what she wants, either?
Flo is learning all kinds of news things, and one of those things was that Sally moved out of her home with Wyatt. She moved out because she was in on Thomas' secret and Wyatt is not a fan of her being friends with Thomas despite the fact that he gets to be friendly with Flo. That's different, in his mind, and she's not living this kind of life where she cannot do what she wants while he does what he wants, and she's not living with the drama that his mother brings to the table. She's not going to be a pawn in Quinn's life, and Quinn is just celebrating this victory. But, how does Flo feel about it? Is she happy that he is free and clear for her to take?
What's Happening on The Bold and the Beautiful
Or so they think… #BoldandBeautiful pic.twitter.com/KifeWicCVX

— Bold & The Beautiful (@BandB_CBS) May 8, 2019
That's rich, right?
What's Next on the Bold and the Beautiful
https://twitter.com/BandB_CBS/status/1124675043194175488?ref_src=twsrc%5Etfw
Liam and Thomas will continue to fight over Hope, and we don't know how she feels about this. She is not one much for conflict, but she's also not doing that much to stop it. A simple, "You need to respect my marriage and leave us alone," would go a long way, but she's allowing herself to lead him on and make it seem as if she might just entertain these thoughts. We think she's playing a very dangerous game right now, and she knows that is the truth. For now, though, there is a lot we don't get. We don't, for example, get what she is trying to do in other manners of speaking, but they will continue to fight over her while she acts as if she is not sure what to do and her vows are just words that she can break so that she can have anything she wants in her life.
Sally is not happy when Quinn goes out of her way to tell her that she's happy Sally is no longer in her son's way. Sally might not like Quinn and she might not be with Wyatt anymore, but she's not about to let this woman walk all over her, and she will tell her about herself. We know that they are wrong not to be together anymore, and Quinn is a large reason they are not. But, we hope that they can figure this out, get back together, and live happily ever after.
Stay tuned for more The Bold and the Beautiful and be sure to check out TVOvermind daily for the latest The Bold and the Beautiful spoilers, news, and updates.