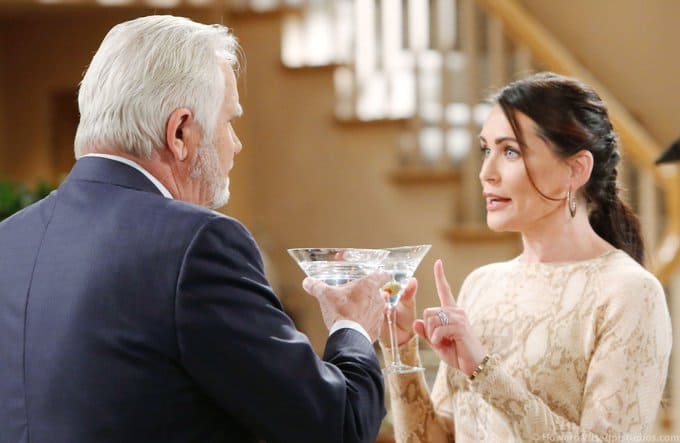 Bold and the Beautiful fans saw a little bit of everything last week. We saw that Liam and Hope got married again with little Douglas' help and his plans. We saw that they seemed happy to have their family back together, but they won't last. He's into Steffy again, and Hope knows this. His time spent with her and their daughter is going to bother Hope a lot as she just wants him home with her and their daughter, and she will become the jealous bothersome type that he is not down with. This is not going to last. Brooke and Ridge made their marriage a good one again when he moved back into his home, but not before Bill had the desire to interrupt their romantic and passionate night with one another. They had it all going on, but he simply could not handle it.
Bill cannot stop thinking about Brooke, but he loves her sister and needs to be with her as she continues to recover from her surgery and her illness. His son is in love with one woman, living with another and trying to keep secrets that are really big and really strong. Things are tense with Sally and Wyatt seeing as he is not being honest with her about why he came back to her and he knows she is not being honest with him about her health. He's meeting with Flo behind her back, Flo's mom is a mess, Quinn is using information she got from her friend Shauna to destroy the marriage between both Brooke and Ridge, and everyone is tense and on edge right now. We get it, we see it, we feel it, and we just don't know where any of it is going in the new week we are about to enter.
What's Happening on Bold and the Beautiful
Quinn becomes ecstatic when she finds salacious evidence that will destroy Brooke! WATCH FULL EPISODE: https://t.co/QR2Qzvw61g #BoldandBeautiful pic.twitter.com/1XpiHunhdS

— Bold & The Beautiful (@BandB_CBS) March 20, 2020
She's feeling good.
What's Next on Bold and the Beautiful
Brooke and Ridge's love is stronger than ever, but will it last? See if Ridge finds out about Brooke's secret kiss this week on #BoldandBeautiful! pic.twitter.com/O8ZCsToR8Z

— Bold & The Beautiful (@BandB_CBS) March 15, 2020
This is going to be a very interesting week. We feel that there is going to be a lot going down, and we think it will start with Donna sees her sister doing something awful. We think that we are about to see Donna see her sister have an intimate moment with Bill, and we think that will get out. She's going to see her sister betray Katie, and since we all know that Brooke and Bill are making things very inappropriate as it is, there is nothing else we can see happening there. For now, though, we just have to see this for what it is. It's a mess, and it's not going to get better anytime in the near future. But, we also know that Quinn is going to learn something.
She's going to learn something that will help her destroy Brooke, which means there is a chance she's going to hear what Brooke and Bill are doing from Donna. It might be a stretch, but we know she'd use that and love that, and do all she can with that to make her own life seem more interesting. She's on it, though, and this is not going to end well for so many people. On the other side, we also know that Sally has to tell Wyatt the truth as her doctor is in town and making some house calls to visit the terminally ill patient. This is going to crush her, but we know she will be surprised when he is willing to quickly point out that he is with her until the very end. This is not something good.
Stay tuned for more The Bold and the Beautiful and be sure to check out TVOvermind daily for the latest The Bold and the Beautiful spoilers, news, and updates.