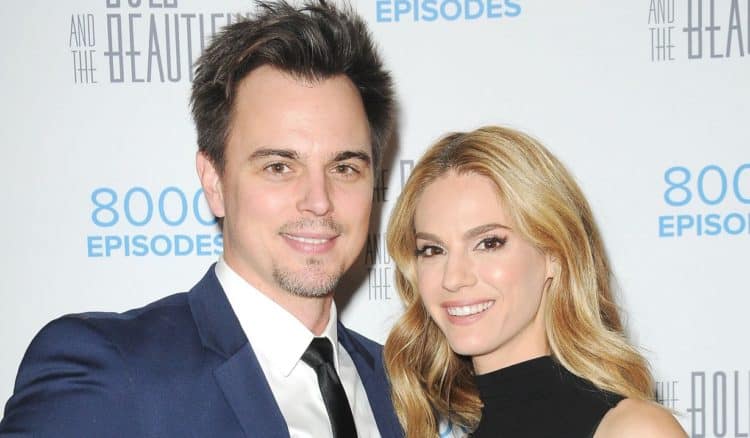 Bold and the Beautiful fans love when things work out so well for us, and this is one of those weeks. There's a lot going on in LA, of course, but there is a lot going on outside of the show, too. There are new babies, there are new faces, and there are new things popping up and around everywhere we look. So, we thought we might spend a little time catching you up on the latest and the most exciting news that is going on around here. We will begin with our favorite news story of the week, and we will go on from there to some other exciting stories from the week ahead.
There's A New Baby in Town
We all want to wish a major congratulations to the talented Darin Brooks and his wife, Kelly Kruger, who both have roles on daytime television. You might recognize him as the lovely Wyatt, and you might recognize her as the lovely actress who has taken on roles on Young and the Restless and other shows — sometimes even working alongside her real life husband. They pair welcomed their own first child, and they call her Everleigh. Everleigh Jolie Brooks is her name, and she was born on September 22 in Los Angeles. She was a relatively large baby showing up at just over 9 lbs. and 21.5 inches long (or maybe that is a perfectly average size baby? I don't know…my last two are twins and they were 3 lbs. and 15 inches and 5 lbs. and 16.5 inches, so what do I know anymore?). We are so excited for this couple and their baby, who we have no doubt is entirely beautiful just like her parents. We wish them well, and we hope they both get to take some serious time to sit back and enjoy the baby that they are going to love the rest of their lives. It's time to enjoy the little things in life.
Tisha Campbell Is Here
We. Love. Her. We've always loved her in everything she's done, so that's not a surprise to anyone. She's talented, she's good, and she's so funny. Her new role on the show is a good one, too. She's getting to play Dr. Davis. We have no idea what this means for her or the people on the show, but we do know we cannot wait to see what her character has in store for everyone. She always brings it, and the fact that her job on the show is so hush-hush right now means she must be bringing something seriously good to the show. We don't know if she's a good doctor. We don't know if she's a bad doctor. We don't know if she is here to give some bad news to someone, or if she is here to help. We have no idea, and that's what is so exciting about her right now. She's here, but we don't know if we are meant to like her or not.
A Big Brother Contestant Shows Up
We don't know when it will air, but we know fans of Big Brother 21 will be very excited to hear one of their favorites is making an appearance on the show for some fun. Her name is Jessica Milagros, and she's someone who people love to watch. She's a gorgeous model, and she's recently shown a photo of herself sandwiched between favorites Ridge and Steffy, which means she's got at least one scene with them and maybe more with others. We don't know if she is here for a while, if she is only on the show for a day or two, nor do we have even a remote clue what she is doing and how it will work. What we do know is that she seems really excited about it, and we cannot wait to see it. She's not even the first Big Brother contestant to show up in daytime television, either, so that makes it further more exciting for all of us, and will be sure to let you know when we have some more information about when her episode will air — and if there is more than one.