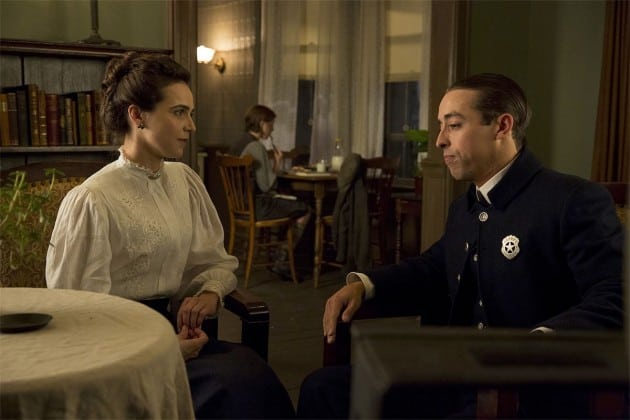 I don't cry too often when watching television, and I don't think I've ever started to tear up once during an episode of Boardwalk Empire, not even when Richard Harrow met his poetically tragic end in the closing moments of season four or during Chalky's final scene in last Sunday's episode. However, I'd be lying if I said that the ending montage to "Friendless Child" didn't make me incredibly emotional. For the first time throughout the show's run, Boardwalk Empire had me on the verge of tears, and it was due to what I originally thought was this season's biggest weakness becoming its greatest strength.
I'm talking, of course, about the flashbacks to Nucky's past, which throughout the first four episodes of season five, I found to be the least interesting parts of Boardwalk Empire's swan song. How could doubling down on a character that has easily been the stalest and most boring throughout the series' run (no matter how good Steve Buscemi is in the role) be a good idea of the show's final season? And it turns out that it wasn't a good idea–it was a brilliant one.
Despite everything else that is going on in the present on Boardwalk Empire right now, with Luciano, Lansky, and Siegel effectively taking over Atlantic City in tonight's episode, this final season of the series really hasn't been about which crime lord have claimed which areas or the switch in power from the older gangsters of the show's early years to the resourced and determined up-and-comers. No, what season five of Boardwalk Empire has been all about is the possible redemption of Nucky Thompson, as he has been haunted throughout these final episodes by the sins of his past.
But how does Nucky atone for his actions? Can he even be redeemed? Next week's series finale will tell us for sure, but we've seen Nucky begin to try to make things right, as he gives up his entire empire for the life of his nephew, Will, so that he and Eli can possibly repair their father-son relationship, or when he forces Joe Arthur (who some people have speculated is Tommy Darmody) to take the thousand dollars he gives him so that the kid can get the heck out of Atlantic City. Nucky has seen what has happened to not only himself but to those around him who have been dragged into this life, like Jimmy, who Joe acts as an echo of, an almost ghostly reminder of the young man that Nucky welcomed into his inner circle before things became so twisted that Nucky was compelled to kill the boy who was, in many ways, his own son.
However, it's not the memory of Jimmy that weighs on Nucky's conscience the most but that of his mother, Gillian, who we not only see as a young girl in flashbacks this week but also hear as Nucky reads her letter in the fantastic closing moments of "Friendless Child." It's this "original sin," Nucky giving Gillian to the Commodore, that he must find redemption for, as it was this action that not only initiated Nucky's corrupt rise to power but also set in motion the troubled and ultimately tragic lives of both Gillian and her son. While these glimpses into Nucky's history, especially the chilling, horror film-esque scene in the Commodore's house from tonight's episode, have proven that the Commodore is the real devil of this story, it was Nucky that sold his soul to him.
"There is forgiveness for everyone," Gillian writes in her letter. But is that really true for Nucky Thompson? And will he be able to find that forgiveness before he meets the same end as the Commodore, that devil that Nucky aspired to be, back when he was just a young, innocent boy sweeping the floor, trying to find any way to "get ahead"?
Other thoughts:
– As I said above, that final montage, with Gillian's letter and the cut scenes to her in the mental hospital before finally showing her again as that young, innocent girl were haunting and heartbreaking. That may be my favorite sequence that Boardwalk Empire has ever put together.
– I would have never thought that a season without my all-time favorite Boardwalk Empire character, Richard Harrow, could have been as good as this season has been. If Terrence Winter and his team stick the landing with next week's series finale, which I totally expect them to do, this could end up being my favorite season of Boardwalk Empire.
– R.I.P. Mickey and Nucky's bodyguard Archimedes. I wish we had gotten more time with Archimedes, but Mickey went out exactly how he should have–by not shutting his big mouth. His death was as fitting as Chalky and Van Alden's were last week.
– It's one thing to hear about the Commodore's pedophilia but to actually see it in tonight's episode, with that poor, poor young girl standing in that room alone, with Nucky assigned to return her home (with no more "compensation" or "inquiry"), somehow made the Commodore's disgusting behavior even worse. It was absolutely chilling.
– Just as Marc Pickering has been phenomenal as young adult Nucky, Madeleine Rose Yen was fantastic tonight as young Gillian, evoking the mannerisms and speech of Gretchen Mol without ever seeming like she was trying to do an impression.
– Only thing about this episode I wasn't really a fan of was the opening sequence featuring Robert Hodge. In an episode as fast-paced as this, with so much plot and story to tell, it was a smart way to give us a lot of information in a short space of time, but it just felt tonally off with the rest of the material in "Friendless Child."
– If you had told me a year ago that Gillian and Nucky's relationship would be the centerpiece of the final season of Boardwalk Empire, I would have groaned. However, it's ended up being one of the best decisions that Winter has ever made.
– Next week is the end for Boardwalk Empire. What do you think will happen?
What did everyone think of tonight's episode of Boardwalk Empire?
Photo via HBO