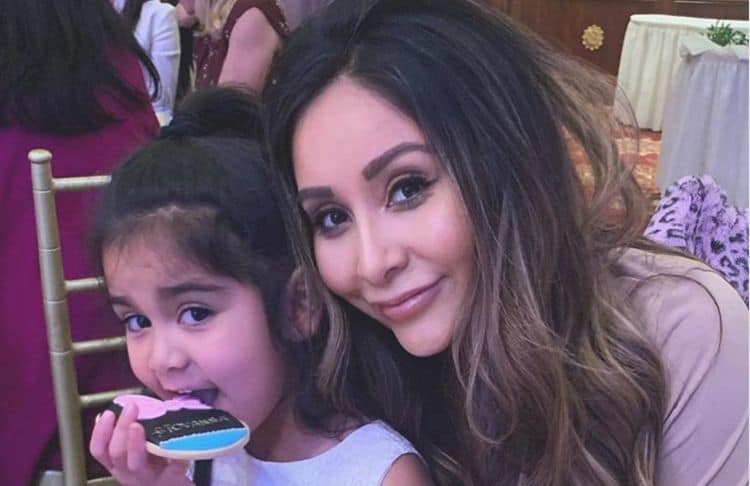 In the world of reality TV, Jersey Shore is an OG. Originally debuting in 2009, the show introduced the entire world to the culture of the Jersey shore and the cast quickly won over viewers' hearts. Even though Jersey Shore aired its final episode in 2012, the show's legacy was so strong that a sequel series was released in 2018 featuring almost all of the original cast. Since then, Jersey Shore: Family Vacation has continued to entertain audiences. Now that the cast is nearly a decade older, some serious changes have taken place in their personal lives. One of the most notable is the fact that Snooki is now a wife and a mother. Although she is devoted to her family, many viewers have wondered why her husband, Jionni, never appears on the show. Is it just a coincidence, or is there a real reason? Keep reading to learn why Jionni never appears on the show.
Where Is Jionni?
Snooki and Jionni's love story is the definition of reality TV gold. They met in 2010 while Snooki was filming Jersey Shore. In the fall of that year they decided to make their relationship official. Despite a few bumps in the road, the couple announced their pregnancy and engagement in 2012, and tied the knot two years later. Over the years though, Jionni has been notoriously absent from the public eye.
Of course, Jionni's absence on the show instantly made most people question the status of his relationship with Snooki. However, it looks like his reasoning for not being on the show has nothing to do with their relationship. In an Instagram post in 2018, Jionni explained why he wouldn't be on the show. He explained that he simply has no interest in being a reality TV star. Although he support Snooki doing the show, he doesn't like being on camera.
Jionni's dislike for the spotlight extends all the way social media. He does have his own social media accounts, but the vast majority of his posts are pictures of the kids that don't include him. He doesn't even like when Snooki posts him on her Instagram. During an interview, Snooki said, "Jionni just wants nothing to do with the spotlight and I'm like, 'Babe, when you marry me, sometimes we got to take pictures together. He's like 'Nah, I'm good.' I feel like, when people don't see us together in pictures it's like, OK, something must be wrong." After seeing some of the things celebrities have to deal with, Jionni's reluctance is totally understandable.
Snooki Calls It Quits
Fortunately for Jionni, he won't have to worry about anyone wondering why he isn't on the show anymore. A few months ago, Snooki announced that the third season of Jersey Shore: Family Vacation would be her last. During an episode of her podcast, she stated, "I just can't do it anymore…leaving my kids to film it is really, really hard on me… I try and quit every single day. The poor producers are like, 'Dude, are you going to quit this time?' I quit every single time we film because I just hate being away from the kids." On top of missing her family, Snooki also felt like the show had become too serious and dramatic. Putting up with drama in your early 20s is one thing, but once you hit 30 it suddenly becomes a lot less fun.
Snooki originally shared this information in December of 2019. Unfortunately, it doesn't look like she's changed her mind. It's going to be hard to get used to the show without her on it. It'll also be interesting to see how much longer the show lasts once she leaves. There's no denying the fact that Snooki is one of the most well-known cast members. One thing is for sure though, Snooki has definitely paid her reality TV dues.
Tell us what's wrong with this post? How could we improve it? :)
Let us improve this post!