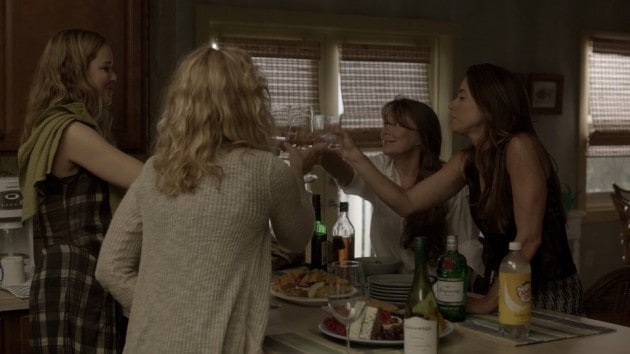 "Part 4" opens in a similar way to how Bloodline's pilot closes, as a boat filled with immigrants and  cargo is devoured by flames, all while three Spanish-speaking characters talk about losing the Coast Guard's tail. It is plenty clear that the immigrants being transported and, ultimately, killed had made it into the country illegally, and that the coyotes had to, for some reason, get rid of them. It is also easy to assume that Juanita Doe was on that boat. As dramatic as the case John is working on is, at this point, the crime is not Bloodline's strongest element; however, since the gasoline employed to set the ship on fire is linked to Eric O'Bannon and Danny, the connection between the dots has some potential plot development that could make the arc gain some traction.
In the meantime, on the family drama front, Danny is proving everyone wrong by excelling at his job helping with the business. He has been dedicated, responsible, and is liked by the customers, whom he engages with grace and charisma. Additionally, by restoring the old Chevy, he has scored points with Kevin, with whom he is even bonding. As a result, both Mama Ray and Kev tell Robert that he is earning a second chance, which is seconded by Meg at the hospital. In her case, however, it is hard to discern if she is trying to help her brother or is avoiding Marco knowing about her affair.
Nothing particularly big takes place in this episode, which is driven mostly by Robert's flashbacks of his dead daughter, Sarah, who he can't still let go of, even though everyone else seems to have moved on. With memories of the past filling his mind, Robert flat out tells Danny that he wants him gone. For good this time. He claims that trouble follows his eldest son, and that his absence is in everybody's best interest, which is partially true. It is palpable that despite Danny's efforts and most of the family being more open to welcome him to the fold, Robert can't forgive him for whatever part he had in his daughter's passing. Some relationships can't be fixed and don't work broken.
At the sight of a check given to him by his father in exchange for his exile, Danny first looks disappointed, and it is heartbreaking. He questions Papa Ray about deserving another shot. "I'm your son," he reminds him, with no success. His plea rings genuine and heartfelt, but then, in a nanosecond, the black sheep of the family turns exactly into the villain everyone thinks him to be and declares that father and son are in a negotiation. He dares Robert by announcing that "the price is not right" and asks him to sit at the table until it is. The patriarch, half-defeated but still holding on to some sort of dignity, blatantly tells Danny to give him his price in the morning. He will wire the money to him. The scene was pure emotional chess; every move was brilliant, exiting, and devastating. Mendelssohn and Shepard made me switch teams over twenty times.
While the men where exuding testosterone by engaging in different activities (crime solving, working at the marina, fixing the truck, watching baseball, etc.) the women of Bloodline decide to have a girls' afternoon, which, for the most part, acts like a filler, except for a brief moment where Meg tells Belle, Kevin's wife, that she knows about her miscarriage. As fun as the women drinking together and chitchatting, was, the episode could have done without the interaction.
"Part 4″ does not delve into Meg's feelings after Danny was brutal to her in "Part 3." Additionally, her affair continues, sans the motel, and there is a small chance that the relationship between her and Alec could develop into something more serious, since one of his lawyers offered her a job in New York, which sounds like a very unlikely event to occur but not impossible at all. At the same time, I could picture Meg going all Elle Parsons, and Linda Cardellini definitely could pull that challenge off. A part of me wishes that she accepts the position so she is free from her dead sister's shadow; the other part of me wants her to never leave the Keys so that geography doesn't keep her away from the main plot.
All in all, the fourth installment of Bloodline was an hour well-spent. It was the slowest hour the show has offered and one where information was more scarce than in the previous episodes. However, the push and pull between being "Team Danny" or not is still gripping enough, not to mention that the acting from the entire Bloodline cast keeps being impressive and nuanced.
Highlights:
– Bloodline takes a break from the flash-forwards and voice-overs in this episode, which worked because it emphasized the weight on Robert's flashbacks, which, by the way, were shot beautifully.
– John apologized to his father for letting Danny believe it was him who made the call to cast him away. Kyle Chandler sounded like a teenaged boy while talking to his father. There was so much guilt and shame inside of him that he seemed to go back in time. His whole posture was still reflective of a younger person who has just gotten in trouble.  Impeccable.
[Photo via Netflix]