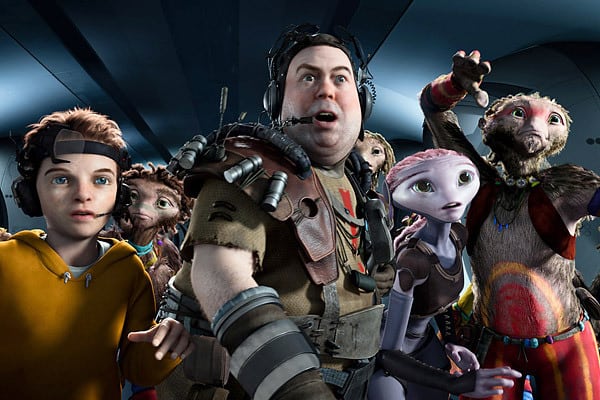 Making blockbusters can be a risky business. Producers and directors bet their reputation and a lot of other people's money to fulfil their visions, only discovering the true value of their film by how well it fares at the box office. While this essential truth has changed slightly thanks to the rise of streaming services – meaning that some films, for example, The Irishman, can be "successful" without making any money at all– the majority of blockbusters will still be judged by how many butts they put in seats.
There is no guarantee of a successful film; no franchise that is completely fail-proof. While, by and large, the MCU is the exception to this rule, both Star Wars (Solo) and DC (Justice League) show that making films based on recognizable characters does not automatically result in vast amounts of cash. Yet these two weren't the biggest losers this decade. Read on to see which films made the biggest losses during the Tens.
10. In The Heart of the Sea (-$7 million)
Ron Howard is a dependable filmmaker. Movies like Rush, Apollo 13, A Beautiful Mind and The Da Vinci Code are the definition of "fine" – decent times at the cinema that don't feel like a waste of time. With In the Heart of the Sea he was tasked with making an origin story for none other than Moby Dick himself, a dramatization of the real life sinking of the whaling ship Essex that inspired Hermann Melville's novel. Yet, making only $93 million off a $100 million budget, this tale of an epic whale hunt was a huge splash, Howard's dependability unable to find the real heart of the story.
9. The Girl in the Spider's Web (-$8 million)
A soft-reboot of a hugely successful foreign film that had already been remade in the USA, The Girl in The Spider's Web – starring Claire Foy as Lisbeth Salander – already had its cards stacked against it. What kind of market was there for a fifth iteration of the vigilante hacker story? None it seems. With only $35 million on a $43 million budget, The Girl in the Spider's Web failed to stick with audiences.
8. The Happytime Murders (-$13 million)
The Happytime Murders is what happens when you watch Bright and think: "This, but with The Muppets". Set in a world where humans and talking puppets co-exist, the film was panned for its crass humor and witless execution, ultimately receiving six Golden Raspberry nominations including worst film. Taking only $27 million with a $40 million budget, The Happytime Murders weren't so happy for their producers.
7. Robin Hood (-$14 million)
Hitherto to Ridley Scott's adaptation of the Robin Hood legend, the Terrorist/Class Hero in Tights had been on the Silver Screen a whopping 36 times. Bar Tarzan, he is one of the most popular and enduring cinematic characters. The trouble with this of course is finding a way to make Robin Hood fresh again. Scott went the Nolan way, telling a gritty origin story. Audiences weren't interested. Losing $14 million off a $100 million budget, this Robin Hood story took from the rich and gave it back to absolutely no one.
6. Mortal Engines (-$17 million)
Peter Jackson has been unable to replicate the huge success of his Lord of the Rings franchise, trying different things, but to little avail. Mortal Engines, which he produced and co-wrote with fellow Kiwis Fran Walsh and Phillipa Boyens, attempted a new cinematic universe based on the book series by Philip Reeve. While the concept of motorised mega-cities that battle one another is certainly different, the novels lacked the brand awareness of Tolkein's classic trilogy. Turning in only $83 million on a $100 million budget, this Mortal Engine failed to take off.
5. Sin City: A Dame to Kill For (-$26 million)
Sin City, based on the graphic novel by Frank Miller, was a surprise hit, a highly stylized comic book noir with tons of attitude. But the belated sequel, Sin City: A Dame to Kill For, resonated neither with journos or audiences, heavily criticized for its self-satisfied tone, lack of adventure and exploitative nature. Reporting only $39 million off a $65 million budget, this Sin City sequel was not a film to kill for.
4. King Arthur: Legend of the Sword (-$27 million)
If the producers of King Arthur: Legend of the Sword were paying any attention to the failure of Robin Hood, they may never have made the film at all. Yet hubris knows no bounds, and the dull Charlie Hunman was roped in to play the classic early English king. Totting up $148 million off a $175 million budget, this legend simply didn't need to be retold. The first in a now-scrapped six-film franchise, we should be glad it didn't do very well!
3. Blackhat (-$51 million)
Michael Mann is a visionary action auteur, known for his stylish crime epics like Collateral, Heat and Miami Vice. Yet even he couldn't turn Blackhat, a tale of hackers hunting a high-level cybercrime network across the world, into a true box office hit. Perhaps hackers simply cannot hack it, neither Blackhat or Spider's Web able to gain any traction due to the un-cinematic nature of their work. Making only $19 million off a $70 million budget, Blackhat director Michael Mann has yet to make another movie.
2. Playmobil: The Movie ($83 million, as of writing)
The Lego Movie and its sequel made a lot of money because people love Lego. Those clever minds over at Playmobil assumed that they could replicate that success without thinking that perhaps their product doesn't carry the same cultural cachet. Released earlier this year, the Anya Taylor-Joy and Daniel Radcliffe-starring comedy was a complete and utter disaster. Currently on track to lose at least over $80 million on a $100 million budget, the script for Playmobil: The Movie probably should've stayed in the attic.
1. Mars Needs Moms (-$111 million)
Mars needed moms but did Earth need Mars Needs Moms? The 3D Disney computer animated science fiction adventure had a convoluted premise – Martians abduct a boy's mum to extract her "momness" – and an uncanny, unconvincing use of motion capture technology. The Simon Wells, Robert Zemeckis-produced film was both creepy and unoriginal, ultimately resulting in box-office poison. Earning only $39 million off a $150 million budget, Mars Needs Moms was a galactic-sized failure, earning its rightful spot as the biggest flop of the decade.
Tell us what's wrong with this post? How could we improve it? :)
Let us improve this post!