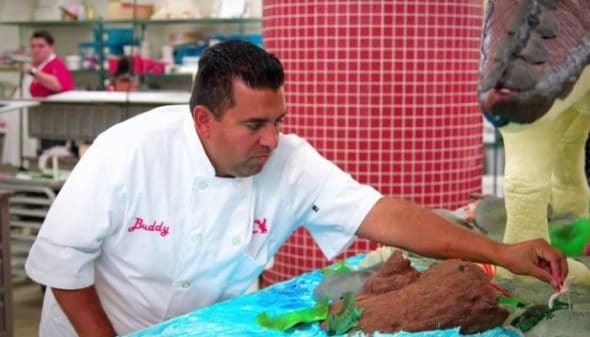 Cooking competition shows have become increasingly popular over the last several years. Just when you thought you'd seen every possible angle, The Food Network has found yet another twist with their new show, Big Time Bake. Hosted by the Cake Boss himself, Buddy Valastro, the show features a unique set of rules that will make the competition even more fierce. According to the network, Big Time Bake, "is a six hour showdown with the competitors baking creative cookies, decadent cupcakes and a showpiece cake all inspired by a surprise theme." If you like to see what cooks can do when their racing against the clock, this is one show you'll want to tune in to. Keep reading for 10 things you didn't know about Big Time Bake.
1. The Timer Never Stops Running
So you may be wondering what's so special about a cooking competition show where the contestants are time. After all, that's how almost all of them work. However, what sets Big Time Bake apart is that the clock never stops running – even when the constants are being judged. This means contestants will have to keep working while their creations are being judged.
2. The Show Will Feature A Variety Of Themes
Are you ready for another twist? Not only will bakers on the show be crunched for time, they'll also have to make sure that their creations are in lined with the episodes theme. Throughout the season, Big Time Bake will feature several different themes including fantasy.
3. There Will Be Different Check Points During The 6 Hours
Having a timer that never stops is already stressful, but there's something else that will make this show unique. At different points during the 6 hour duration, judges will come throw and do a taste test. After the first two hours, the judges will visit each station and do a taste test. This will continue to happen every two hours until the six hours are over.
4. The Bakers Will Have An Assistant
Trying to cook under pressure isn't an easy thing to do – no matter how talented of a baker you are. Fortunately, though, the contestants on Big Time Bake will get a little bit of extra help. According to TV Series Finale, each contestant will also have an assistant working with them in the kitchen.
5. There Will Be Different Guest Judges Throughout The Season
Buddy Valastro is the host of the show and will also serve as a judge. Throughout the season, he will also have guest judges who stop by the show to lend their expertise and try some (hopefully) delicious baked goods. Some of the guest judges include Nacho Aguirre, Ralph Attanasia, Zoe Francois, Tregaye Frasier, and Dan Langan.
6. Bakers Will Bake 3 Items
If you're the type of person who likes all types of baked goods, you're in luck. Each contestant on Big Time Bake will be responsible for making a cake, cookies, and cupcakes. Not only does this add an interesting layer for viewers, but it also makes it even harder for contestants.
7. One Baker Will Be Eliminated Before The 6th Hour
Contestants will definitely have to bring their A game as soon as they step in the kitchen on Big Time Bake. If they don't start off on a good note, they won't even make it to the end of the episode. At the fourth hour, the person in the bottom spot will be eliminated.
8. Some Of The Contestants May Be Familiar
If you've watched a lot of other cooking competition shows, you may recognize some of the contestants on Big Time Bake. There will likely be a few people who have already tried their luck on other shows. In fact, the network may have specifically reached out to a few people who have a history of doing cooking competition shows. The show doesn't seem to have a casting page, so it's unclear how contestants were chosen.
9. The Winner Will Get A Vacation
So, what does a person get for being the best baker on Big Time Bake? The lucky winner will earn " a dream vacation of their choice". After spending six hours in front of a hot oven, what could be better than getting the chance to get some well-deserved R&R?
10. The Show Is Already Getting A Lot Of Attention
Big Time Bake is only 1 episode into its first season, but the show is already getting a lot of attention. Viewers seem to be loving the intense competition and people are excited to see how the rest of the season will go. It's unclear exactly how many episodes will be included in the first season, but there will be at least three.