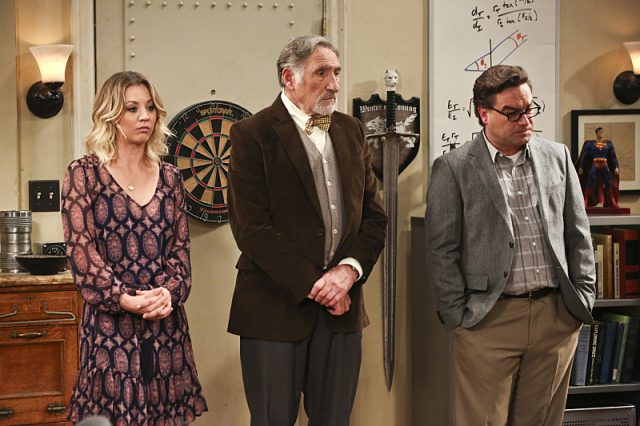 The Big Bang Theory ended things in it's 9th season like many shows do. There was a lot of emotional build, but there were also some open-ended plot points for the upcoming Season 10. While there was a cliff-hanger element to "The Convergence Convergence", Big Bang does an excellent job of not steering into Walking Dead territory with an open-ended finale. Though this wasn't the funniest episode of the season, I'm more than pleased with how it turned out.
This week on the season finale of The Big Bang Theory: Leonard and Penny proceed with their second wedding ceremony so that their family and friends can be there. Leonard's father (Judd Hirsch) is forced to come face to face with Leonard's mother (Christine Baranski) for the first time since their divorce. Meanwhile, Howard, Bernadette, and Raj deal with Howard's paranoia, after the Air Force sends him an email about his project the minute he makes it viable.
This was a good finale. It certainly wasn't fantastic or ground-breaking, but it was a strong conclusion to the season. They built up plenty of story to carry through 24 or so more episodes of a 10th season, too. I wasn't floored, but I was pleased.
The only part of all of this that I didn't really care for was the fact that Sheldon's mom being there at all was a little contrived. I mean, we know she likes Leonard, but would Sheldon really invite her, Stephen Hawking, Robert Downey Jr., and the inventor of the Rubik's Cube to a wedding that wasn't his? Sheldon is crazy, but I'm not sure I believe that he's that crazy. I thought that the relationship between Mary Cooper and Leonard's father worked. They had believable chemistry and, honestly, their relationship will prove HILARIOUS for Leonard and Sheldon. If the final scene of Penny chuckling while Leonard and Sheldon panic was any indication, the Hofstadter/Cooper relationships could be the show's best plot yet.
Also, I wasn't pleased that Stuart wasn't included. I wish they'd be nicer to him.
As always, here are some of my favorite quotes/moments from the episode:
"Should've never bought him that coloring book that explains Black History Month."- Penny
"In our defense, it was kind of a spur of the moment thing. And also we don't like her."- Leonard
Loved when the Air Force email came in the minute Howard finished. And Raj's bits about loving America.
"That doesn't work for me, let's stick with Mrs. Cooper."- Sheldon
"Mother, she's an atheist, not a vampire."- Sheldon
"No, I was just thinking about Jurassic World. Boy, that was terrible."- Raj
Loved Leonard following Howard down the road. Hilarious.
"They're filling up on bread and ruining their meal."- Sheldon, missing social cues
"I think it's pretty obvious. They don't want dessert cause they filled up on bread."- And he brings it home
There were still some charming, funny moments as The Big Bang Theory concluded it's 9th season. What I like about this show most is how much the characters have progressed into more than nerd-caricatures. They're characters who have real, human problems. I've enjoyed bringing the reviews this season, and I hope to return when the show returns in fall!
What did you guys think? Was this a fitting finale? Let us know in the comments!
Season 10 of The Big Bang Theory comes to CBS this fall.
The Big Bang Theory Season 9 Episode 24 Review: "The Convergence Convergence"
Summary
Leonard's parents are reunited after a frosty divorce, and Howard runs from the government on the ninth season finale of The Big Bang Theory.