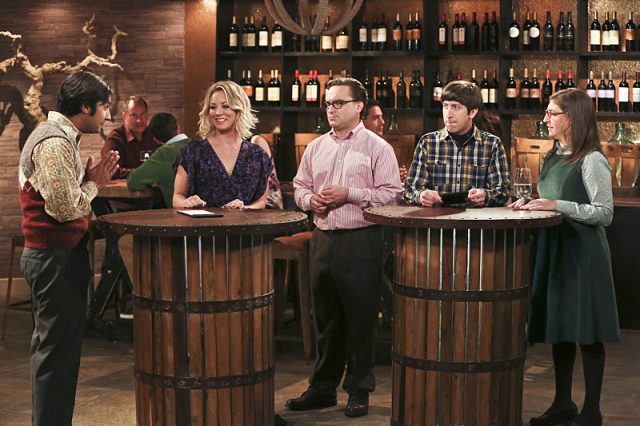 The Big Bang Theory has had an overall excellent season. The 9th season of the series has had emotional ups and downs for several main characters, and with the new embrace of the emotional side comes an added layer of humor. The stakes have been higher in this season than they've been for years on this show, and it's really paying off.
This week on The Big Bang Theory: Penny scores free tickets to a wine tasting, so (most of) the gang decides to go. Raj decides to invite his new flame, Claire. Meanwhile, Sheldon and Bernadette spend the evening together, and it goes unexpectedly. The gang runs into Penny's old boyfriend, Zach, at the wine tasting. Howard worries about the consequences of their new navigation system.
More than anything, I found this episode REALLY funny. I laughed out loud a lot. I like the emotional stories and all, but this is my number one rating system for a sitcom. If it's funny, I keep watching. Humor can be a really subjective subject, and I know some people who would argue the exact opposite about this show. But my laughs are the best gauge for me, and this episode had them in droves.
Probably the only criticism I have of this episode was a lingering problem throughout the season, and that's Raj. I think Kunal Nayyar is great, and the character can be really funny. But I could have predicted that his dating two women would go horribly wrong and sure enough, it did. I appreciate that the character has grown beyond not talking to women at all into being able to date more than one at once, but at the same time, he's grown from a humorous trait into an obnoxious one. 1 star, would not recommend.
I really enjoyed that they brought Zach back. Though I've always rooted for Leonard and Penny, Zach is the kind of character that this show is sometimes missing. All of the characters are so smart, that the dumb guy by contrast is hysterical. Brian Thomas Smith adds a lot to this show, and I hope to see him back soon.
As always, here are some of my favorite quotes/moments from the episode:
"I like my grapes the old fashioned way. In a juice box."- Sheldon doesn't like wine
"She's bringing life into the world, and you're sucking it out."- Leonard
Sheldon falling down from getting dizzy at the gyroscope was a great little physical moment. This show needs more of that.
"I met Bon Jovi once, which you'd think might be weird. Turns out, total sweetheart."- Raj
"I found a scratch and sniff book about wine tasting"- Leonard
"Are your allergies acting up?" "Since my preschool got a bunny"
"Boy do I love restrictions"- Sheldon
"Einstein. Stephen Hawking. Mike Degrasse Tyson."- Zach's favorite scientists
"Angular momentum. I was wondering about that."- Zach
"Wow. Maybe none of you guys are smart."- Zach, summing up this show in one sentence
"Friends are like toilet paper. It's good to have extras under the sink."- Sheldon
As you can see, there were plenty of funny moments this time around. I laughed my head off. I'm sad that it's over soon, but the next few episodes look great!
What did you guys think? Did you enjoy the episode? Let us know in the comments!
The Big Bang Theory airs Thursdays at 8/7c on CBS
The Big Bang Theory Season 9 Episode 22 Review: "The Fermentation Bifurcation"
Summary
Sheldon and Bernadette hang out while the rest of the gang goes wine tasting in this week's hilarious episode of The Big Bang Theory.