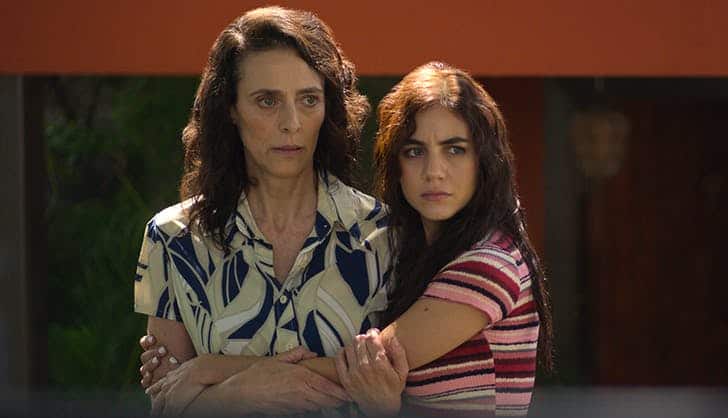 When you think you know who killed Sara, boom, a twist and confusion knock you. But you don't have to wait for long to get the answers. Though a brother is in trouble as he is wrongfully accused of killing his sister, that leads to his imprisonment. Before then, let's hunt together for the killer as Alex Guzman (Manolo Cardona) continues investigating his sister's murderer. Alex is finally released from prison. Sara (Ximena Lamadrid) died while on vacation with her boyfriend, Rodolfo Lazcano (Alejandro Nones), wealthy family, and Alex. This fiction story is full of turns, thrills, and twists. José Ignacio Valenzuela, who created the show, confirms that part of the show is derived from his real-life story. He has written other plays and novels.
For 18 years, Alex is in prison for a murder he didn't commit. After his release, he swears to bring to book the actual murderer, which is becoming hard for him. According to Alex, everyone looks like a suspect, but he is determined to unearth the true culprit. It seems each person close to Sara had a reason as to why they want her dead. It leaves Alex with the question, who killed Sara? Sometimes all you can do is let go, but Alex is hell-bent on exacting revenge and will hear none of this. He doesn't mind if the best vengeance will lead two to the grave. Will he get the person behind his sister's death? The mystery has just started.
José Ignacio Valenzuela Want to Teach the World
People are going through struggles in life, and Valenzuela is one of those individuals who have seen it all. Being gay has left him a judged man, and he wants to teach the world how people handle him. Characters like Lorenzo Rossi (Luis Roberto Guzmán) and his partner José María (Eugenio Siller) are an inspiration base on his real-life struggles. He wanted to sensitize people on what happens in the world of heterosexual individuals. That's why in the show, José María's family doesn't want to hear anything about his decision. And the same case happened to him, people denying him his rights. Lorenzo and José María struggles to have a kid in the show, precisely what happened to Valenzuela and his partner. Valenzuela has used 'Who Killed Sara' to show what LGBTQ have to endure in daily life.
But Who Killed Sara?
When Mariana (Claudia Ramírez) learns that Sara is pregnant with Lazcano's baby, she isn't a happy woman. She also gives Sara some to do things before the baby is born. Mariana is delighted to know Sara wants to participate in parakiting sport and decides to plan an accident. She sneakily set a plan to pull Sara from the vacation and promise her family support. Elroy refuses to cut the rope. So, did she kill her? Lazcano family is among the first suspect in the death of Sara. Mariana gets angry that Elroy refused to help her kill Sara by cutting the parachute ropes in the planned parasailing accident. He tells her that he couldn't do it, but someone else in the family is responsible. So, she kills him in the hospital by poisoning Elroy's IV, as seen in the second episode, Blood on Their Hands. Sara had recorded in a tape César killing some prostitutes. César is aware that the videotape is in Sara's hands. And thus, he could be a suspect who wanted to destroy the evidence by killing Sara. César could have wished her gone and had every motive to make it possible. Though it doesn't appear like he is the murderer, you can tell he is not such a free man.
Abel looks like a suspect. He comes for more money from her daughter. After Sara discovers that Marifer was Abel's sister, she decided to scold him. The confrontation doesn't end well. Abel discloses to Sara that he raped her mother, leading to her birth. He also confessed to killing Marifer and Cristina, Clara's mother, as recorded in Chema's camcorder. Upon Abel realizing he won't get any more money from Sara, he decides to kill her, citing her as unworthy. She managed to get loose of his grip and locked herself in her room, and called Rodolfo. César got hold of Rodolfo's phone only to be met by Sara's cry for help. He rushes to her rescue in good time when Abel was almost stabbing her. And that's how Abel died and was buried in the backyard of Alex's home. They cleaned the mess and hid the camera in the gold sculpture stolen from Nicandro's.
Alex is Finally Getting the Leads
Someone is feeding Alex with information. A mysterious woman, Diana the Huntress, has been giving him all the relevant details of Sara's case. The huntress happens to be a friend of Marifer (Sara's best friend). Diana and Clara's mom used to work for the Lazcano family. She was a housekeeper. A fight with Don César (Ginés García Millán) led to her mother's mysterious disappearance. She has always had an eye for Lazcano's to find out what happened and exact revenge. "I Killed Sara" is the Season 2 episode finale. It seems the killer is about to be known as the person who cut the rope confesses to the crime. To the many viewers' astonishment, Marifer killed Sara. She is the one who cut the parachute rope. Nicandro, who was said to have died long ago, amazes many by his appearance and later admits to killing.
If Marifer cuts the rope, the call between Nicandro and Dr. Alanis is a bombshell. In their conversation, they are heard discussing they also took part in killing Sara. Alex is convinced that Marifer is the actual murderer. And Nicandro thinks that neither Alex nor Lazcano's family should know the truth. So, it means the two were involved in the murder, and Marifer is also in the picture. Who Killed Sara leaves so many unanswered questions, and when you think you know the truth -you don't know. It will take another season to see what happened to Sara Guzmán.