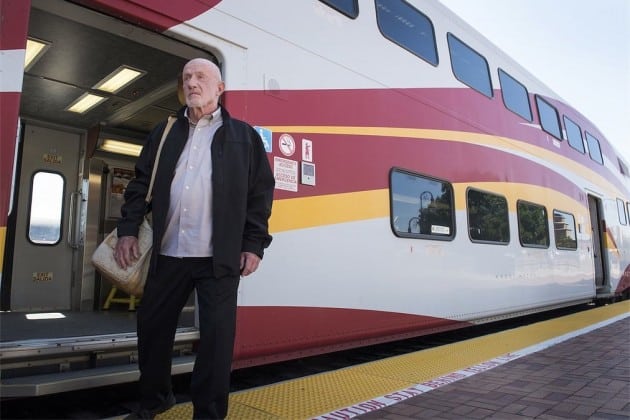 Better Call Saul needs to stay away from its parent show.
It needs to do that now, and it needs to do that as cleanly as possible, because the show starts to decline in quality the closer it is to its source material. The more that Better Call Saul leans on Breaking Bad, the worse things get.
It's so weird to even consider the idea that this was in some way a "bad" episode, because it really wasn't. Mike Ehrmantraut is a deep and varied character who I desperately wanted to know more about, and this episode delivered on that. It took all that I knew of him and delivered.
But that's the problem. I know everything about him. I've seen his middle and end. I've seen him go the rest of the way. But what if I hadn't? What if I had never seen Breaking Bad before? Would this episode resonate as much as it did; grip as tight as it did; bring up emotions like it did? I don't know. I can't know. That's the problem. Mike Ehrmantraut isn't a character on Better Call Saul. He's a character from Breaking Bad, and that doesn't sit well.
It's not that I'm worried about the direction the show is taking; Peter Gould and Vince Gilligan actually did a pretty good job detailing who Mike is without the context of Breaking Bad. But them doing a standalone Mike episode absolutely requires prior knowledge to make it hit as hard as it should. And this sort of thing was unavoidable.
But that doesn't mean it's not frustrating. It doesn't mean that it should have to happen. Better Call Saul is better than almost everything on the air right now, and to watch it lean back on the good ol' days like it did tonight is just totally unnecessary. The worst bits of this show are the things from Breaking Bad. The Tuco thing was cool, but he was immediately shuffled off and replaced by Nacho. I don't want Mike shuffled off, of course, but there's something to be said for taking it a new direction. And that's coming, I'm sure. But I am frustrated by this episode.
I am frustrated because I really liked it, and I shouldn't. This is an okay episode of television, incredibly well-acted (well, except by the woman who played Mike's daughter-in-law–I didn't think she showed enough emotion) and very well-directed, but it required too much context. To put too fine a point on it: Better Call Saul should be able to stand on its own and deliver emotional right hooks independently.
Also, more Bob Odenkirk, please. Jonathan Banks was a powerhouse in this episode but the problem with that kind of super dramatic, super tense, super dark television is that it loses nuance and starts shading things as black instead of gray. There was very little levity in this episode; there were very few breaks for the audience to catch their air. Odenkirk is a master of the comedic in the dramatic, and he would've added a lot to this episode.
Also, I miss Kim and the rest of the characters. This is a vibrant world that is being built; no need to go back to the Breaking Bad well to make things better. Hopefully, this is the first and last time something like this happens.
Stray Thoughts
– Jonathan Banks was so good tonight.
– "I broke my boy." That's too much for me to handle.
– Mike was a dirty cop. Isn't that interesting.
– Jimmy McGill is gonna have his hands full.
[Photo via AMC]