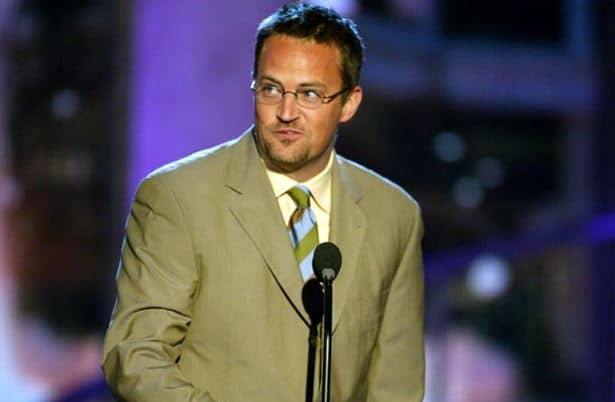 With the release of Friends being on Netflix two months ago, some of us at TVOvermind have spent a lot of our free time watching episodes of the classic sitcom that starred Matthew Perry, Lisa Kudrow, Matt LeBlanc, Jennifer Aniston, Courteney Cox, and David Schwimmer. While watching some of these awesome episodes, we began to notice that the characters dated a lot. It is understandable because they were all attractive twenty-somethings when the show premiered back in 1994. We thought it would be a fun idea to rank the boyfriends or girlfriends of each character for our readers' to check out. Last week, we took a look at all of the women Joey Tribbiani dated during the comedy's ten-season run (and you can take a look at the article by clicking here). This week, we will be analyzing and evaluating all the fictional women in Chandler Bings' life, including Monica, Janice, and, of course, the woman with the wooden leg.
Julie Graff (Season 7)
Julie was Chandler's camp girlfriend, who he broke up with because she ended up getting fat. When he goes to her apartment to apologize, she lovingly calls him "skid mark."
Girlfriend Grade: F
Mary Angela (Season 3)
On Friends, it s revealed that Joey has seven sisters. They all come to visit for his birthday and Chandler ends up making out with Mary Angela. Sadly, he cannot remember which one she is because he was so drunk. He mistakes her for Mary Therese and everything goes downhill from there. Not the best way to start a relationship.
Girlfriend Grade: D-
Marjorie (Season 4)
Chandler met Marjorie in the waiting room of a doctor's office where he took Joey for a sleep study. Their relationship does not last long when he finds out that she screams while she is sleeping. Though she was nice, that would never work in the long run.
Girlfriend Grade: D –
Ginger (Season 3)
Ginger has a previous relationship with Joey and begins to briefly date Chandler during the third season of Friends. She has a wooden leg that Joey would accidentally throw in a fire. You would think Ginger would be accepting of differences, but she ends up breaking things off with Chandler when she discovers he had a third nipple.
Girlfriend Grade: D
Aurora (Season 1)
Aurora was a very beautiful woman that came into Chandler's life during the first season of Friends. He finds out that she is dating him and two other men at the same time. Chandler decides to end the relationship when she adds another man into the mix.
Girlfriend Grade: D+
Kathy (Season 4)
Kathy would have made it higher on this list if she had not cheated on Chandler during the fourth season of Friends. It should not be a surprise to anyone that Kathy would sleep with someone else, since she started a relationship with Chandler while she was still seeing Joey. Kathy and Chandler were a cute couple for the brief time they were together.
Girlfriend Grade: C –
Susie Underpants (Season 2)
Susie is a girl from Chandler's past who he encounters during the second season of Friends. When they were younger, Chandler embarrassed Susie by showing everyone her underwear. The two begin a very adult relationship, but it was only so Susie could steal his clothes in a public bathroom and embarrass him.
Girlfriend Grade: C
Missy (Season 10)
Chandler did not date Missy during the tenth season of Friends, but that is when we first hear about her. Chandler and Ross bump into her at their college reunion. Ross finds out that Chandler and Missy made out a lot even know the two had made a pact that neither would try to date her because they both had feelings for her.
Girlfriend Grade: B-
Joanna (Season 3 and 4)
Rachel decided to hook Chandler up with her boss Joanna after she expressed interest in him after she meets him at the office. The two end up going on a date and Chandler wants nothing to do with her. However, Chandler keeps telling Joanna that he will call her again even though he will not. The two continue their relationship into season four and Joanna locks him into her office after the two hook up and she has to leave for a meeting. Sadly, Joanna would die shortly after this happens and Chandler had to move on and find someone else.
Girlfriend Grade: B
Janice (Various Seasons)
Janice may have been one of the most annoying and nasally voices on Friends or any other TV show, but that does not stop her from being ranked #2 on the list of Chandler's girlfriends. We are first introduced to Janice in season one when Chandler and Phoebe decided to break up with their significant others at the same time. She would return a few months later when Chandler wants to bring a date to Monica and Rachel's New Years Eve party. He would then be set up on a blind date with her on Valentine's Day. Janice would return for a few episodes during season two and then she and Chandler would become a serious couple during the third season. They break up when Janice realizes she is still in love with her husband.
Girlfriend Grade: B+
Monica (Seasons 4 – 10)
It would be a shock if Monica did not top the list of all the women that Chandler dated on Friends. The two began their relationship at the end of the fourth season while they were in London celebrating Ross' wedding to Emily. They decided to keep the relationship a secret for as long as possible. That did not last long when Joey figured out they took a romantic trip together. A short while later, Rachel would hear the two talking dirty to one another on the phone then Phoebe would catch them in the act from Ross' new apartment. Before she would spill the beans about knowing of their relationship, Phoebe decides to have a little fun of her own and flirt with Chandler to get him to break. This is when Chandler admits he loves Monica. The couple would become engaged at the end of season six and then would tie the knot when season seven concluded. Monica and Chandler would end up adopting twins during the tenth season and we would like to believe they are all living happily ever after in the suburbs.
Girlfriend Grade: A+
Photo by Kevin Winter/Getty Images