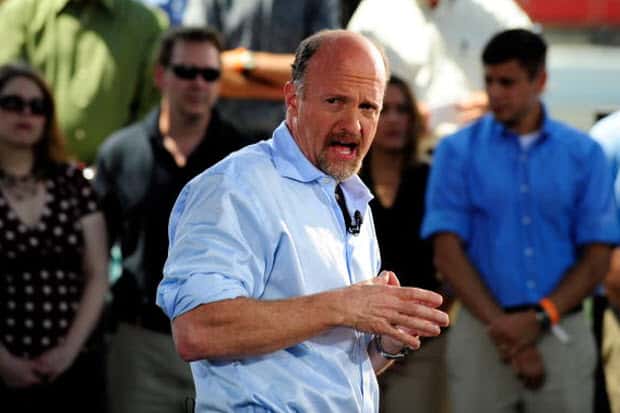 If there's one thing that everyone likes to have, it's money. Whether that means saving it up for retirement and planning for the future, or blowing it as soon as you get it on flashy things to keep up with the Joneses and flaunt yourself, that depends on your personality. And one major influence of what a person might do comes from what they see on TV–which is why I'm giving you the five best shows about money.
5. Mad Money
Sure, host Jim Cramer is crazy, but that's what makes the show so darn good. How can someone hate a guy who's both passionate and knowledgeable about something like finance? With Cramer ranting and screaming about stocks for an hour, both viewers and stockbrokers gather his thoughts on what's hot and what's not for one to put their money in. He's not always right–and you may disagree with him–but it sure beats reading the stock page of your daily newspaper.
4. The Fabulous Life
Rejuvenated after a little hiatus, The Fabulous Life isn't for the feint of heart, as it will have viewers shaking their heads in disgust with just how much money some celebs really have. Whether it's hearing about Kanye West spending millions of dollars to decorate and clothe his daughter North, or another celeb dropping more in one night than the average person makes in an entire year, it's for all those who dream about "making it" one day. For those big spenders out there, this is the show for you.
3. Million Dollar Listing
With the new season kicking off just last week, I've mentioned this show numerous times over the past month. And while the insanely priced houses, apartments and townhomes on this show might seem unattainable today, it should give every 20-something motivation to not only work hard, but also save, giving them an idea of what the future holds–with a little bit of luck and good fortune. Even if these pads aren't in a person's destiny, it's fun to see just how ridiculous some of the price tags are.
2. The Profit
One of my favorite shows on TV, The Profit takes multi-millionaire Marcus Lemonis and puts him in front of businesses that might need a change in the way things are run. Fighting strong personalities, stubbornness and inexperienced business owners, Lemonis not only invests his own money in a company to acquire a large chunk of the business, but then comes in full-steam with changes that aren't always accepted with open arms.
1. Shark Tank
Do you have an invention or business that might need a wealthy investor to help take it to the next step? If so, Shark Tank might just be the show for you. With multi-millionaire and billionaire entrepreneurs like Mark Cuban and Daymond John literally just a few feet in front of aspiring business owners, it'll take a solid pitch and answers to tough questions in order to get a partnership. So for those who might be toying with the idea of starting a company, take notes on some of the thoughts these successful investors have and go make your dream a reality.
Tell us what's wrong with this post? How could we improve it? :)
Let us improve this post!