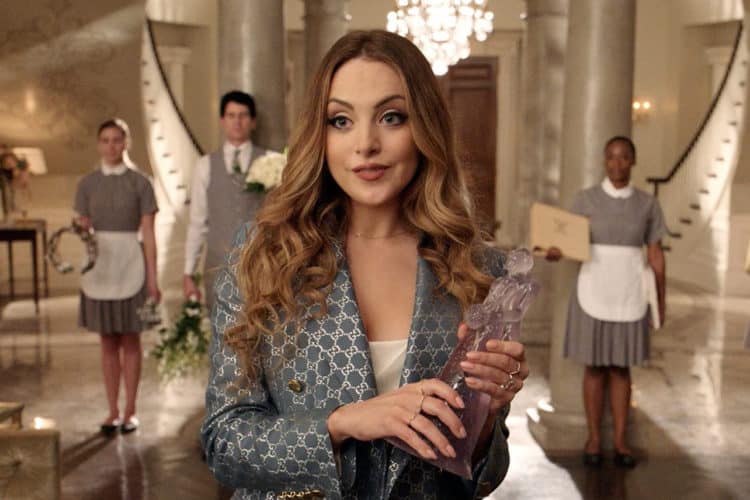 Dynasty is nothing without the endless plot twists and rapid turns of events. Over the past four seasons, viewers have witnessed everything from murders, failed relationships, and the discoveries of dead bodies. The list can go and on. Perhaps one of the most shocking events is when Adam Carrington had his team of plastic surgeons gives Alexis Carrington Fallon's face. So as you can see, there is nothing that can't shock us when it comes to this soapy series. If you haven't been tuned in check out our breakdown of the top 7 major plot twists on Season 4 of Dynasty:
1. Cristal is diagnosed with a brain tumor
Although on the original series Cristal is killed off viewers weren't quite ready to learn that Cristal had a terminal brain tumor and that her days were limited. At first, most of us thought the diagnosis might be a hoax. After all, Cristal and Adam Carrington don't have the best relationship. But it's true, Cristal is dying. Cristal accepts her diagnosis. But she can't bear to break Blake's heart by telling him about the diagnosis so she tells Adam that she is willing to do anything to save her life even undergo an experimental medical treatment. The brain tumor is too big to operate on so Adam blackmails an executive at the hospital to approve the experimental treatment. The treatment is successful at shrinking the tumor and when Blake finds out he calls in the best brain surgeon to operate on Cristal. The surgery is a success and Cristal is healthy at least for the time being.
2. Alexis and Dominque Have A Bonding Moment
Alexis and Dominque have way more in common they could ever imagine. These lifelong enemies have a major bonding moment while stuck in a cave and facing death. They have a heart-to-heart talk and reveal each of their regrets to one another. This is a great bonding moment for TV that we never thought we'd ever see. However, the moment is short-lived. When Jeff gets them out of the cave they revert back to being enemies.
3. Liam wants a divorce
Liam and Fallon's relationship has never been perfect but most of us thought that their rocky road to the altar would all be worth it because we couldn't imagine this couple not being together. As Fallon becomes more entrenched in her work and her evil assistant begins sowing seeds of doubt into Liam's head, Liam decides to take a step back from their relationship. Fallon tries to win back his affection but he ghosts her. As a result, Fallon has a vulnerable moment and sleeps with someone else. When Liam finds her out he cuts he asks Fallon for a divorce.
4. Alexis Takes Over the Carrington Manor
Alexis Carrington is always looking for an opportunity to hurt Blake. Although she's had her eyes on the Carrington manor for years we never thought she actually had a plan at getting it. So when she manages to secure the estate in some crazy legal maneuver viewers are quite shocked.
5. Anders Dies
Anders has been Carrington's closest confidant for years. Over the years, he has cleaned up their messes, has been a surrogate father to Fallon and he has always been protective of the Carringtons. When we find out that he was killed in an accident linked to Liam's kidnapping the viewers are heartbroken. What makes Anders's death worse is that he never had a chance to reconcile with Kirby who he kicked out of the Carringtons manor for her behavior. Kirby always felt like her dad choose the Carringtons over her and in a way he did.
6. Evan's Murderous Rage
No one would ever guess that Evan a successful young lawyer had such a dark side. Evan completely loses it this season. He stabs Kirby nearly killing her when she refuses to tell him about Fallon's whereabouts. He crashed Fallon's secret wedding and held her at knifepoint threatening to kill her if anybody made a move towards them. Evan's short-lived romance with Fallon made him resentful of her inspiring a laundry list of vengeful acts on Evan's part.
7. Liam's Dad Death Wasn't A Accident
Liam discovers that his dad's death wasn't an accident. He finds out his dad was part of a secret ring and when he threatened to come forth and out them they had him murdered and made his death look like an accident. The conspiracy is linked back to the campaign manager for the mayor. Liam becomes obsessed with seeking justice for his father and exposing the mayor's office.
Tell us what's wrong with this post? How could we improve it? :)
Let us improve this post!