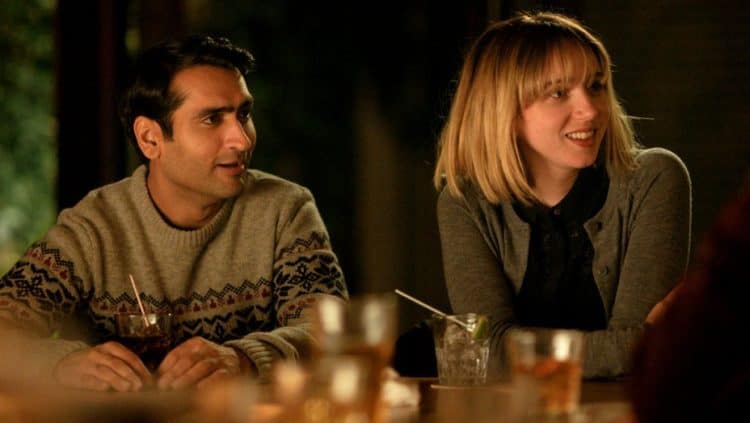 Full disclosure, we were skeptical about Amazon Video when it came out. It seemed like it was maybe just another money maker without much effort behind it. We were wrong. From TV shows like The Man in The High Castle and The Marvelous Miss Maisel to great kids programs we can't get anywhere else like If You Give a Mouse a Cookie, we are impressed. However, Amazons selection of original movies takes the cake. There's so much to love in Prime Originals that it was genuinely challenging to try and realistically rank them in any order. Any and every title on this list is worth the watch. If you haven't seen them all, get your popcorn now, you won't regret it.
20. Human Flow
In a lot of ways, this should be at the very top of the list, but we understand that not everyone is into documentaries. Wei Wei has produced a beautiful and eye-opening film. Sometimes horrifying and sometimes heartwarming, there is no fiction here. More people have been displaced from their homes in the last few years due to climate change and wars than at any time since the previous world war, and there's likely a lot more to come. If you haven't seen Human Flow, and you're sitting safely at home after a normal workday, eating food you got from a fully stocked grocery store, then you need to put down what you are doing and watch this masterpiece. The world is changing, and you should pay attention to what's happening.
19. Chi-Raq
It was controversial millennia before this movie ever came out. In the same way, the musical classic My Fair Lady is the story of Pygmalion from Greek mythology, this Spike Lee neoclassic is a remake of Lysistrata. Everyone has been focused on being angry about the title, which is a brilliant ploy to distract people from the fact that the whole movie is much more controversial than it's hot-button name can imply. Lysistrata was about women withholding sex to get men to stop a war and Chi-Raq is about the same idea, but played out on the south side of modern Chicago.
18. City of Ghosts
City of Ghosts is the sequel to Raqqa is Being Slaughtered Silently, a film about a town taken over by ISIS as told by residents. It is thought-provoking, horrifying and utterly relevant in a way people try to avoid. The perspectives of real people as 'citizen journalists,' gives a rare insight into the problem. We suggest binge watching both films, with a box of tissues nearby.
17. Manchester By the Sea
This occasionally depressing, sweet and unexpectedly funny movie is about redemption. Lee Chandler has ghosts in his past, and he left home long ago. After the death of his brother, he learns that he's been named the guardian of his nephew. As unlikely as he seems to feel this should be given his own past, he still sacrifices everything to move back and become the guardian his nephew Patrick truly needs. They bond over their mutual loss and create a riveting and poignant tale in the process.
16. Gleason
Documentaries are something Amazon knows how to handle. Gleason is the story of New Orleans Saint, defensive back, Steve Gleason who learned he has ALS. Doctors initially gave him 2-5 years to live. The heart-rending story shows his deterioration over time as he makes a record of his journey. It began as a series of videos for his wife and son but evolved into the full-length film.
15. Zoe
The story of AI lifeforms taking over has been done. I robot, Battlestar Galactica, the Matrix and many other movies, books, and TV shows have tackled the idea that intelligent life might be something we create rather than discover. Zoe is a very different take on this theme. Instead of an AI who hates and destroys humanity, it features artificial life that is so capable of thinking and emotion that it learns to love. This story raises an entirely different set of philosophical questions from previous takes on the topic.
14. Gringo
In a foreign country, and stabbed in the back by his former colleagues, Harold Soyinka is in trouble. Through a series of unusual events, he finds himself pushed out of his safe law abiding niche and ever further into the criminal underworld. The cast in this movie is impressive, and the non-stop action will have you wondering whether Harold can make it until the final credits. We thought Gringo was a wild ride, though IMDB didn't agree.
13. Wonder Wheel
Not everyone loved this Woody Allen film, and that's fair enough. It takes all kinds. We found the movie to be intriguing. The love triangle set in coney island was well played. The unusual lighting is delightful and adds a sense of surreality to an entirely banal subject. More than that we particularly enjoyed Richie, though he wasn't the center of the action. Perhaps that explains why he was such a pyromaniac. Regardless, he stole the show more than once and helped to move the story along with his fire starting.
12. Gimme Danger
You'll like this offering more if you know the music of the Stooges. If not, then this punk epic will probably go over your head a bit. Never the less, it's a rollicking good time. As musical documentaries go, it's bound to join This is Spinaltap as one of the best. It took a full seven years to complete this opus. Sadly, during that time every member of the band died except for Iggy Pop himself. As homages go, you might say this one (punk) rocks!
11. The Lost City of Z
If you don't yet know the works of Bleeker Street Media, then it's high time you got acquainted. You can start right here with The Lost City of Z. This silver screen adaptation of a book of the same name by author David Grann is a fascinating look at the fictional life of British explorer Percy Fawcett. His unique story is set at the beginning of the 20th century when the explorer travels deep into the Amazon. There he discovers the remains of an advanced civilization, but upon his return, no one believes him. The mockery of his peers drives him to return to the jungles time and again until he is finally lost completely.
10. The Handmaiden
Originally this film started as Park Chan-wook's Cannes entry. Perhaps you're wondering when this list is going to include a visually arresting, sexually charged thriller that is nearly worthy of the Twilight Zone or M. Knight Shamalayn in terms of its plot twist. Look no further. This gorgeous, sensual, yet shockingly dark tale of paid seduction earned its place on the top ten portion of this list. When you're in the mood for a film that adeptly crosses the east and west dynamics of the film, pick this softcore revenge story.
9. Crown Heights
With so many true stories available on Amazon, few are as gritty and tormented as this offering. The overly simple backstory is that of a man Carl King, who has devoted his life to a singular pursuit, getting his best friend Colin Warner out of jail. If the movie is to be believed, and they certainly did their research, then Mr. Warner was falsely accused. Be prepared to sit through a heartbreaking parole hearing copied almost word for word from the actual transcript of what occurred. This film was as much of a challenge to the filming crew as it will be to audiences. We're ready to rock a Free Colin Warner shirt after seeing it, and we think you will be too.
8. The Salesman
Emad and Rana are a young couple who live in Tehran. When their home gets severely damaged, they are forced to pick up and move to a new place, but it comes with one feature that wasn't in the lease. The previous tenant was a prostitute, and she has left more than her belongings in the apartment. The troubles of the previous tenant haunt the couple, Rana is attacked one night, and things begin to spiral further out of control for the couple. We won't spoil too much of this story within a story, but this reimagined thriller is sure to give you plenty of heart-stopping moments.
7. The Big Sick
When grad student Emily and comedian Kumail hit it off, things seem to be going well. There's just one problem, Kumail worries that his traditional Pakistani parents won't approve of the burgeoning love. Cultural differences can be a huge issue after all. Perhaps it would have been a more significant problem if Emily hadn't gotten so sick that she ends up in a coma. Without her, Kumail develops a deep and abiding bond with her parents. The twist on this story is that it's based on the true story of Kumail Nanjiani and his now-wife Emily.
6. The Neon Demon
Called divisive, this film is one you will either love or loathe, with very little middle ground. The dark, thrilling tale of Jessie the aspiring model is secretly brilliant. It just went over too many heads to bank as expected at the box office. The haunting story of how jealousy and intrigue can change you to the core if you let it seems likely to slide under the wire for now and make an explosive cult comeback when people realize what they missed.
5. I Am Not Your Negro
As strange as it may seem, this movie should more appropriately be called Remember This House. That was the title given to the book by James Baldwin. He had proposed the idea to his literary agent in 1979. The intention was to tell the stories of the lives and subsequent assassinations of three of his personal friends, names you already know: Martin Luther King, Jr., Medgar Evers, and Malcolm X. Almost a decade later (1987) he passed away leaving behind less than three dozen pages. This film by the brilliant Raoul Peck is the rest of that story finally being told forty years later.
4. Elvis and Nixon
The photo that inspired this (semi) true story is the most requested image in the National Archive. As strange as the picture is, the tale behind it is stranger still. There was no possible universe in which this wasn't going to be a satire, but for all the humor, it plays very near the truth as we know it. Elvis did indeed go and visit Nixon. His apparent motivations included letting the POTUS know, "I'm on your side," and asking for a badge from the Federal Bureau of Narcotics and Dangerous Drugs. Elvis had a collection of badges, and by all reports believed that scoring this particular badge somehow meant that he could travel to any country in the world carrying whatever drugs he wanted. It makes for a bizarre and humorous movie that should be on every Amazon bucket list.
3. Last Flag Flying
Last Flag Flying is a bittersweet, and occasionally humorous story about a man who sets out to bury his son. The youth was killed in the war in Iraq, and it is the father (with help from his Vietnam war buddies) who is left behind to make the journey. Along the way, the survivors reminisce and learn to share and thus live with their memories of the war they came home from. The comic relief is as timely and welcome as the casting is brilliant. All in all, we thought this movie was amazingly well done.
2. An American Girl Story: Melody 1963 – Love Has to Win
More surprising than any other title on this list is this, Melody 1963- Love Has to Win. If perchance you were not a little girl who grew up reading the American Girl stories than you may not immediately associate this title with the dolls that can be found everywhere. However, the dolls do have backstories that make them so unique, and this particular story is one of the most moving and enjoyable of the collection. That it was chosen for the first of four promised films is no surprise, but when it went on to win award after award, it delighted and surprised fans and newcomers alike. This story of growing up in an era when acceptance is a battle that has barely begun and of a girl who keeps her head up and her smile on through it all is the most charming movie we've seen in a while.
1. You Were Never Really Here
Joaquin Phoenix has been a favorite of ours for many years. At least as far back as 8mm with Nicholas Cage. He has grown over the years, but it seems he always comes back to the dark, gritty roots of his career. You Were Never Really Here is the story of Joe, who has PTSD and spends a lot of his time caring for his elderly mother. When he's not handling those responsibilities, he hunts down human traffickers and rescues the girls they have taken. Brutal and pulse-pounding, like so many of his roles, you will struggle alongside Joaquin/Joe until the closing credits roll. If you love a good drama, don't miss this one.
Final Thoughts
Amazon seems to struggle to outdo themselves with quality over quantity. We have to say, so far so good. They impress us time after time with stunning, provocative, and well-rendered films that keep us coming back. Our other video watching accounts often find themselves collecting digital dust when we decide to binge watch movies. There are just so many excellent indie films and choices that debuted at Cannes. It's hard to tear our eyes away from the screen. The next time you're stuck trying to decide what to watch, go ahead and use this as a bucket list, then check out some of Amazon's other programming options as well. We give the curators who choose Amazon's video selections two thumbs up.