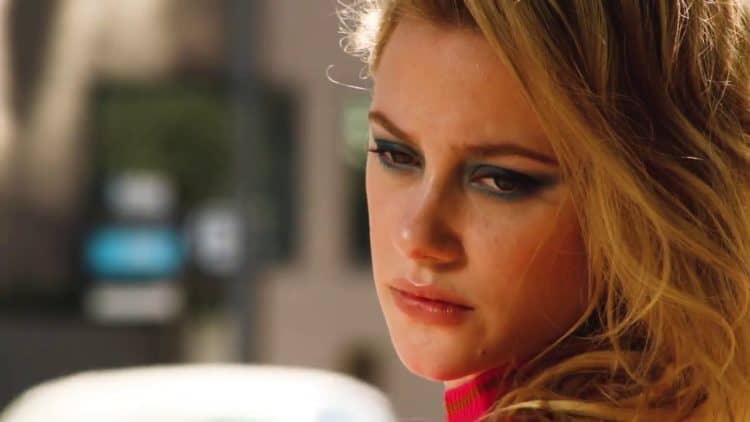 The award-winning Riverdale actress Lili Reinhart still isn't known by everyone as you might expect but she's still been on the rise in the past several years and in a big way has become yet another fixture in pop culture that a lot of people are starting to take note of or have been following or a while. To say that she's not well-known isn't hard since apart from Riverdale she has starred in a few movies that aren't so widely known that they've become movies that the world are going to regard as some of the greatest ever. But she has contributed to more than one movie that can be said to be impressive as well as provocative in some ways. Thinking that she's going to have a future beyond Riverdale isn't hard to see since it's already happened, but how far she'll go is going to be something that many people are going to waiting to witness with a lot of anticipation.
Here are her five best movies.
5. Galveston
Roy is kind of a quandary in that he wants out of the life he's found himself in for so long but remains embroiled within it as he tries to help a young woman who's also trying to flee her troublesome life. Zack Sharf of IndieWire actually wrote that the creator of the novel that inspired this movie wanted his name taken off of the credits for some reason, but in truth the movie wasn't all that bad. In truth the reason he wanted it taken off was that the movie didn't seem to follow his initial idea and he thought that it would be better to not take any credit rather than suck it up and admit that things didn't go the way he wanted.
4. The Kings of Summer
It's pretty obvious that there are times when a lot of us just need a place of our own that we can retreat to and call 'our own'. When three friends do this however things go well for a while until it's established that their company isn't quite enough and that changes to their harmony are going to come in a big way as they continue to grow up. It's evident that some folks do this quicker than others while some barely do it at all as time passes. The bonds we share when we're younger and in need of something such as a bond that will tie us to those of similar interests feel like they'll last forever, but seriously a lot of us have to realize that sooner or later things are going to change whether we like it or not.
3. Miss Stevens
David Ehrlich of IndieWire doesn't have a lot of good things to say about this movie but then when you really go ahead and watch it you might be kind of disturbed but at the same time impressed that anyone could take on roles such as this and make them work. When you discuss drama in a movie it's hard to say that you're going to see anything but drama. The idea that a teacher would find it amenable to screw around on a school trip such as this is kind of hard to accept since honestly it's something that would have a lot of parents up in arms if they ever found out. We're all human, but sometimes those urges need to be checked a bit more.
2. The Good Neighbor
It's amazing how quickly our perceptions of people take over and make us think one thing or another. Frank Scheck of The Hollywood Reporter covered this movie that a lot of people probably haven't heard about, but is worth watching. When two teenagers decide to convince an old man that his house is haunted things take a very serious turn when they fail to understand just who the man is and why he seems so secretive. As the viewer finds out though throughout the movie, the old man believes that the spirit of his deceased wife has been haunting him and eventually kills himself to be with her. That's how perception and manipulation works, no matter if this is an extreme.
1. Hustlers
So what's the problem with this movie? Well, it's about the same problem that people have with overly violent movies, there's simply too much of a chance that someone is going to see the movie as a how-to guide when it comes to ripping people off. Sadly there are some that seem to think this is okay since being treated like scum is all it takes to justify taking what isn't yours. So yeah, they had their reasons, they had the feeling that they'd been shortchanged, but at the same time this faux Cardi B biography, wink wink, is something that seems to have gained the kind of attention that has a lot of people mystified.
She's already established, but she's still on her way up.
Tell us what's wrong with this post? How could we improve it? :)
Let us improve this post!