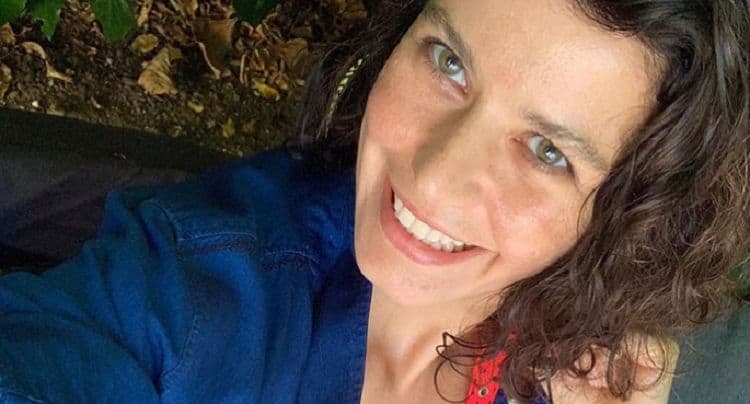 Described by many as one of the most important Turkish TV actresses of her generation, Beren Saat has been dazzling audiences ever since she broke onto the scene in 2004. Currently wowing us on Netflix's fantasy-drama series, The Gift, 2020 looks set to be the year Saat's star goes stratospheric. Find out more about the actress with these 10 little facts.
1. Cinema holds a special place in her heart
Saat rose to fame as a TV actress, and it remains the medium for which she's best known. That said, cinema holds a special place in her heart, and has done ever since she was a small child dreaming of one day seeing herself on the big screen. "Since I was a child, I've dreamed of seeing myself on the big screen," she's explained. "But the balance has changed in recent times in our country. Television work allows us to reach a bigger and more varied audience. But the cinema still holds a special place. A person feels very special when seeing themselves on the big screen"
2. She's happy working in Turkey
Despite being concerned about state censorship of the media, Saat is, by and large, happy with her lot as a Turkish actress, especially when she compares her situation to that of actors in other countries. "When I compare myself to other countries, sometimes I say "This is so unfair. If I was doing this job in another country, I would have had a very different status", she's said. "And sometimes I say "If I was born more to the east, and living in other Muslim countries, I wouldn't have been able to make this profession". My thoughts are not a rebellion, they just come as a whimper and remain like that."
3. Selçuk Yontem inspired her to act
When Saat was nine years old, her parents took her to see the actor Selçuk Yontem in the play "I am Feuerbach". The play proved a turning point in Saat's life: inspired by Yontem's performance, she decided there and then that she wanted to act when she grew up… and, more specifically, to act with him. Over a decade later, her dream came true when she starred alongside the legendary actor as his wife in the TV series Forbidden Love.
4. She appeared in a talent show
Saat was born on 26 February 1984 in Ankara, Turkey. After graduating from TED Ankara College Foundation Private High School, she enrolled in a university course at BaÅŸkent University's Faculty of Economic and Administrative Sciences, but left when she decided to pursue a career in acting. Her first experience of success came on an acting competition called Türkiye'nin Yıldızları — although she failed to win the top prize, she managed to come in as the first runner up, and soon began appearing in commercials for Tofita.
5. She was discovered by Tomris GiritlioÄŸlu
After appearing in several commercials, Saat got her big break in 2004 when she was discovered by legendary director, Tomris GiritlioÄŸlu. She subsequently made her professional debut in the TV series, AÅŸkımızda Ölüm Var. The following year, she won her first main role as Zilan Åžahvar AzizoÄŸlu in AÅŸka Sürgün (2005—2006), and has since starred in numerous leading roles in the likes of Forbidden Love (2008-2010), What is Fatmagül's Fault? (2010-2012), Revenge (2013-2014), Magnificent Century: Kösem (2015- 2016), and most recently, The Gift (2019-).
6. She prefers the natural look
In a world where the filter is king, Saat is something of a revelation. The notoriously private star rarely consents to appear on magazine covers, but when she does, you can be sure you're seeing the real deal, and not some heavily made up, airbrushed distortion. Her makeup-free cover for Elle magazine is a case in point. "When I look at a lot of magazine covers, I say "is that him/her?" she's said. "I don't recognize faces that are very familiar to me, and it makes me nervous. Seven years ago, they played with my eyebrows and my nose, and after that, I didn't make any covers. Elle's project was a make-up free concept, so I accepted it."
7. She's a social activist
Saat has become almost as famous for her philanthropic endeavors as she is for her acting. In 2011, she donated all proceeds from her campaign for Rexona to "Mor Çati", a women's shelter foundation. In 2012, she designed a line of t-shirts for Elle magazine in aid of Nar Taneleri Projesi ("Pomegranate Seeds Project"), a foundation that provides education to young orphan girls. She's also designed a calendar for Health and Education Foundation for Children with Leukemia, and appeared in a video for a project for women's healthy childbirth in Afghanistan organized by the European Union and Afghanistan's Ministry of Health.
8. She's a multi-award winner
Saat began sweeping the board at awards ceremonies in 2008 and has shown no signs of stopping since. Just a small sample of her honors include a Golden Tulip Fine Arts Award in the category of Best Actress for Hatırla Sevgili, two Golden Butterfly Awards for AÅŸk-ı Memnu, a 16th Murex d'Or Awards for Best Foreign Actress for MuhteÅŸem Yüzyıl: Kösem, and a 25th International Consumer Summit Award for Best Actress for Fatmagül'ün Suçu Ne?
9. She's a multi-millionaire
You don't have to live in LA to make it big as an actress, either professionally or financially- something Saat more than demonstrates. Between 2008 and 2014, Saat was the highest-paid actress in Turkey. Between 2015 to 2016, meanwhile, she earned a reported 90,000 per episode for playing the titular lead in the drama series MuhteÅŸem Yüzyıl: Kösem, According to Celebs Money, she's today worth in the region of $3 million.
10. She's been married since 2014
In 2012, Saat met fellow actor Kenan DoÄŸulu. The two began dating shortly after, and on 23 February 2014, they became engaged. The couple married that summer in a private ceremony in Los Angeles, California.