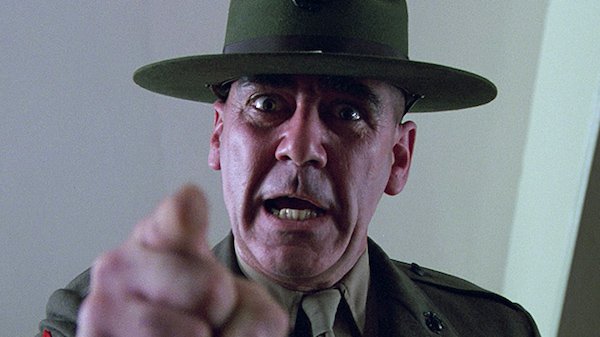 We all enjoy watching movies that are not just entertaining, but also more realistic. However, no matter how great a movies script is, it will not turn out to be a great movie unless its cast is made of great actors. It's with that in mind that we celebrate great actors such as R. Lee Ermey, who died recently aged 74. We remember him for his unique abilities to bring the career lives of stern military men into our screens. His manager Bill Rogin announced his death on Twitter.
One of his military roles that got recognized and nominated for the Golden Globe award, was the best Supporting Actor role in Full Metal Jacket, where he played Gunnery Sgt. Hartman. Having been a former marine himself, as a drill instructor and staff sergeant, Ermey excelled in projecting resolute and authoritative leadership in several roles.
Other roles that he successfully acted are Mayor Tilman in Mississippi Burning, The Texas Chainsaw Massacre's Sheriff Hoyt. Prefontaine's Bill Bowerman, Toy Film's army leader Serge, as well as Rocket Power's Lt. "Tice."
Moreover, he hosted programs such as Mail Call on the History Channel, where he answered questions regarding military issues. Other similar programs that he hosted are Lock N'Load with R.Lee Ermey, where he discussed the subject of military weaponry. Lastly, he hoisted the Gunny Time show that was aired on the Outdoor Channel.
Ermey was born in 1944, in Emporia Kansas as Ronald Lee Ermey, and growing up, he was a juvenile hell-raiser. He was arrested twice for criminal mischief by the time he was 17 years. On the second arrest, he was given a choice between being imprisoned or to serve in the military. He chose the latter and served in the Marine Corps, where he became a drilled instructor, in the mid 1960s in San Diego.
Later, he was sent to serve in Vietnam for 14 months, after which he was sent to Okinawa, where he a staff sergeant. In 1972, he was discharged from the military due to the injuries he suffered while serving in Vietnam. Later in life, he received an honorary promotion from the marines, and became a gunnery sergeant.
Ermey got his first taste of the show business while attending college in the Philippines. He got himself a chopper pilot role in the film Apocalypse Now, where he was also a technical advisor the film's director, Francis Ford Coppola. His next appearance was in the film The Boys in Company C, as a Marine Drill instructor, after which he got his well-known role as Gunnery Sergeant Hartman in the Film Full Metal Jacket by Stanley Kubrick.
Kubrick was actually so impressed with his skills that he allowed him to come with his own dialogue on the set. That performance combined with the Golden Globe nomination for the award of Best Supporting Actor that earned him steady work albeit with a bit of typecasting. Overall, he appeared in over 55 films, and many other films such as X-men 3 and Roughnecks used his voice. Moreover, he appeared in many TV commercials as well as video games.
Overall, his acting skills tipped with a military touch were unquestionable. At the time of writing this article, there was still no information about a memorial service or about his survivors.