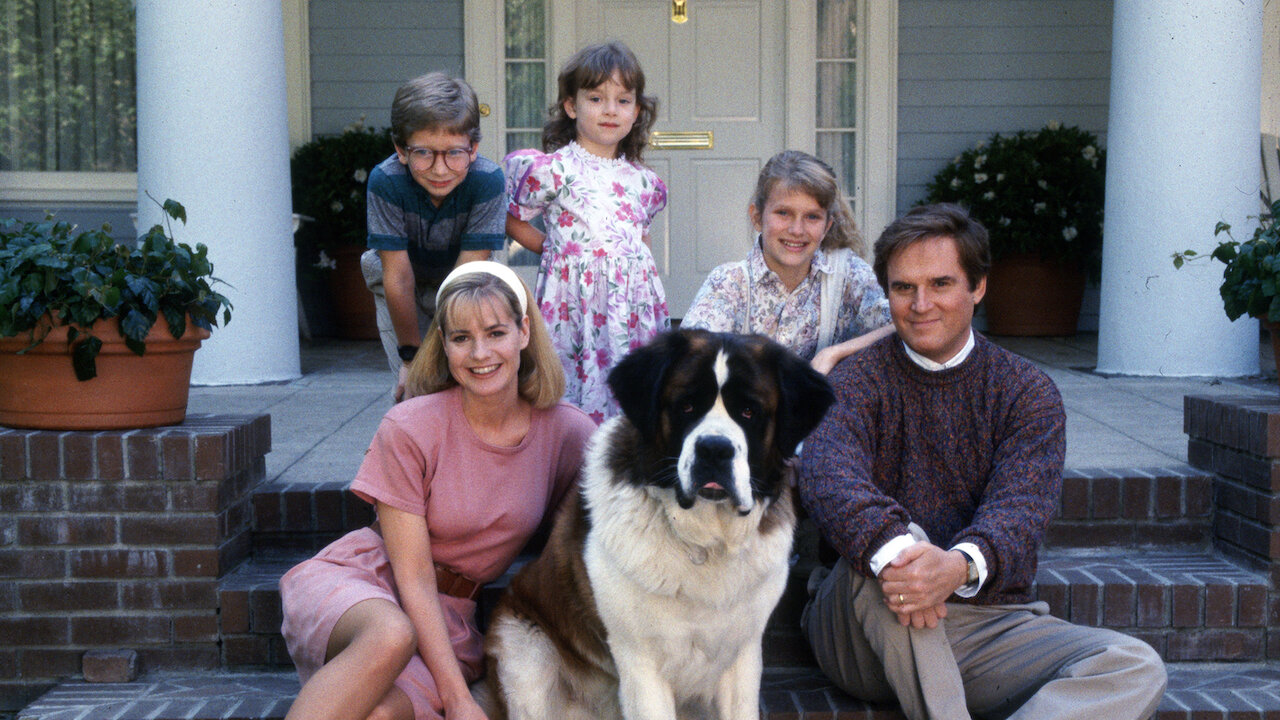 In 1992, the world was introduced to Beethoven, one of the most beloved canine characters in movie history. And now, on the film's 30th anniversary, it's time to rewatch it and fall in love again! Beethoven is a classic family movie that is sure to put a smile on your face. The story of a lovable St. Bernard who goes through many adventures with his human family is something that will never get old. For anyone whose film memory is failing them, here's a brief description of the movie's plot, according to Rotten Tomatoes: "When the family of George Newton (Charles Grodin) decides to adopt a cute St. Bernard puppy, the patriarch soon feels displaced by the dog. Before long, the adorable canine, dubbed Beethoven, has grown considerably, leading to household mishaps. While George's wife and kids dote on Beethoven, it takes time for him to see the pooch's finer qualities. However, Beethoven's life with the Newton family is jeopardized when a scheming vet (Dean Jones) tries to nab the dog for a deadly experiment."
The movie didn't exactly garner positive reviews during its premiere, but you've got to admit, it's hard to hate a movie featuring such a lovable protagonist. A generous review from the New York Times wrote: "Beethoven" is no classic, but it's a sunny, energetic children's film with a good notion of what young audiences like. That includes a gruff, lovable Dad (Charles Grodin) who takes a lot of pratfalls, a wide range of mess-minded sight gags, and, of course, a shaggy dog story, complete with huge, drooling shaggy dog. "Beethoven" depends chiefly on the dog's vast array of stunts, Mr. Grodin's even more comprehensive range of slow burns, and serviceably lively direction by Brian Levant, who has definitely come a long way since "Problem Child 2." An enjoyable score by Randy Edelman consists mainly of standard-sounding movie music but occasionally flirts with the real Beethoven for a bar or two."
Here are some of the reasons you should watch Beethoven on its 30th anniversary in 2022:
It's a dog lover's movie
Beethoven is made for every dog lover out there. The movie will definitely tug at your heartstrings, especially if you're a big fan of the furry creatures. What makes Beethoven such an excellent movie for anyone who likes canine companions is that it realistically portrays the relationship between a dog and its human family. In the film, Beethoven goes through all the ups and downs that come with living with a family, from getting in trouble for chewing on shoes to becoming a hero. It's this relatability that has made Beethoven a timeless classic.
It's a great family film
Beethoven is a great film to watch with the whole family. It's lighthearted and will surely leave everyone laughing and smiling by the end. Beethoven is a perfect family movie because it has something for everyone. The kids will love the titular character and his antics, while the adults can appreciate the film's humor and message.
It's a feel-good movie
There's no denying that Beethoven is a feel-good movie. It's the perfect film to watch when you need a pick-me-up or if you're feeling down. The movie will instantly put a smile on your face and leave you feeling happy and loved. Beethoven is the perfect film to watch when you need a little bit of light in your life. So prepare to be instantly delighted the moment you start watching this movie.
It's full of life lessons
Beethoven is not only a feel-good movie, but it's also full of life lessons. The film teaches its viewers the importance of family, loyalty, and friendship. In addition, Beethoven is a movie that will leave you feeling inspired and motivated. These are all essential values that everyone should live by. Beethoven is a great film to watch with your kids if you want to teach them some valuable life lessons.
It has a stellar cast
Beethoven features an all-star cast that includes some of Hollywood's biggest names. The film stars Charles Grodin, Bonnie Hunt, Dean Jones, Oliver Platt, and Stanley Tucci. With such a talented and well-known cast, it's no wonder that Beethoven is such a beloved film. Each actor brings their own unique charm to the movie, making it a must-watch for any fan of Hollywood films.
It has spawned a franchise
Beethoven was so successful that it spawned a franchise. The film was followed by nine sequels, all of which are equally as enjoyable as the original. If you're a fan of the first Beethoven movie, you'll definitely want to check out the rest of the franchise. The sequels follow Beethoven and his family through a variety of different adventures, all of which are sure to leave you entertained.
Brian Levant directs it
Brian Levant is an expert in making family-friendly movies, and Beethoven is no exception. The Levant has directed other well-known films such as The Flintstones, Are We There Yet?, and Jingle All the Way. If you're a fan of Levant's work, you'll definitely want to check out Beethoven. You won't be disappointed.
It's a classic film
Beethoven is a classic film on every movie lover's watch list. The movie is timeless and will continue to be loved by generations to come. So, if you haven't seen Beethoven yet, now is the perfect time to watch it. In addition, the film is a must-watch for anyone who loves dogs, family films, or feel-good movies. So, make sure to add Beethoven to your list of films to watch on its 30th anniversary in 2022.
It's an underrated movie
Beethoven is an underrated movie that deserves more recognition. The film is a hidden gem that everyone should watch. During its premiere, critics heavily panned Beethoven, and it was a box office bomb. However, the movie has gained a cult following and is now considered one of the best family films ever made. So if you're looking for a great film to watch with the whole family, look no further than Beethoven.