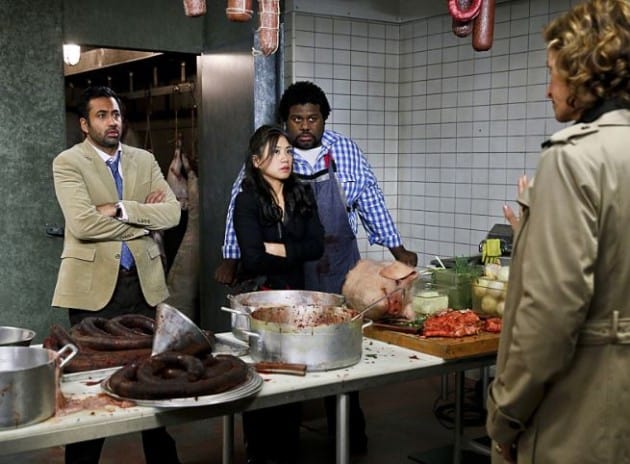 Well, fellow Battle Creek fans, I am so excited to write this tonight. For the past week, I've been worried that Battle Creek's magnificent episode from last Sunday was a fluke, and that they would descend back into the pretty-good-potential-but-ultimately-mediocre show that dominated the first part of the season. I am happy to report today, fellow fans, that my worry was for naught. For the second week in a row, Battle Creek brought out exactly the kind of episode it needs to continue to make the show great. And boy, was this episode great.
This week on Battle Creek: Font, who has an affinity for remembering faces, recognizes a criminal from the FBI's most wanted list as he and Russ are on their way to work. When Milt insists that this particular criminal is dead, Russ and Font decide to investigate for themselves. Meanwhile, Russ struggles with his feelings for Holly as she's about to leave on vacation with another man, and Milt tries to nudge him in the right direction.
Two weeks in a row now, Battle Creek has lived up to its potential. It has brought us two episodes now that have been smart, witty, and fun, while still packing an emotional punch. The crimes have been getting more grounded and realistic, and the story is benefiting from it. The show seems to now know what it is, and what it does well creatively. At least, I hope it does, because I will watch a show like this religiously. All of the show's strongest elements were working together in this episode to create an extremely compelling hour of television.
I just love the continued exploration of the Russ/Milt relationship. As the two have become comfortable as partners, they've slowly begun to be more open. In this episode, Milt was trying to help Russ with his love life. As the episode developed, it became clear that Milt was right, and only Russ' own emotionally broken character was standing in the way of his desires. Each week, it's something new with these two, but it's so much fun to watch. Rarely will you find a cop duo with such grand chemistry as Josh Duhamel and Dean Winters as Agnew and Chamberlain. They're fun, relatable characters that are easy to invest in, and I truly enjoy watching them.
I was so pleased to see an FBI's most wanted case on Battle Creek this week. In the beginning (if you remember from my earlier reviews), I was concerned that Battle Creek was trying too hard to be something that it wasn't. It was using cases like a local syrup cartel and the attempted assassination of the mayor on Cereal Day, and seemed to be playing mostly for laughs. This show can be, and IS, funny, but only when it organically creates a realistic story. Last week and this week are prime examples of such. There were still plenty of funny moments, but it was because they were refreshingly real, raw, and honest, rather than playing for laughs amidst the ridiculous. I'm so, SO pleased with this particular creative direction.
Finally, I can't say enough about how well-used the entire cast was in this episode. Obviously, the show is about Russ and Milt, and their relationship. They've got a great odd couple dynamic, and as I say every week, Duhamel and Winters have brilliant chemistry. This week, however, it seems that they've finally been listening to my complaints about the underused supporting cast!! Kal Penn's Detective Fontanelle White arguably took the lead in this episode, and the police department had an all-hands-on-deck situation, which meant not only more Penn, but also that Grapevine, Liza Lapira, and Aubrey Dollar (three of my newest favorite actors and actresses) were able to take on fuller and meatier roles in the episode, even if the latter was less a part of the case and more a part of Russ' romantic arc.
Ultimately, this show has grown so much just in a few weeks time. I'm so pleased with the episodes that have been coming out lately, and I don't want it to stop. CBS, if you're listening, let this show blossom. You've got a great product here, that is finally figuring out how to sell, and I, for one, would like to see it do so.
What did you guys think? Are you enjoying Battle Creek? Let us know!
Battle Creek airs Sundays at 10/9c on CBS.
[Photo credit: Cliff Lipson/CBS]