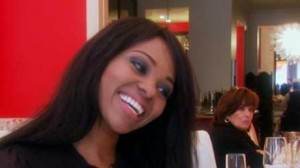 Um, can we talk about how extra Suzie's being this season on Basketball Wives?
Although her weird aggression in the premiere got under my skin almost immediately, I kind of thought that it was just the nerves/adrenaline that come from a new season. Suzie's never been a saint, but before season 4, I'd never classify her as a mean girl; after finishing the second episode of season 4, though, Suzie's turned into one of the meaner mean girls on Basketball Wives. Last season, she got re-accepted by the "cool" crowd and thus far, it feels like she went from a flawed but decent person to Evelyn Lozada-lite, loud, vulgar, and full of cutting remarks about pretty much anybody not in her clique. It's a testament to how insecure and needy that Suzie is as a person that she changed once she got back in with the circle, as she's doing her damndest not to be cast out into the reality wilderness like she was previously. She doesn't want Evelyn, Jennifer, and company to like Kenya and Kesha because if they do, she could become the outcast of the show again, so like last season with Royce and Meeka, she's going to keep the drama bubbling and not let anybody have a chance to be friendly/cordial.
Her treatment of Kenya, though, was just ridiculous. The videos may not be that great, but Suzie talking about how they'd be embarrassing to her children and that Kenya looked psychotic was a bit much. Wouldn't her children be embarrassed by their mother giving blowjob lessons in public or running around like a 10 year old whispering in everybody's ear about what she heard? Plus, the show that you're on is all about being as crude, violent, and ugly as one can be, so I don't think you can take much of a "moral high ground" four seasons in. A member of Basketball Wives talking about another person being a public embarrassment is like a skunk thinking that the skunk next to it smells bad; it may be true, but you're right there with them, sunshine.
Aside from Suzie exemplifying the desperate-high-school-nerd-turned-popular-kid stereotype that I pegged her as last season, Basketball Wives had a whole lot of Evelyn tears tonight. I try to feel for her as much as I can, but there's only so much sympathy in my cup for the future Mrs. Ochocinco. My heart goes out to her over her brother-in-law's cancer, which got brought up tonight, but everything else was just a mess. For having made a big deal about getting a relationship with her father last season, she sure didn't act like it meant anything to her now, avoiding his phone calls and not letting him walk her down the aisle. If you truly want to re-establish a connection with someone, you have to go the extra mile, be able to do the work to enjoy the spoils that a strong friendship/family relationship can have, but Evelyn doesn't seem to want to do that. Her bid to reconnect with her father was the only humanity that she showed last season and that seemed to dissipate once the cameras were off.
The final scene with Ocho was frustrating, for how strange and unhealthy a relationship dynamic the two have. If you have to make someone be monogamous with you (and you're not in an open relationship), you might not need to be together. To me, Evelyn's trying to force this "fairy tale" to come true when Ocho doesn't seem willing to play the role of Prince Charming anytime soon. While you have to question the sanity of trying to date a current athlete again after having been cheated on for years by an athlete, it was almost sad to watch Evelyn's insecurity bubble up. I was very annoyed by the times she got loud about Ocho being around his female friends last season, but all the rumors may have actually taken a toll on her, beating her down until she seems willing to let him cheat if it means they stay together. It makes for a stark contrast to the grandstanding Evelyn does about how bad she is and how much she's got and as much as I don't like her, she deserves more.
Royce has convinced herself that she does deserve more this season and for that reason, she's had a great arc so far. After being the outcast all season (and stuck in the drama), Royce has a new friend in Kesha, a new football player boyfriend, and a career going full steam ahead, including a stint on the New York play circuit. She may be a little off to herself these days, but I like seeing Royce put her nose to the grindstone, block out all the foolishness around her, and make progress in her personal life. Her moments provided some of the only "real" moments in this week's episode, with her strained relationship with her father and the unexpected career victory that she tried to share with him. It didn't feel TV-ized like some of the other family moments have in the past, partially due to how the dynamic between the two has been shown, and the mixed emotions on Royce's face, trying to enjoy her moment but sad her father was so cold, hinted that this problem may be deeper than what has been indicated thus.
Two episodes in and Royce is winning, Tami's chill, Evelyn and Jennifer are no more, Suzie's a mean girl, and there are two random new people for everybody to talk about.
Is this bizarro Basketball Wives or what?!
Thoughts, Quotes, & Observations:
-"I'm worried about my own vagina, not yours."
-Can we retire the term "hater", please?
-Am I on glue or did Royce have a little bit of talent going on? Once she got into it, I wasn't mad at her.
-Evelyn's Jennifer impression was mean and tacky, but I laughed at the perfume line.
-There's a surprise reconciliation between Royce and somebody else this season. Any guesses?
-Jennifer got interviewed on Power 105 (and VH1's Morning Buzz), talking about a lot of juicy stuff.
-Here's Aunt Tami breaking down Evelyn vs. Jennifer.
-Jackie Christie offers advice to the original Basketball Wives.
-Next week on Basketball Wives: Kenya and Kesha do battle again, Suzie disrespects Royce again, and one of the new girls comes at Tami…again.
Tell us what's wrong with this post? How could we improve it? :)
Let us improve this post!