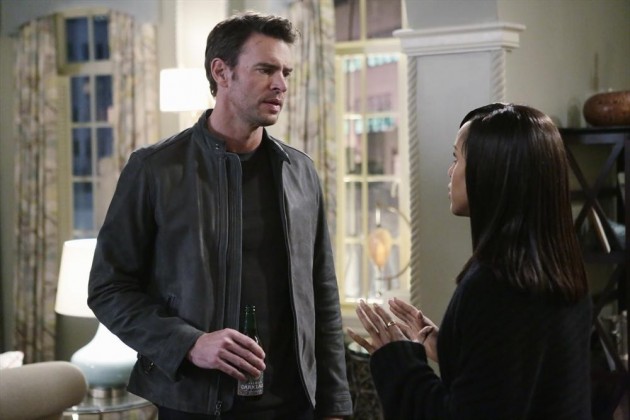 The fall hiatus is over with and Scandal is finally back. The show's first episode of 2015, "Run," certainly does not disappoint; it's an excellent withdrawal fix after a couple Scandal-free months.
The tenth installment of Scandal Season 4 has narrative independence, which, without a doubt makes the episode one not to miss. Not to mention that on its own, it's a perfect hook for potential new viewers.
This new chapter, and the fist taste of Scandal that the fans have gotten since before Thanksgiving, is all about Olivia. In fact, Olivia in this abductee state would qualify as a top priority client for OPA, which we all see happening in future episodes. Her team, no doubt, will try to get to the bottom of it all and rescue her; that is a given. That very reason also turns up the volume on "Run," since the episode is shown through the point of view of none other than Ms. Pope herself, an impeccable strategic move by the Shondaland writing team.
The fall finale, "Where the Sun Don't Shine," left Scandal fans with their jaws on the floor and a million questions floating in the air. Olivia had been taken, while Jake was in the next room. "Run" begins with a disheveled and desperate Olivia running towards a red door while holding a gun; the quick scene lasts mere seconds and, in an action-drama-cardio fashion, sets the audience collective heartbeats for the rhythm they have to be ready to follow. Then the episode picks up right where we were left, and through a solid montage and the use of slow motion, there is both context, a quick memory refreshment, and a cue to action.
This time around, we see the kidnapping operation in a more detailed manner. The orchestration of the plan was flawless; the execution was like clockwork. That said, the smoke and mirrors element was what really made the abduction successful. Jake, who has worked for Intelligence, was fooled, which says it all. Moreover, he'd be chasing a nonexistent, planted clue, along with the gladiators, for who knows how long. Abductors score bonus points. However, Olivia managed to leave a breadcrumb in the form of a ring, so she scores too.
After being injected with an unidentified narcotic that put her to sleep immediately, Olivia wakes up in what seems to be the set of Homeland. A basement/dungeon, somewhere, but he place is a bit too bright to be a basement, not to mention the sounds from "the outside" are not convincing enough to completely sell the audience (or at least me). However, Olivia is still in captivity in a very scary place.
There is a cellmate alongside Olivia. His name is Ian (played by Michael McMillian), and he tells her that he is a journalist who has been taken. According to him, their captors asked for ten million dollars for his ransom. He also shares that he is a widower with a young daughter.
Now this is hard for me to admit, but Ian looked suspicious from the beginning. He didn't have to look like Tom Hanks in Castaway to be believable, but he surely looked too clean. To add to the wound, he was able to say that he was left without food for three days, when the team of kidnappers went after Olivia, but immediately after making such statement he fails to be able to tell how long he has been a prisoner. It really didn't add up. The original Saw, along with films like Inside Man and TV series like the recent Crisis, have previously installed the notion that a plant is a good plot twist. Ian didn't truly work.
Letting aside the notion that there is something off with Ian, his questions are a little bit too on the money, especially for someone who has been captive for so long. He does say a lot about his trauma, but shows little scarring. Regardless, "Who do you hope put a tracking device on you other than your father?" resonates.
Olivia tries to escape while on a bathroom visit, thanks to her intelligence, her underwire bra, and MAYBE an upbringing that might have been peppered by some MacGyver. However, she gets caught by one of the guards and even though the thugs don't harm her because they cannot make that call, since it has been established that they are not in charge, they take Ian out of the cell. Olivia and the audience hear a shot and see some blood. Ian is supposedly dead, which Olivia swallows, hook, line, and sinker. Nevertheless, the execution was even more suspicious than the set up.
Even though we hear scarce sounds coming from the same outside that provides a lot light to the place where Olivia and Ian are being held, the sound of helicopters makes itself present via dream sequence, of course. In Olivia's fantasy, Jake rescues her, only to be thrown into a fanciful mental image that takes place in Vermont, where Liv and Fitz can be Liv and Fitz. Also, where Abby, acting as the voice of reason, clues Ms. Pope's subconscious mind.
Back to the cruel reality, Olivia is still captive, and as imaginary Abby stated, she is the only gladiator in site. While on another visit to the beaten up, nasty bathroom, Olivia remembers imaginary Abby's words and follows the clues. She ends up weaponizing a metal piece. She renders one of her captors out of commission by striking him on the head with said piece. Then she takes his gun and runs. A second captor tries to stop her, and when he makes his case as to why Olivia will not shoot him, she shots him in between the eyes.
Olivia opens the red door shown at the beginning of the episode, and when she succeeds at leaving the place, she finds out that, yes, she was in a set the whole time. It might not have been the Homeland one, but it was a set after all. Ian, who was the ringleader after all, claims his rank and puts Liv back in the fake dungeon. While doing so, he reveals that he wants her because of the information he can get out of her. Basically, he is weaponizing the goose of the golden eggs.
Highlights:
– Jake running in his underwear. Enough said.
– I have said this before but Kerry Washington's acting doesn't miss a beat. EVER.
– Abby is the perfect voice of reason. Snarky, yet on point.
– All in all, "Run" was a great winter premiere for Scandal. It delivered drama and entertainment and opens the door for what seems to be a nerve-wracking rest of the season. I, for one, cannot wait to see what Shonda Rhimes and co. have in store for us.
[Photo via ABC]