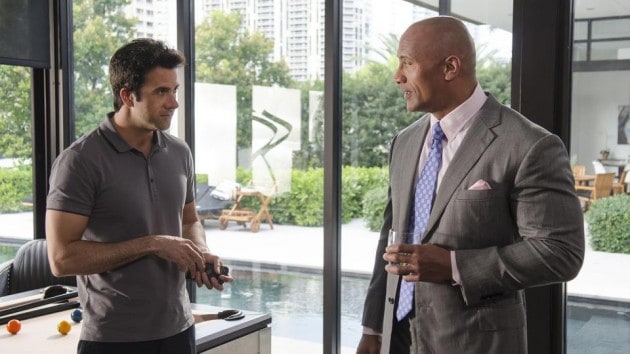 I can't tell you how pleased I am to be covering my very first premium cable show for TVOvermind. Given the way I fell head over heels for Silicon Valley, I didn't ever want to miss the chance to cover something that looked good. Ballers does more than look good, although the production value is high. Ballers has substance. I found myself laughing, but I was also riveted by each performance the show highlighted. I have a feeling that the longer the show goes on, the more enamored I will become.
This week on Ballers: Former NFL Star Spencer Strassmore (Dwayne "The Rock" Johnson) is reunited with some of his old pals after the death of one of their friends. Spencer struggles with recruiting his friends to the financial management firm he now works for. Several of Spencer's friends find different paths during and after their NFL careers.
I will be honest, I was excited when I heard that The Rock was starring in a new HBO show. I love that guy. I mean, who doesn't? You'd be hard pressed to find someone that knows who he is and dislikes him. The Rock is an all around likable guy. He is likable here, but what I didn't expect was such depth to his performance. Good ol' Dwayne absolutely floored me with his acting ability. I particularly liked the scene when he sits down with Ricky and tells him to stop being a child. My jaw dropped to the ground, absolutely riveted by Johnson's performance. If he maintains his level of both likability and dramatic chops throughout the season, we're in for an excellent series.
Aside from a strong lead, the series has plenty going for it. HBO comedies don't always go straight for the laugh. Sometimes, you have to wait awhile. Still, there were some laugh out loud funny moments in this episode. Rob Corddry is excellent as Joe, for whom Spencer works. His sense of comedic timing and all-around willingness to be ridiculous adds another comedic layer to an already strong show. It was wonderful to see Dule Hill again, too. According to the previews, we'll be seeing more than one former star of The West Wing before the fat lady sings.
Admittedly, I'm not as big of a football fan as I once was. Ever since Peyton Manning left my beloved Colts, I haven't followed the sport religiously as I once did. However, for someone familiar with famous football names and with a general knowledge of the industry, I'm extremely pleased with the direction of this show. Not only were there some glorious football cameos (Don Shula and DeSean Jackson, among them), but references galore. This is an enjoyable show, but it will be much more enjoyable to someone familiar with football.
This show also uses football in the tragic sense. Strassmore has struggled in his post-playing career. Charles Greene (Omar Benson Miller) is now working for a Chevrolet dealership. Most of these players are not the target of Occupy Wall Street protests. They are just human beings in the midst of drastically changing careers, financial situations, and emotional states. I was so compelled by these stories that I had forgotten the show was a half-hour comedy. Ballers wants you to sympathize with these fictional former NFL players, and so far I am doing just that.
As is tradition with comedies I cover, here are some of my favorite quotes/moments from the episode:
-The funniest moment of the whole episode for me was the way the first player died. I couldn't help but laugh.
– So the guy at the club recognizes that he's an NFL player, and decides to provoke him? Probably deserved that punch.
– "Of course his life is hard, his name is JaMarcus"- Jason, the agent
– "So you're gonna retire early, pull a Tiki Barber, pursue your dreams after football?"- Spencer. This whole scene was brilliant.
All in all, Ballers gave a strong first impression. It was compelling, funny, and set forth an extremely interesting premise. Whether it maintains remains to be seen, but from what I have seen, I am confident. Definitely worth a watch, if you're thinking about it.
What did you guys think? Did you catch the premiere of Ballers? Will you be returning? Let us know in the comments!!
Ballers airs Sundays at 10/9c on HBO.
[Photo via HBO]
Tell us what's wrong with this post? How could we improve it? :)
Let us improve this post!