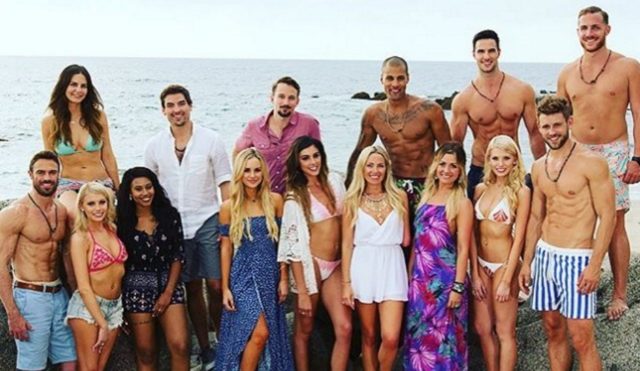 If you are old enough to remember "The Dating Game" created by genius Chuck Barris, three unseen bachelors contestants would answer questions and one would be chosen to accompany the lady on a chaperoned date. It was pretty tame fun but let's face it, dating shows draw an audience. Somehow "The Bachelor" or "The Bachelorette" never struck me as fun. Contestants swap spit with the man or woman knowing they were doing the same thing with someone else just with 30 minutes before with producers in the wings urging them to go further and be more outrageous.
From these two shows comes a hybrid "Bachelor in Paradise" (note that it's not "Bachelor and Bachelorette in Paradise") Yeah, they start out with an unequal number of men vs. women looking for love and then basically discard the "rejects" who were already rejected on either "The Bachelor" or "The Bachelorette" and then bring in fresh contestants into the contest. If someone doesn't believe at least a good portion of this nonsense is scripted, I have a bridge to sell you.
In case your parent never told you, getting drunk and running around a resort is really not a good idea. So, now they were filming Season 4 with returning romantic hopefuls such as Corinne Olympios from Nick Viall's season of "The Bachelor" and DeMario Jackson, a recent castoff of Rachel Lindsay's season of "The Bachelorette". Things went way too far in the pool and Corrine was so intoxicated it is said that she was beyond the ability to consent. Others say that DeMario was also so intoxicated that he could not actually go "all the way".
I will spare you the particulars of what some sources claim to have happened in the pool but someone on the production staff blew the whistle and the production of Series 4 was shut down. I say "great" as this show was well on it's way to going too far even before this happened. In an effort to garner more viewers and keep the ones they have, they stretched the bounds of decency until it broke. Whether you are a fan of the show or not, hearing about this "immoral conduct" on set makes both men and women wince with discomfort.
This scandal with be sending shock waves through the entire "Bachelor" franchise, no doubt. And it will be the show's own fault, sacrificing the dignity of two nice young people in the quest for titillation. "The Bachelor in Paradise" has gone from being entertainment to serving as a cautionary tale.
Many claim Corianne already has a boyfriend, so why was she on the show? It's more like a star launch casting call than a real romantic quest. Also, if some of the contestants were branded as "villains" why would they have them back on a dating show? You take a bunch of nearly naked young people, serve them lots of liquor and let the romantic games begin? Each season has gotten more risque, more desperate, and harder to watch. As a female, I can relate to Corianne. You drink too much and suddenly things get out of control. I also feel for DeMario. How much of this was a set up by the show? Sure the network folks don't like the outcome now, nor the scandal, but when you play with fire someone gets burned.