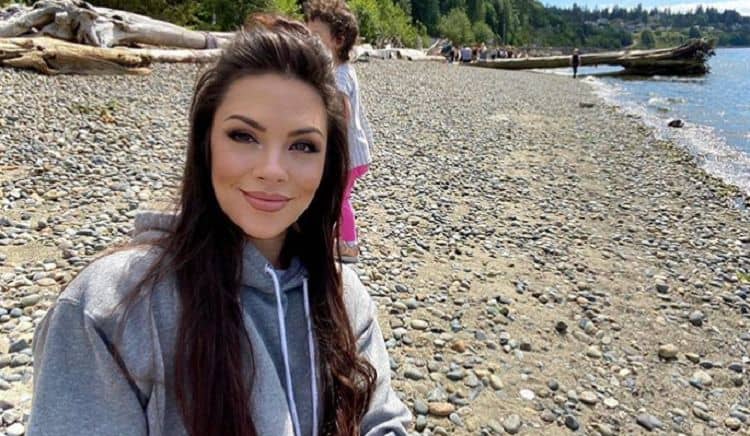 Season 4 of 90 Day Fiance: Before the 90 Days has had more than its fair share of dramas. Each couple has brought a unique dynamic to the show, but none of them have given viewers as much hope as Avery Warner and her boyfriend, Ash Naeck. Although Avery lives in the United States, and Ash lives in Australia, the two seem to have a genuine bond that could prove to be a solid foundation for a long lasting relationship. However, when Avery travels to Australia to meet Ash for the first time, it's clear that they have some major differences. Through it all though, Avery proved to be one of the most rational people in 90 Day Fiance history. Continue reading for 10 things you didn't know about Avery Warner.
1. She Was Born In Canada
One of the best things about 90 Day Fiance is that viewers get to see different people from different parts of the world. Although Avery is one of the American cast members, her background is a bit more diverse than it seemed. She currently lives in the Pacific Northwest which is also where she was raised , she was actually born in Canada. Unfortunately, she hasn't shared much info on her background or when or why she moved to the United States.
2. She Has An Account On Cameo
Thanks to the internet, 15 minutes of fame can now last much longe. Some people have even managed to turn their 15 minutes into years in the spotlight. Like many other people who are in the 90 Day family, Avery is taking advantage of her new found fame. She has created an account on Cameo where she records customized video messages for her fans starting at $39.
3. She Has Her Own Cooking Business
Being a reality star isn't the only thing that Avery Warner has going for herself. She is certified in holistic nutrition and is also a talented cook. She has built an entire brand around creating cannabis infused dishes. Through her brand, Sweed & Savery, Avery shares all sorts of delicious recipes that include weed as an added ingredient. Sweet & Savery's Instagram page has almost 11,000 followers.
4. She's An Introvert
Although viewers are able to get a decent idea about who Avery is by watching her on TV, certain aspects of her personality are a bit more difficult to gauge. Avery is a self-proclaimed introvert whose idea of a good time is relaxing at home and enjoying the company of loved ones.
5. She Was Raised In Washington
Avery grew up in eastern Washington where she was raised by her mother and step father. She says that her father was very strict and her mother "suffered from her own demons". Even though Avery had to learn to be independent at an early age, she still has very fond memories of her childhood.
6. She Spent A Lot Of Time Outdoors During Her Childhood
When Avery was a kid, she spent a lot of time with her step father who has been in her life since she was very young. Avery told The Knockturnal, "My earliest childhood memories were of me and my family doing a lot of camping and hunting trips. My dad (who is actually my stepdad, but raised me since I was young), he is very much into hunting and fishing. Me and my sisters were raised like boys. Got my first BB Gun when I was 6-7 years old, got a motorcycle around 5th grade."
7. She Wanted To Become A Dental Hygienist
Being on TV wasn't something Avery planned on. Her childhood dream was to have a career in the dental field. She hoped to become a dental hygienist and possibly pursue other options in dentistry. However, life had other plans for Avery and she ultimately developed other passions.
8. She Has Two Kids
If you've been watching this season of Before the 90 Days, you're probably already aware of the fact that Avery is a mom. Even if you follow her on Instagram, you'll probably notice that she posts lots of pictures with her adorable little daughter. However, the reality is that Avery has 2 kids, not just 1. Unfortunately, however, the situation between Avery and her oldest daughter's father seems to be a huge mess. Recently, there have been accusations flying around that claim Avery is a neglectful mother who has made no effort to have a relationship with her oldest child. But Avery has refuted these claims
9. She's a Fan Of Big Ed
On top of being featured on the current season of Before the 90 Days, Avery has also been tuning in. Like lots of other viewers, she can't seem to get enough of Ed 'Big Ed' Brown. During an interview, she said, "I love Big Ed. He is just a character and fun to watch on TV. He just has a personality that you just want to tune into."
10. Her Ex Introduced Her To The Cannabis Industry
About six years ago, Avery's boyfriend at the time introduced her to the cannabis industry. She quickly developed and interest and starting research more about the plant on her own. Over the years, she became particularly interested in the healing properties of Cannabis and has incorporated this into her own business ventures.