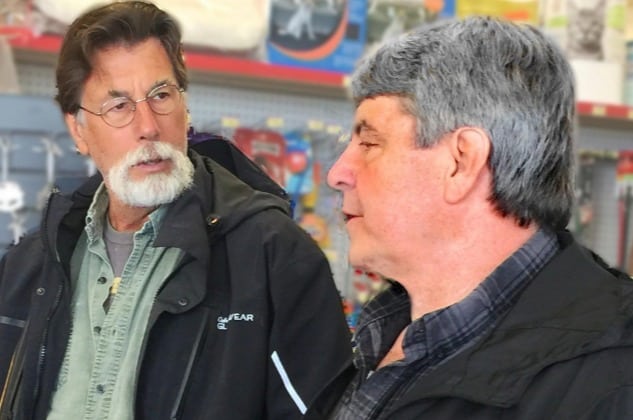 The Curse of Oak Island is one of the most popular shows on cable TV, with an estimated ten million fans around the world.
I first got involved with the Oak Island team back in 2016 when I provided a small bit of information that I had a hunch might be relevant, and which involved a group of Scottish knights attempting a settlement in Nova Scotia way back in the early 1600s. This led to an hour long conversation, with many questions being asked, most for which I did not immediately have an answer. However, I was pretty sure I could find the answers since I had spent the last four decades studying Scottish history.
Four decades is a long time, and admittedly the later years were much more intense – so intense that I actually received a fellowship from the Society of Antiquaries of Scotland, based on my many books, magazine articles, and web postings, which typically dealt with the history and culture of my family's homeland of Scotland.
This elite group of historians is linked closely to Scotland's National Museum and National Records, and therefore I have been able to "go to the well" many times for research assistance. Having this fellowship also opened the doors for me at the British Museum, the Nova Scotia Archives, the College of Geographic Sciences of Nova Scotia, as well as providing an introduction to such heavy hitters as the Grand Historian of the Grand Lodges of Freemasonry in Nova Scotia and the Principal Keeper of Arms for the UK (who oversees all knighthood issues for Queen Elizabeth). And it certainly didn't hurt my chances to visit Nova Scotia four times, present in the war room during four long and important meetings, and get many personal tours of the special places on the island, thanks to the Oak Island team and Prometheus Entertainment producers.
There are a few areas where the record needs to be set straight.
First, The Curse Of Oak Island is often accused of being scripted. I can assure you, having been filmed for about ten hours, I was never once told what to say. The activity is so broad and the days so long, on Oak Island, it would take a team of dozens of writers just to come up with the scripts. What actually happens is that plans are made for the day and then teams of cameramen and sound men are assigned to follow the various Oak Island team members on their latest adventure. For instance if Rick Lagina and Gary Drayton are going to a certain lot to metal detect, the producer might assign three or four members of the production team to accompany them. The cameras simply role steadily, from drones, and from the backs of cameramen. It's been said that about 14 hours of film is shot for every hour used on the show. I'm guessing the ratio is even higher.
Secondly, the Oak Island team members are not actors. They are as down-to-earth as any bunch of guys with pickup trucks, and are the same, in real life, as you see them on the show. If anyone is not exactly how they appear on the show, I would say it is metal detectorist Gary Drayton, only because he is such a funny guy, always cracking jokes. Only so much of that comes through during the final cut of the show. He told me once he plays Celebrity Walmart. I asked what that was and he explained that when he's in Nova Scotia, occasionally he needs to go to Walmart for essentials. He says that in virtually every aisle he will meet someone who wants their selfie taken with him, and wants to talk about their own Oak Island theory. I've been with him at bars where this happens to him a lot, as well.
Also, if you have the impression that Rick Lagina is one of the nicest people on earth, you wouldn't be far from the truth. As an example, he and I, and Doug Crowell, were heading to the mysterious foundation at New Ross in the company SUV one day. We pulled into an Ace Hardware to talk to someone when a panel truck arrived with a delivery of a set of sliding glass doors. Rick went immediately to the driver to offer our help. The four of us made short work of it. Imagine that driver's stories of how the Oak Island team helped him out that day.
This is just one of many tales I could tell about Rick's basic goodness. He's no slouch either. One day, as I was leaving the island, he pulled a chainsaw out of his pickup truck and I asked what he was up to. He told me he was going to go cut new tour paths because they had dynamite planted and he didn't want anyone to get hurt. I've been told he's often on the island seven days a week, for ten or twelve hours.
Third, it is sometimes said that war room theorists are pseudo historians. I agree that some have pretty odd theories. In fact, I was told that the team will often get a visitor who arrives with only a theory, and no proof or presentation to support it. The team sits there wondering even what questions to ask. But many of the theorists, even those I disagree with, have spent years studying this mystery. Some are engineers and scientists of some sort. Others are myth and legend fans. And some, like me, stick to actual historical records and documents, seasoned with a little logic. Most are sincere. Most have spent a long time in this quest. And most are less interested in being on TV as they are in being part of the solution of this mystery.
I have established my credential, not only through the individuals and institutions I've worked with, but also through the writing of five Oak Island books, with nearly 900 pages of evidence and theory presented. The first two books were suggested by the Oak Island team so that my research wasn't lost in our email exchanges. The next three were my own decisions, as my theory developed. Four years and hundreds of hours later, I may not be the world's expert on Oak Island, but I am no pseudo historian by any means.
I told Rick, on the phone one day, that what appealed to me most about the show is that it was just like me and my buddies jumping in the pickup, calling Billy to bring his backhoe, and heading off determined to solve this dang ol' mystery. He said, "And that's exactly what it is for us."
He asked me for a quote to appear on the wall of the Oak Island Interpretive Center. I thought about how this quest has captured the imagination of so many millions of people over a couple of centuries, and now through a cable TV show enjoyed around the world. Here's my quote:
"Oak Island is not so much a mystery to be solved as it is a chance to experience the unapologetic fascination of youth once again."
Author's bio: James McQuiston is a fellow with the Society of Antiquaries of Scotland and a member of the National Trust for Scotland. He has written four books on Oak Island: Oak Island The Novel, Oak Island Endgame, Oak Island Knights, Oak Island 1632, and Oak Island Missing Links. Each book built on the one before, culminating in his writing of a historical fiction account of his Oak Island theory. He is based in Pennsylvania and has written several other "hidden history" style books and articles. He has appeared on The Curse of Oak Island five times.
Tell us what's wrong with this post? How could we improve it? :)
Let us improve this post!