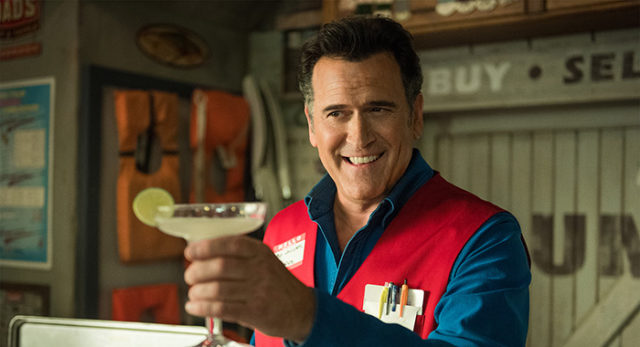 If you're a fan of Ash vs Evil Dead, then you probably already watched the season three premiere. If not, you probably won't want to continue reading, because there will be some spoilers for both the first two seasons as well as the third season. Bruce Campbell was the original Ash from the Evil Dead movies, so it's absolutely phenomenal that he's also starring in the television series, making it feel like almost an extension of the previous films. If you haven't been keeping up, here's a rundown of what's happened so far, followed by what we learned from the Ash vs Evil Dead season 3 premiere.
In The Beginning
The first season brings us Ash working in Value Stop, laying low for the last thirty years after his younger days of fighting evil. Unfortunately for Ash, all hell breaks loose, taking him along for the ride. It's not too long before he bands together with two other evil-fighters, Pablo, his bouncy-haired amigo, and Kelly, the sarcastic, quick-witted side kick. The trio battles Ruby who is somehow connected to the Necronomicon and they all end up back at Ash's creepy cabin in the woods for a showdown.
Season Two
The next season brings Ash's dad and along with him, an entire town of people who think he went crazy all those years ago. Fortunately for him, that's when things go all to hell. Ash and company, which actually includes Ruby this time, have to try to save the world while also saving Pablo from certain death. In the end, all is accomplished, but at a cost, as well as reviving Ash's hero reputation in his home town.
Season Three
The third season of Ash vs Evil Dead begins with Ash being able to finally enjoy some hero-worship in his hometown of Elk Grove. Furthermore, he's even taken over his dad's hardware shop, with Pablo by his side. However, Kelly is out doing what she does best, hunting Deadites. Unfortunately, the peace (for Ash) doesn't last very long and the trio are pulled back into the crazy world of demons. This time they end up back in high school with a new female character.
Surprise!
Season three brings us a nice little surprise, Ash's daughter! It seems she will be a worthy addition to their demon-hunting group, but how is Ash going to react to being a father? Probably not too well as he's sort of still a child himself in many ways. In addition, the show will pick up where it left off in season two, connecting Ash's going back in time to the evil which keeps coming at them. There will be further exploration of the history of evil.
The Knights of Sumeria are introduced, with Dalton being the main guy; Kelly has joined them in hunting Deadites. Ruby's backstory is also further explained, showing where she's coming from and what her relationship with evil is.
What definitely won't be missing from this season is plenty of blood and gore. Seriously, that's one of the best parts of the series, the inevitable red goop shower everyone ends up getting. In addition, there is a huge debut of the biggest Deadite ever. What could happen is anyone's guess. It's definitely going to be a bumpy, bloody ride, so buckle up and let's head back to high school with Ash and company in the third season of Ash vs Evil Dead.
Tell us what's wrong with this post? How could we improve it? :)
Let us improve this post!