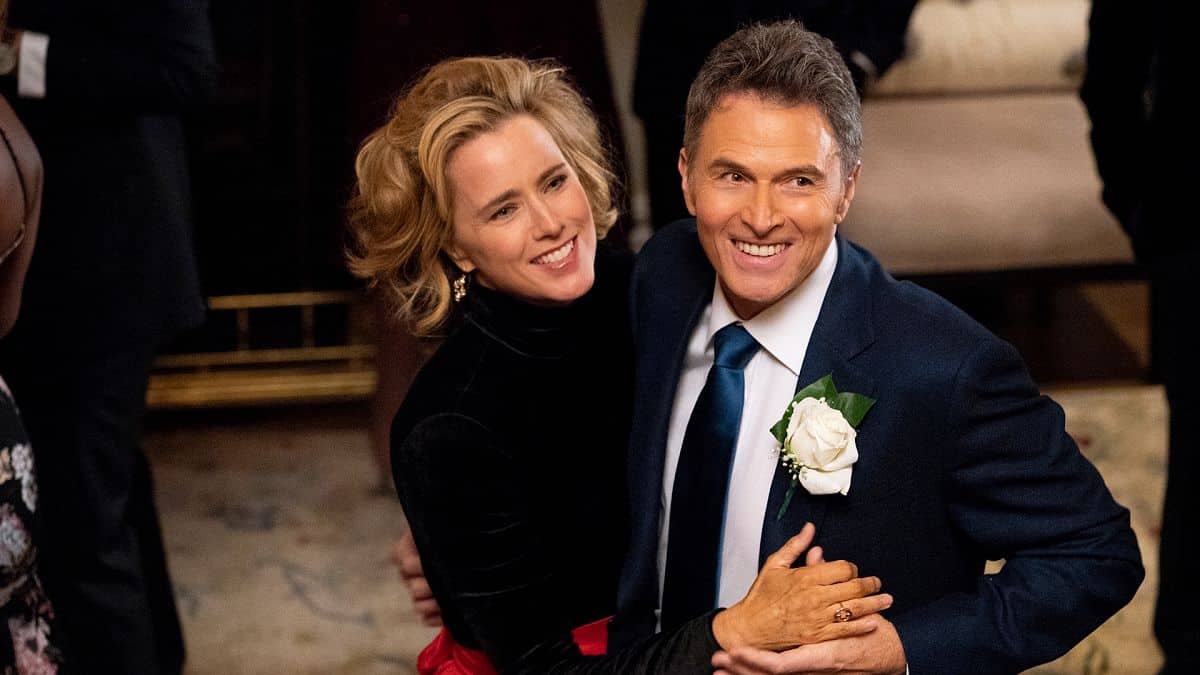 The last we saw of Elizabeth McCord was when she got herself arrested in the first part of this family separation storyline. Now that the new year is upon us, perhaps the secretary will get the charges dropped in the second part? Then again, in this week's episode of Madam Secretary, however, we know that Elizabeth won't go down that easy.
When Henry showed up at the detention center with Mike B in tow, I thought freedom is imminent for M-Sec. However, despite the deal that he got for Elizabeth, which is to plead guilty to the charges and pay a fine, the secretary refuses to accept the offer. Instead, Elizabeth chose to stick to her conscience and stay in jail until the children are back with their families. I loved the part where Elizabeth went against the judge's ruling to drop all charges because she's the Secretary of State. If it were anyone else, I'm sure they would jump at the chance to not be in jail. Not our M-Sec, she is willing to continue her stance until justice is served. You are going to be a great president some day, Elizabeth McCord.
Meanwhile, Russell and President Dalton are trying to find a way to free the children and Elizabeth. POTUS attempted to offer Governor Barker a seat at the table to discuss border security issues. Barker did not go for it, insisting that the separation policy is the best way to deal with illegal immigrants from Mexico. The Attorney General even wanted to charge Barker with kidnapping. It didn't come to that, fortunately, or else we would have another crisis on our hands and this time, the Secretary of State would not be able to help resolve it. Unless she wants to set up shop behind bars.
In other news, Stevie is still wrangling potential wedding bands for her parent's vow renewal ceremony. She manages to get another band, but she later gets a message from the first band, Laser Dawn, that they would be able to perform at the party/ceremony. Guess Daisy was right in telling the eldest McCord child to aim higher if she wants to get anything down in Washington DC. In the end, the legendary Peter Frampton shows up and plays Elizabeth's favorite song Baby I Love Your Way. It was a heart-warming moment to an emotional day.
Speaking of emotional, I teared up a bit when Henry and Elizabeth renewed their wedding vows. The former brought the kids and Elizabeth's dress to her at the detention center/prison. He even got the priest (who I assume is also arrested along with M-Sec) to officiate the ceremony. Henry read a letter he wrote before he married Elizabeth, omitting the steamy parts for the kids. Elizabeth, on the other hand, freestyled her vows, thanking her husband of thirty years for always sticking by her through it all. If it wasn't in a detention center, there would be Celine Dion's Because You Loved Me playing in the background. That or some other wedding/vow renewal appropriate song.
In the end, Jay was able to sway Senator Morejon's position on improving border security. Well, he had some help from a certain pot lobbyist named Win Barrington. The latter presented the senator with facts and evidence that by legalizing marijuana, the drug cartels in Mexico would be out of business. Jay drives the point home saying that it would help the senator in the long run when he begins his re-election campaign. Morejon finally relents and sponsors a bill that puts an end to Governor Barker's separation policy. Chew on that, Governor Barker!
Final Thoughts:
Seeing Elizabeth geek out over Peter Frampton made me smile. It's not every day that you see the Secretary of State channel her inner fangirl.
Jay getting high on the marijuana goodies that Win Barrington sent him amuses me greatly. I'm surprised that he is able to talk to Elizabeth on the phone without going off the rails. Kudos to you, Jay Whitman, kudos to you.
Amusing/Sweat-Drop Moment: A sky-high Jay wanting to pitch animal pyjamas to the Department of Agriculture.
Henry finally told the joke that "sealed the deal" with him and Elizabeth. I sort of got it but didn't really get it.
Touching Moment: Kat visiting her father asking him to apply for US Citizenship. He promises his daughter that he would apply. Let's hope he does. He will get better protection if he's in the system. Though there are instances where said system will pull one over on you. Just saying.
I also applaud the guard at the detention center for leaking a video about the conditions at the center. He did an admirable thing by telling the world about what is happening inside the building where the children are being kept.
Photo via CBS
Tell us what's wrong with this post? How could we improve it? :)
Let us improve this post!