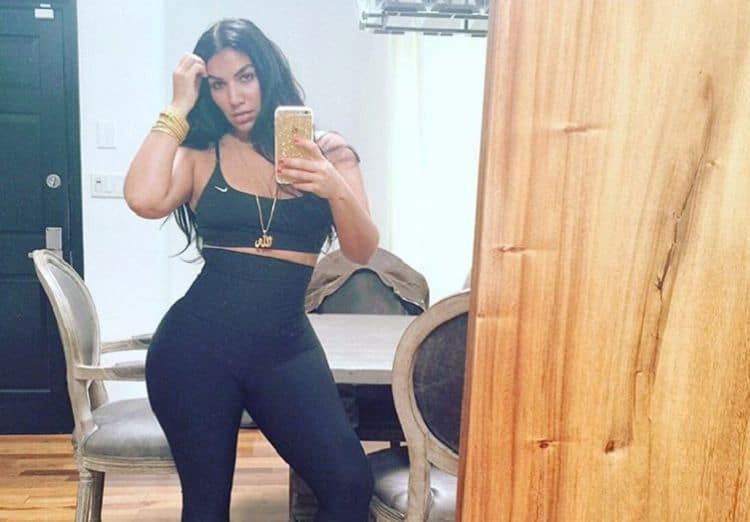 Asa Rahmati is popularly known from the show "Shahs of Sunset" and for being the wife to Jermaine Jackson. She was among the main actors when the show premiered. In season 7, she will only be making appearances because she did not want to open doors to some facets of her life like her family, and she is always busy. Her popularity online and on the media industry is increasing day by day because of her different talents, and her loyal followers named her the "Pop Priestess" and "Spiritual Gansta." Let's check out more about this celebrity.
1. She is an author
On May 9th, 2017, Asa Kaftan published a book titled, "Golden: Empowering Rituals to Conjure Your Inner Priestess." She starts by talking about her childhood, how her family fled Iran, and lived in Germany for some time before immigrating to the USA. Living in the three continents, she experienced culture shock and had to study people every time she moved to a new country. Consequently, she became a spiritual and open-minded person. In the book, Asa also talks about how she created rituals that were a sacred place for her and went ahead to share seven of them that made her remember who she was. The routines helped her to cleanse the environment, her body, and her emotional life to live without fear and negativity. She loves reading philosophy books, mainly in German, because she tries to read a book in its original language. She also loves poetry, and Rumi is her favorite.
2. She launched her diamond water in 2013
Her Diamond water is alkaline water with the highest PH of 9.5. In an interview on Hollywood Life, Asa explains that the water is enhanced with real diamonds but does not contain diamonds. What happens is that the water flows through a diamond housing and gets charged with the diamond energy. She then prays and blesses the water with her love energy. At 15 years old, she started meditating and creating diamond water for herself in a way to connect to her heritage. Later on, she even made a song about diamond water with her friend.
3. She is Spiritual
Asa started being spiritual at a very young age. The switching of different cultures made her feel the need to connect to her culture and herself. That is why she created the seven rituals that helped her stay grounded. She believes that we should always spread and speak love. Asa calls herself the priestess, and as seen, she prays for her water. Nobody taught her how to meditate at a young age, but this brought her peace. She learned to love herself, her beauty, power, culture, and embrace her new country.
4. She is an entrepreneur and designer
In season one of "Shahs of Sunset," Asa was considered a weird person because of her confidence in her Persian influenced dressing. It did not bother Asa, so she continued investing in her style. She now has a fashion jewelry line with HSN that carries a variety of pieces like stunning necklaces, earrings, rings, gorgeous cuffs, and foot jewelry. Asa's jewelry is very lightweight with popping colors and mostly gold-themed. Her inspiration was from her different personal jewelry that she bought when traveling the world, and also her Persian descent. Asa also has a clothing line that is Persian-inspired. The range includes kaftans, tunics, kimonos, dresses, scarves, and swimming costumes. Her most famous collection is the kaftans that are very comfortable that entail artistic decorations and prints of bold colors. On the show, "HSN Live" Asa gave her fans a tip that when wearing her brands, you have to own it like a queen or a goddess. She collaborated with Nordstrom, and her clothing line is available nationwide.
5. She is an artist
She is a performance and visual artist. Asa's artwork is also an inspiration of her life experience, which is considered Islamic Feminism. In season four of "shahs of sunset," Asa shows her #IamEveryWoman piece that the reality star did with her friend Amy. Her art is published by the International Women's Museum of San Francisco. Asa is also a singer and has written a couple of songs. She started singing in 2004; she and her friend Sunny Levine wrote a song for the NBC comedy star from the show "Parks and Reaction," which got shortlisted in the 2013 Oscars. The actress has released a lot of singles that are on iTunes and amazon. Despite her love for music, she misses making it because Diamond Water and her other businesses take most of her time.
6. Her zodiac sign is Aries
Asa Soltan Rahmati was born on 21st March 1976. The first impression a person gets from Asa is her bold character and fashion style. She is also an ambitious entrepreneur who decided to use her platform to promote her businesses. Asa lives up to the Aries personality traits by being a confident and motivated leader who builds her Persian community and her online audience by giving them spiritual advice. She is also incredibly impatient.
7. She has a substantial social media audience
Asa has a channel on YouTube called "Asa Kaftans," in which she posted her first video on 21st July 2019. Her YouTube fans are known as "Goddess Gang." The channel is a warm and friendly platform where Asa often posts instructional videos and styling tips such as how to wear a tie, and style kimonos or Kaftans. She also has a weekly giveaway of kaftans for her fans. The channel has 3.02K subscribers while on Instagram, Asa has 88.5K followers and 109K followers on twitter.
8. She loves traveling
Asa grew up observing, learning, and interacting with people from different cultures. Her best part when traveling are the different types of food she gets to try for the first time. She encourages people to try touring to know people's culture, food, and lifestyle. If your excuse for not traveling is that it is expensive, Asa thinks that your daily expenditure might even be more costly.
9. She is a philanthropist
In 2014, Asa collaborated with Adopt the Arts Foundation to sponsor art education in Los Angeles for a year without any of the students paying any fee.
10. She prefers a private family life
Asa and her current husband, Jermaine Jackson, met back when she was in high school, but they only started dating in 2010. They later got married, and on 20th January 2017, the couple welcomed their new baby boy, Soltan Jackson. Asa is enjoying every moment of being a mother with Jermaine Jackson being of great help. She chose to keep her son's life private and wished her fans would respect the decision. The baby already has playdates with Janet Jackson's son, Eissa Al Mana, who was born two weeks after Soltan Jackson. She even talks about the magic of breastfeeding in a video on Bravo TV.