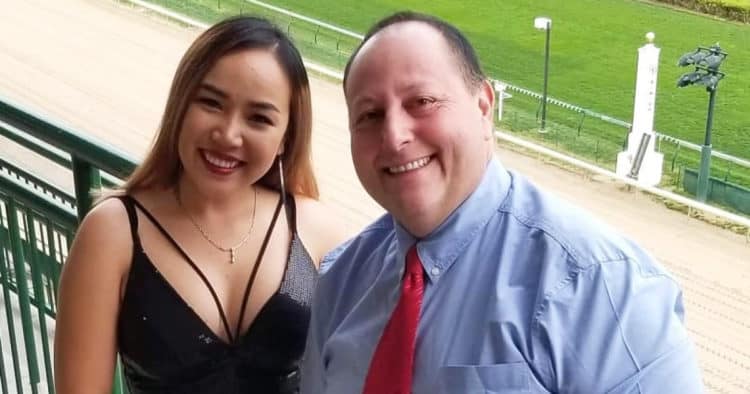 Successful marriages are those that weather the storm, and the couples emerge stronger than ever. "90 Day Fiancé" Annie Suwan Toborowksy and her husband David Toborowsky have had a rough journey ever since they met. Her husband could not afford to pay the bride price, pay for her visa, and even provide a roof over her head. However, their story is only evidence that where there is a will, there is always a way. Let's see what more there is to know about Annie.
1. She met her husband in a karaoke bar in Thailand
Two hearts meant to be with each other will find a way to be together regardless of distance. Therefore when David decided that the best way to heal his broken heart after a divorce was to take a trip to Thailand, he did not know that he would meet someone to help mend it much quicker. David and his friend Chris went to drown the sorrow in a karaoke bar where he met Annie and immediately fell in love with her.
2. Why she is not in a hurry to have children
Children are not mandatory to make any relationship blissful, but they sure are a delight. However, for newly married couples, they are not usually in a hurry as they seek to extend the honeymoon phase. Annie is also not looking to let the little angels come between her and her honeymoon. She and her husband added that they love traveling, so having a little one would mean that their plans to go around the globe would be put on hold. However, they are not brushing off the idea; David revealed that he would have to undergo a surgical procedure should they want to start a family. Annie also hopes to be a mother someday.
3. She at one time considered going back to Thailand
Love is beautiful, but it will never pay the bills, and that is what Annie found out upon arriving in the US with her newfound flame. David barely had enough to sustain himself, so adding another person in his life proved to be a costly decision. He did not have a job; thus, David and Annie had to depend on Chris for a place to live. Therefore as much Annie was not a gold-digger, she thought going back to Thailand would be much better than living at someone else's mercy.
4. She is patient
Money, or lack thereof, has seen many marriages collapsing as people change due to the increased prosperity or the tight budgets. Annie has proven that she meant to stand by her man through thick and thin. Although she almost gave up on the relationship, Annie has stood by David, and now is enjoying the rewards. According to Soap Dirt, the couple is no longer living in Chris's storage apartment. They have bought a new house and car, and that is just the beginning since they are looking for other income sources.
5. She still keeps up with Thai traditions
David described Annie as being old school, and she agrees that she does wife things while her husband does husband things. Among her many duties is cooking, and she loves cooking traditional Thai meals. The Thai native also gives her husband Thai massages every day, and David reciprocates. Since Thai massages are known to be the best, Chris also wanted Annie to pay him in kind for the generosity he was extending the couple.
6. She is hardworking
As per the interview Annie and David did with Parade, Annie is not settled on being a housewife. After experiencing the financial struggles and loving the fact that they are now free to live in their own house, she is not slowing down. Instead, she is looking to make use of her work permit to start a business in the States. Therefore the enterprising woman is in the process of importing clothes from Thailand and hopefully run a fashion empire soon.
7. She had eye surgery
Fans are quick to notice anything different about the celebrities they follow, and one commented on how Annie's appearance had changed. Annie responded that she had had eye surgery but clarified it is not because she was ashamed of her Asian race. Instead, she was correcting the problems that she had suffered for years. However, according to Reality Tea, some thought it is because of her being Asian, and she wanted a crease in her eyelids. Not everyone was judgmental about her surgery; some said she looked great, and Annie was grateful they felt that way.
8. David's children did not accept her at first
Becoming a stepparent is not a walk in the park, especially when the child's bond with the other biological parent is so strong. However, some like Gabrielle Union and Kelly Clarkson have thrown themselves into parenthood by marrying men with children from previous relationships. While it worked out for the celebrities whose stepchildren love them, Annie's experience was different. David's children thought she was interested in their father for a ticket to America hence did not like her at first.
9. She got engaged ten days after meeting David
You do not need to date for a lifetime for you to know the person you should spend the rest of your life with, and Annie knows it. Although her intentions at first seemed suspicious, she has proven that she genuinely loves David. David must have been smitten by how vivacious Annie was because after spotting her in a karaoke bar, it only took him ten days to know she would make an excellent wife. Luckily Annie did not reject his proposal.
10. She got a new ring a year after her wedding day
When photos surfaced that the couple had tied the knot, people noticed that Annie was wearing the same ring she had in July 2017, yet the wedding was on November 1, 2017. Considering the rough time the couple was going through a ring was not a priority. However, David's mother, perhaps having wanted to see whether Annie was truly committed to her son, gave Annie a ring during the first wedding anniversary. The ring had been passed on from David's great grandmother.