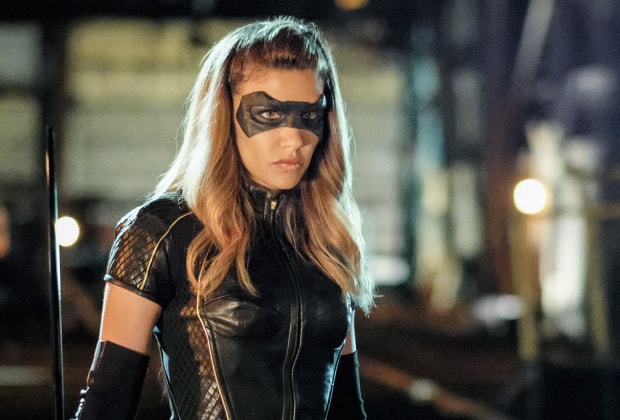 "Whatever people think the season is now, it's not what it's going to be." That was how Juliana Harkavy described the midpoint of Season 6 of Arrow when we sat down at a Heroes & Villains FanFest. She wasn't kidding. Harkavy's character Dinah Drake was brought in during the second half of Season 5 to take up the mantle of the previous Black Canary, Katie Cassidy. Since then Harkavy has transformed the role into her own, but Team Arrow has been [SPOILER] torn in two. For Dinah in particular, "[her divide] fluctuates, but it's not black-and-white." But going into tonight's episode, which Harkavy says is her favorite of the entire season, exploring Dinah Drake's grey area will take the season forward to what it will be. During our sit-down, Harkavy talked about her pride for tonight's episode "All For Nothing", gaining a new family in the latest DCTV crossover, what fan conventions mean to her, and the one difficult stunt she has been relentlessly training for.
"Episodes 10 and 12 [of this season] are really strong episodes and they were difficult, physically and emotionally, to shoot, and I'm really proud of how they came out. They are [big episodes for my character]. They definitely required me to think a lot about what she's going through. You see some different sides of her." A huge part of this exploration involves Dinah's trust of Vigilante, aka her on-and-off flame, Vincent Sobel, as well as her strengthened bond with fellow newbies Wild Dog and Mr. Terrific. "We might see [a Dinah flashback] coming. I think it's necessary with Dinah, because she is the newest one on the team. I want people to know more about her. To really know someone, you need to know their true depth."
Coming up on her one year anniversary on the show, I asked Harkavy if she thought the comparison between her version of the Black Canary and Katie Cassidy's version, has evened out now that Black Siren is on the canvas. "People will always compare because there was more than one Canary. What people are understanding now is that there doesn't need to be a competition for different characters. The Canary is a mantle that can be filled by different people who have that energy, who have that soul. I think people are becoming understanding of the differences between the two characters." That doesn't mean Harkavy can forget the responsibility of carrying on the name. "I'm a very tough critic of myself, and I feel a lot of responsibility playing this role, because I think she's a really important character for women. Just living up to my own expectations of who she is and her abilities, I challenge myself in doing enough that does her justice."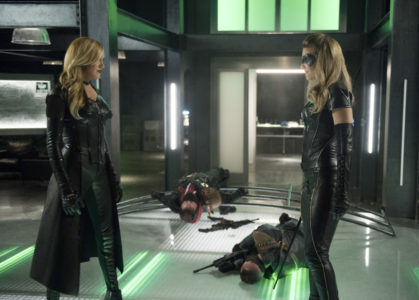 A huge part of doing Black Canary justice? The fight scenes. "The fight with Black Siren in 5×23 was the most challenging. First of all, it was very late. There was also a lot of fire, so it was very hot. It was just a very intense scene that I was intent on coming out good, because it was the first time we ever fought. That was a really tough one, but it was great. Every time you push your limits, you become stronger. The next time you can do that, and more, and I feel it really prepared me for Season 6." She wasn't, however, prepared for the wardrobe malfunctions. "[The costume department] is very diplomatic [about ripped pants]. They consider it an indoctrination. Everybody's done it once!"
As to whether any fight scenes or flashbacks will take place in Dinah's hometown of Central City, that's up to the writers. "I think it would be great! We've been building Dinah's backstory, and how far back do we go? I think incorporating Central City and all those characters in that world would be a wonderful thing to do with Dinah." This is a point many fans have made, particularly since Central City is where Dinah became a cop, where she met Vigilante, and where she had a rather hilarious 10-second exchange with The Flash's Cisco during the most recent crossover. "To see how the other shows worked so well, and how we really are this wheelhouse that works with each other. We're connected, and we're one, but we don't see each other that often. [The crossover] kind of helped me to understand this whole universe better…It made me feel apart of a really big family afterwards."
It's a family Harkavy feels blessed to be apart of. "A fan has told me about her anxiety and agoraphobia, and how she hardly ever leaves her house. But because she knew I was going to be coming to a con in her hometown, she left and came. She didn't know that I suffer from those things as well. It was a very connective and beautiful moment. She then came to another con that was further away from her house. When people are like, 'You've made me stronger', that's the greatest moment, to be able to touch someone by playing a fictional character. Every time I come back from one of these conventions, I come back really pumped."
That energy is evident in everything Harkavy is doing on and off-screen. In addition to preparing for the emotional scenes she's had, she's been working on a few things the fans have been begging for. "Yes [to seeing Dinah on the salmon ladder]! When exactly, I don't know. But it's something I've made very clear to the writers that I want to do by the end of the season. I'm learning right now." She's also moving forward with the Shetority campaign with the other women of DCTV.
The one thing that Harkavy wants besides the salmon ladder before the end of Season 6? "I would love to see her interact more with Felicity. I would love to see that evolve." Felicity's portrayer Emily Bett Rickards concurs, "I just need more scenes with people I don't have scenes with."
Will Team Arrow be able to reunite so that Juliana Harkavy and Emily Bett Rickards can get their scenes together? Tune in to Arrow, Thursday nights on The CW.