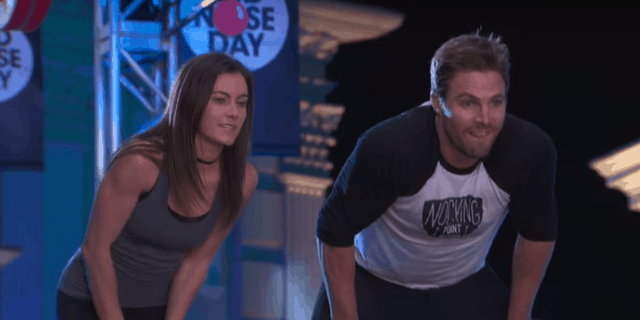 Stephen Amell is not only the star of the CW's hit show Arrow, he's also extremely in touch with his fans. Amell shares tons of personal information on his Twitter account which includes information about his health, fitness, and activity on the show. One thing that Amell is noted for on Arrow is doing his own stunts which requires that he stay in tremendous shape. Amell's been known to share his workout videos online as well as talk about his diet and exercises he does to stay in peak condition.
One of the things that Amell promised fans while on a trade show panel was that he would try and run the American Ninja Warrior course. Amell's been training for it and it looks like his time has finally come. The actor has set his sights on American Ninja Warrior, and to raise money and awareness to help children living in poverty in America and around the world, he was given the opportunity to take part in NBC's first ever celebrity edition episode.
"People have always wanted to see Stephen on the show," Matt Iseman, host of American Ninja Warrior, said in an interview with TV Line about Amell's participation. "I'm an Arrow fan and when I saw the Salmon Ladder in the Arrowcave, I thought, 'This sonuvab—ch is a fan of Ninja Warrior!'"
Unfortunately the clip below is only a sneak peak but at least it's something….
https://www.youtube.com/watch?v=baHfmHeySkE
Tell us what's wrong with this post? How could we improve it? :)
Let us improve this post!