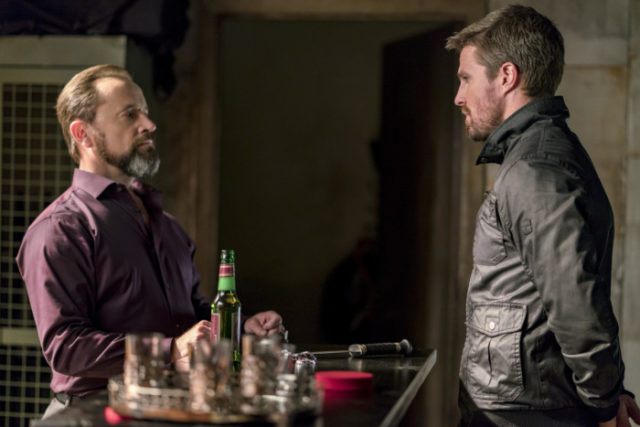 "Shifting Allegiances" makes it clear to me that there's no saving Arrow Season 6. What started off as a promising year that was set to show us Oliver grappling with what it means to be a father, husband, and leader (both in public as the mayor and in secret as the Green Arrow) has devolved into a frustrating mess of out-of-character actions all fueled by a lackluster villain, who has never once proven himself to be a genuine threat and is instead being propped up by characters describing how menacing and monstrous and dangerous he is without Arrow ever actually showing him as that.
Honestly, it's hard to review a show when you don't recognize the characters on screen anymore. In this week's Arrow, Oliver tries to, yet again, say that his emotional connections to the team are what distracted him from stopping Diaz; Diggle apologizes to Rene, Dinah, and Curtis and receives not even one single "I'm sorry" in return; and Quentin puts himself and the whole city at risk in order to try save Black Siren, even after she's clearly illustrated time and time again that she can't be trusted. Who the hell are these people that I'm watching, Arrow writers? Because they're not the characters I've grown to love over the past five-plus years. That's not the Oliver Queen who knows that he's only his best self in the field and in life when he's got John Diggle and Felicity Smoak fighting by his side. The John Diggle I know and love would not be able to brush aside the fact that Curtis, Rene, and Dinah hacked into the chip in his arm to take him down but still insist that Oliver has let him down as a leader. Where's the sense of loyalty that has defined Dig's character since the beginning?
Furthermore, Diggle should not be the one apologizing to people who turned their backs on Team Arrow without a single concern for him, Oliver, and Felicity. He can feel bad about how things escalated, to the point where punches were being thrown, arrows were being shot, bullets were being fired, and axes were being swung (Remember the ax, Rene?). However, to have him say that Diggle say he's sorry without receiving any type of an apology in return is insulting to his character and makes me like the Newbies even less.
And let's not even get started on Quentin, who has gone from a man Oliver could admire, someone who rose above the worst losses in life but kept on going, to a brainwashed, nonsensical imbecile who is willing to do absolutely anything for a cold-blooded murderer just because she has the face of his daughter. When Quentin finally told Black Siren to leave his house and never return, I cheered. I finally thought we were moving past his idiotic ideas of redeeming her. But Quentin folding that quickly, after she shows how scared she is by Diaz, who is such a big, bad villain that he needs to remind his tailor about the muscles he's growing and has to cheat and stab Oliver to beat him in a fight (Could be he be any more of a laughable antagonist?), makes me want him to leave Star City and never return.
Plus, not only does this Quentin/Black Siren storyline portray the city's new mayor as weak and foolish, but it doesn't even make sense on a character-level for Black Siren, who is a viciously evil villain one week and then a frightened hostage the next. Like so many other characters this season, Black Siren acts how ever the plot tells her to and has transformed from a fun and formidable recurring villain into a dull, lifeless plot device–she's there when Diaz needs a sidekick or when Quentin needs a solo story but has no real arc of her own.
Maybe Black Siren will show her true colors in next week's Arrow, which will feature Oliver's trial as Diaz tries to send him to prison for life (Because, you know, even though Diaz has no personal grudge against Oliver like Prometheus or Slade and is just trying to be a crime lord, he still thinks killing the Green Arrow would be too easy of a solution). However, even if she does, what does it matter at this point? What do any of these stories matter if they're not populated with believable characters that we can identify with, whether we're rooting for or against them?
There are three episodes left in Arrow Season 6 and I'll watch and write about them because I have to watch and write about them, but I'm no longer invested in this season's story because the show's creative team has ruined what always kept me coming back to this show, even during its dumbest moments and silliest plots. Even when Oliver was lying to the team an effort to take down Ra's al Ghul or trying to learn magic to defeat Damien Darhk. They've ruined Arrow's characters, and I'm going to need some time, perhaps the summer hiatus or longer, before I'm willing to trust that the writers understand what makes their series special again.
Other thoughts:
Diggle helping Rene re-acclimate to the field after his injuries would be such a good storyline if Rene was capable of showing an ounce of humility or remorsce, especially since it was his deception that caused all of this Team Arrow drama to begin with. But then Rene opens his big, stupid mouth and says stuff like this: "So Oliver finally drove them all away? Can't say I'm surprised. Or that I care."
Oliver and Anatoly working together again is good for one reason only: Anatoly calls Oliver out on his BS. When Oliver tries to tell him that the people he cared for on his team split his focus from Diaz and distracted him, Anatoly calls him a "big fool." You're damn right he is, Anatoly.
Hi Felicity and William! It was nice to see you two for a single scene, especially one with no dialogue. It's not like you guys are pivotal characters on the show or anything.
I also just want to reiterate how much I love this show and how much I enjoy writing about it on a weekly basis. I take no pleasure in these negative reviews, but I have to be honest with my thoughts. And with only three episodes left, I can honestly say that Season 6 has been a colossal disappointment, especially after the highs of Season 5. Here's hoping Season 7 can right the ship.
What did everyone else think about this week's Arrow? Comment below and let me know.
[Photo credit: Daniel Power/The CW]
Arrow Season 6 Episode 20 Review: "Shifting Allegiances"
Summary
Oliver reminds Anatoly of his past, and Diggle teams up with the Newbies for a mission in another frustrating episode of Arrow.