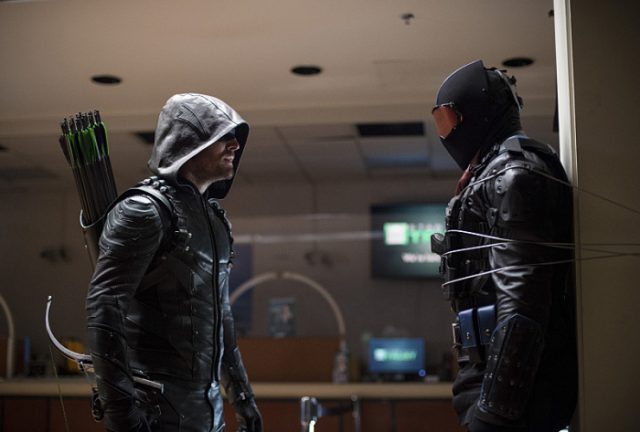 While there has been no official announcement declaring Arrow Season 5 the final season of the superhero series and even though I highly doubt that the show will be ending after this year, it's hard to shake the full-circle feeling that these fifth season episodes have been providing so far this fall. Although it doesn't reflect as much on the past as last week's hour did, "Vigilante" is another installment of Arrow that has Oliver looking back on his time as The Hood, as he's confronted with a new Star City crime fighter that is even more ruthless than he was during his first year as the city's protector.
This new, masked crime fighter is fittingly called The Vigilante, and he dishes out punishment for crimes by blasting away criminals with his guns, no matter the collateral damage (and if you don't want to know The Vigilante's likely identity, be sure not to Google him). The Vigilante's instinct to kill first and ask questions later reminds Oliver, along with the rest of Team Arrow, of his early days as a vigilante, and it causes him to question whether his newer, more moral methods are actually making a difference. Could the way Oliver used to take down criminals actually be better than what he's doing now?
The easy answer to this question is no, especially after Diggle's encouraging speech to Oliver in last week's episode, in which he fully explains how Oliver has grown into a better man. It's here where "Vigilante" falters a little bit; while it might make sense that Oliver would temporarily doubt his current methods, the fact that he has to turn to Susan for advice at the bar doesn't really fit with what we saw from him last week. Diggle's honest and open words really appeared to have an impact on Oliver and having him even momentarily consider switching back to his more lethal style of fighting crime cheapens the best friends' moments together from "So It Begins." I get how and why the Arrow writers want to strengthen the Oliver/Susan dynamic and I'm enjoying the chemistry between Stephen Amell and Carly Pope (even if we know this relationship is 100% doomed to fail), but to make her a confidant of Oliver's after only one drink feels a little too quick and a little too easy.
But it's not just Oliver that's remembering his history this week, as both Thea and Quentin take a stroll down memory lane together when she brings him to rehab and convinces him to finally get help for his alcoholism. Thea and Quentin's scenes together throughout Season 5 have been some of the show's finest moments, but the scene between the two of them tonight, outside the rehab facility, may be their best one yet. Not only does the conversation between Thea and Quentin illustrate how close they've become over the past few months, but it also emphasizes just how much pain and hardship these two characters have gone through over the course of Arrow's four-plus seasons.
Despite all of the hurt that both Thea and Quentin have endured over the years, though, they're trying their hardest to be better and to make the ones they love proud, which is why it means so much to hear not just Thea tell Quentin that Laurel would be proud of him but to have him also tell her that Moira would be proud of the women she's become. Also, I'd be lying if I said I didn't get a little misty-eyed when Thea told Quentin to thank her by getting better. What a wonderfully written scene with exceptional performances from Willa Holland and Paul Blackthorne.
The last Arrow character that is looking back to the past tonight is Diggle, who wishes he could go back to the life he had before he was framed for a crime he didn't commit. Being a fugitive has, understandably, not been easy on Dig, but it's not the fact that he can't walk the streets of Star City during the day or go out for a drink with Oliver at night that bothers him. No, it's the fact that he can't be a part of his family's life on a regular basis, that because the U.S. Marshals are surveilling his house, he can't even attend his own son's birthday party.
While Diggle takes most of his frustration about this situation out on his punching bag, he does finally admit what he's going through to Rene and Curtis, which provides Rene with the opportunity to repay Dig for all the help he's given him in recent weeks. How does he do that? Rene finally shows that he's able to care more about others than himself and secretly brings Lyla and John Jr. to Diggle's hideout so that Dig can have the chance to celebrate his son's birthday with his family. It's one of the sweetest scenes of the season, and this relatively minor storyline also does a very nice job of developing the friendship between Dig and Rene, which has surprisingly become one of my favorite aspects of Season 5.
But not all Team Arrow members can be as kind and thoughtful as Rene in this episode, and as we find out in the final scene of "Vigilante," one of the new recruits might be downright evil. Unless we're dealing with another fakeout here, which I doubt we are, it looks like Evelyn is working with Prometheus to take down Oliver. This development would make a whole lot of sense, given all the personal details that the masked villain seems to know about the Green Arrow; to have all of that information, he'd have to have someone working for him on the inside. It's a pretty shocking twist, one that I both love and hate since I've been a huge fan of Evelyn's character ever since she was first introduced last season and have thought that she's been a terrific addition to Team Arrow in Season 5.
So why is Evelyn doing this? Is it because Oliver wouldn't let her avenge her parents last season? Is it because she discovered he used to be a killer when he first came back to Star City? Or maybe she has just been this evil from the beginning but we're only just seeing this side of her now? It all remains to be seen, but with only two episodes left before Arrow's winter hiatus (the 100th episode/crossover extravaganza in two weeks and the midseason finale following that), I'm certain we can expect Evelyn's betrayal to have major consequences for Oliver and the rest of the team. Let's just hope those consequences aren't the deadly kind.
Other thoughts:
I didn't enjoy this week's Russian flashbacks as much as I did last week's, even if we did get more Dolph Lundgren. The fact that the Bratva has struck a deal with Kovar is definitely interesting, but I wonder what position this leaves Oliver in now. If he's not really a Bratva brother, how will he have the chance to stay in Russia and kill Kovar?
Speaking of Russia, how long until Susan blackmails Oliver with those photos of him that she got near the beginning of the season? Do we want to bet it's before or after the midseason finale?
As sweet as that scene with Diggle, Lyla, and John Jr. was, I couldn't help but think that it would have been better with Baby Sara. God damn you and your time-traveling ways, Barry Allen.
Arrow's off next week for Thanksgiving and then is back on November 30 with its 100th episode/crossover with Supergirl, The Flash, and Legends of Tomorrow. The trailers for the crossover so far have been nothing short of incredible, so I really don't know how I'm going to be able to contain my excitement for it over the next two weeks. Hopefully, some Thanksgiving turkey and stuffing will help.
What did everyone else think about this week's episode of Arrow? Comment below and let me know.
[Photo credit: Diyah Pera/The CW]