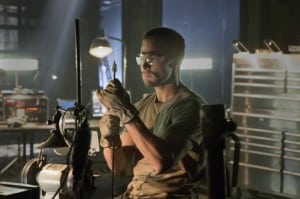 The CW got back into the superhero business tonight with the series premiere of Arrow. Like Smallville, Arrow is about the birth of a hero. Unlike Smallville, however, we're jumping right in to a more adult origin tale.
Capsized. Five years ago, Oliver Queen went on a little yacht trip with his father and his girlfriend's sister, Sarah Lance. Back when Ollie was nothing more than a reckless, childish playboy, he decided that sleeping with your girlfriend's sister was a gangbuster idea. That affair came to a tragic end shortly after when – in the middle of a terrible storm in the Pacific – the yacht capsized, killing Sarah and others on the boat. Only Oliver, his father and a crew member were the only survivors. After drifting in a life raft for a few days, Robert Queen realized that his son had the best chance of survival and gave him a mission to clean up the streets of Starling City. With a final goodbye Robert shot the remaining crew member and then himself as Oliver looked on, horrified.
Home Again. For now, that terrible start is the only thing we really know of Oliver's time on the island, but we do know the experience changed him fundamentally. After being rescued by a passing ship Oliver returned home to Starling City and the welcoming arms of his mother, Moira, and sister, Thea. But Oliver isn't the only one who's changed. His sister has grown up into a rebellious teenager, hardened from the loss of her father and brother. His mother married Walter, his father's business partner. Thea just wants to know what it was like on the island, but Oliver is closed off and distant, trying to readjust to his normal life.
The Ex. While Oliver's best friend Tommy tries to get his friend back in the billionaire playboy groove, Oliver has only one real wish: to see his former girlfriend Laurel again. Laurel's spent the last five years devastated over the death of her sister and angry at Oliver. Now a legal aid attorney, Laurel is trying to clean up the streets in her own way. And it just so happens that her current legal target and Oliver's vigilante target are one and the same man: Adam Hunt.
Origin of Arrow. As it turns out, Oliver didn't just come back different and brooding…he came back with a secret. One of them results in him and Tommy getting kidnapped by some masked men who believe Robert imparted some important information on Oliver before his death. Oliver manages to escape, kills himself some hired goons and then lies about his new physical prowess to his family, friends and Detective Lance (yes, Laurel's father, who thinks Oliver is a waste of space). Thus Arrow is born. Oliver soon sets up shop in one of his father's abandoned factories, trains his butt off with physical feats and shows off his new shooting skills.
The Downfall of Adam Hunt. Now outfitted with some green eye shadow and a hood, Oliver sets his sights on corrupt businessman Adam Hunt. He first confronts Hunt in a parking garage, demanding he return the money he swindled, but when Hunt refuses, he uses the welcome home party Tommy organized for him as a cover to confront Hunt at his office and steal back the money himself. Detective Lance is then introduced to the Arrow, watching him zipline away into the night.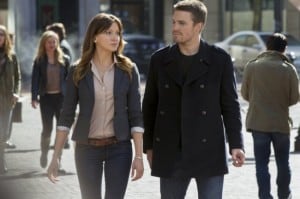 Family Secrets. As it turns out, Oliver and his new identity isn't the only secret in the Queen family. Remember those goons who kidnapped and interrogated Oliver for information about his father? They were hired by none other than Moira Queen!
The Love Plot Thickens. The pilot episode also revealed that Laurel and Tommy slept together while Oliver was presumed dead. While Laurel seems eager to give up on both men (Tommy because he's not series and Oliver because he keeps pushing her away for her own good), Tommy seems determined to prove he's mature enough for a relationship with her. We smell a love triangle brewing!
Arrow is a stellar example of a superhero show, seamlessly blended drama, a little bit of comedy and a lot of action. Star Stephen Amell is not only a handsome leading man (this is The CW, after all), but he is also perfect as the brooding vigilante who isn't afraid to cross the killing line to achieve his objections. The supporting players interact well with him and each other and I cannot wait to see how Oliver's quest for vengeance and justice plays out. All in all, The CW got back into the superhero business in a successful way!
A new episode of Arrow will be airing on October 17 (read Stephen Amell's teasers about China White's introduction and watch a preview). Stay tuned for spoilers from our recent visit to the set in Vancouver!