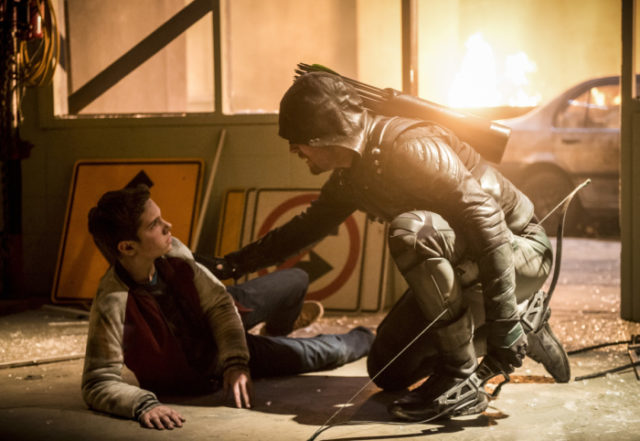 Throughout Arrow's five-plus seasons, Oliver Queen has always struggled to tell the truth. Most of the time, these secrets that he keeps come from a good-hearted, well-intentioned place; typically, in the past, Oliver lied to the people he loves because he was trying to protect them, not only protect them from the harm that the truth could cause them but also the pain of getting to know the real Oliver Queen. It's easy to forget that, up until his and Felicity's breakthrough in last season's "Underneath," Oliver always defined himself as a killer, even when he was being a hero. He didn't believe he deserved happiness or love, and he viewed himself purely as a tool of vengeance and justice, never as an actual human being who could have a life outside of his work as the Green Arrow. Any time he tried, it would blow up in his face due to his own self-doubt and self-sabotage.
After that breakthrough with Felicity in Season 5, Oliver Queen has become a more open and mature person, and we have rarely seen him fall back into his old habits of lying and secret keeping. He's allowed himself the opportunity to love and be loved, to finally let Felicity see and know the real him, and he's been willing to trust and forgive others who have hurt him in the past, such as Slade and, most recently, Rene. However, there has still been one person that Oliver has not been honest with and that's William, who finally discovers in "We Fall" that his dad is back on the streets as the Green Arrow, and at first, he is understandably upset and disappointed. In many ways, William's reaction to this news mirror's Felicity's response to Oliver's lies about William in Season 4, the lies that ultimately caused the two of them to break off their first engagement; William is upset that Oliver is risking life but he's even more bothered by the fact that his dad broke a promise–that he lied to him.
And who's the character who so eloquently points this fact about William out? Well, of course, it's Felicity Smoak, who compares Oliver and William's up-and-down relationship to the troubled one she had with her own father. As Felicity explains, her father's poor actions obviously bothered her, but what upset her the most was his constant lying; the secrets he kept did just as much, if not more, damage to their relationship than the illegal activities he practiced. But that doesn't have to be the case with Oliver and William because William is strong enough to handle the truth, he's mature enough to understand the crazy circumstances that led Oliver to don the hood again. Oliver questions how Felicity is so sure about this, and in one of the sweetest scenes of the episode, she responds with one word: "Genetics."
That one-word answer works because of how well Felicity Smoak knows, loves, and understands Oliver Queen and because of the time and effort she's taken to not just befriend his son but become a surrogate mother to him. We've seen Felicity and William bond over science, play games, and spend the holidays together, and it's been clear from both the writing of the Arrow staff and Emily Bett Rickard's performance that Felicity genuinely cares about him as a member of her family. She sees so much of Oliver in William and knows that the two of them should be closer than they are right now, which is why she's able to bridge the gap between the two men with her wonderfully moving speech, which plays over the action of the two separate Arrow teams taking out Cayden's men together.
In her speech, Felicity tells William about how long she's known and loved his father, ever since he walked into her life with "a bullet-ridden computer." "This is what he does best," she says to him. "Nobody does it better." And Felicity truly knows that because she's been there with Oliver on this heroic journey since the beginning; she's loved him for a long time and worried about him for a long time and has seen him at his worst, when he's relied on the secrets and the lies and the repressed emotions. Felicity has seen through those mistakes, even when she hasn't always accepted them; she's recognized that Oliver's choices have always come from a place of goodness, compassion, and sacrifice.
As Felicity explains to William, that sacrifice, the sacrifice needed to be a hero and to love a hero, to accept that there's a chance that they might be taken from you at any moment, that type of connection is deep and rare and powerful. This connection is not born from a place of fear and doubt; it comes from hope and faith–it comes from belief. It's a belief that goes beyond simply trusting in another person; you trust in what they fight for, what they represent, and you understand that it's bigger than the two of you. And once you believe in something bigger than yourself, once you take that leap of faith, once you embrace the pain and worry that come with sacrifice, you transform your love into something that's impenetrable, something that can't be torn down by evil, no matter how overwhelming it may seem. That's the type of love that Felicity describes, the type of love that she and Oliver have, and by the end of "We All," once William has listened to Felicity's words and truly sees what his father is trying to do, it's the type of love that he and Oliver are building towards as well. It's a love between father and son that wouldn't be possible without Felicity Smoak.
Other thoughts:
I didn't touch upon the main plot of "We Fall" in my review, but the major conflict of the episode comes from Cayden James cyber-terrorizing Star City and extorting $10 million from Oliver (he orders Thea to send the money to Cayden during the episode's final moments). The tension from Cayden's threats andthe terror of not knowing where he will attack next plays really well throughout the hour. Also, I'm curious to find out who is framing Oliver for Cayden's son's murder. What are your theories on the mysterious USB from Corto Maltese?
I am very interested to see how the two separate teams continue to work together in future episodes. A couple moments involving the Newbies bothered me throughout the hour (Rene's suggestion that Felicity was bugging them again and Curtis attempting to tell Oliver off near the end of the episode after they've taken down Cayden's men), but overall, I enjoyed how the two teams functioned, sharing intel and pursuing different leads.
What I enjoyed less is Vincent's sudden switch to double-agent. If it's true, then this turn happened way too quickly, as the Arrow writers have given me literally no reason to care about Vincent other than the fact that Dinah was in love with him before. If it's another fake-out, well, then, that's even worse because it will make Dinah look gullible and inept, and those are two things that Dinah Freaking Drake is not. Give her a better storyline, please, Arrow writers.
It's a small moment between Felicity and Diggle, but I love when she refers to herself as "a step-mom in training" who's unsure of how to talk to William. Obviously, we see by the end of the episode that Felicity knows exactly what to say, but Diggle gives her a confidence boost as well, telling her she's doing just fine. I'll never tire of Felicity/Diggle scenes, you guys. No matter how long or short they are.
Also, speaking of Dig, he mentions to Felicity that he had hoped he'd be out in the field as the Green Arrow again now that he's back to 100%. I'm curious how Arrow will explore Dig's desires to be GA again now that Oliver looks to be back full-time. Will it cause friction between the best friends? Will Dig try to go out and save the city on his own? I'm not sure if there's any "good" way to resolve this storyline, and that has me worried.
William isn't afraid about being an orphan anymore because he knows he has Felicity in his life now. I'm not crying. You're crying. Let's be honest: we're all crying.
Loved this exchange between Felicity and Oliver: "I think we've reached the maximum level of domesticity." "Oh God, I hope not."
Oliver Queen knows what coral is, and don't you forget it.
What did everyone else think about this week's episode of Arrow? Comment below and let me know.
[Photo credit: Diyah Pera/The CW]