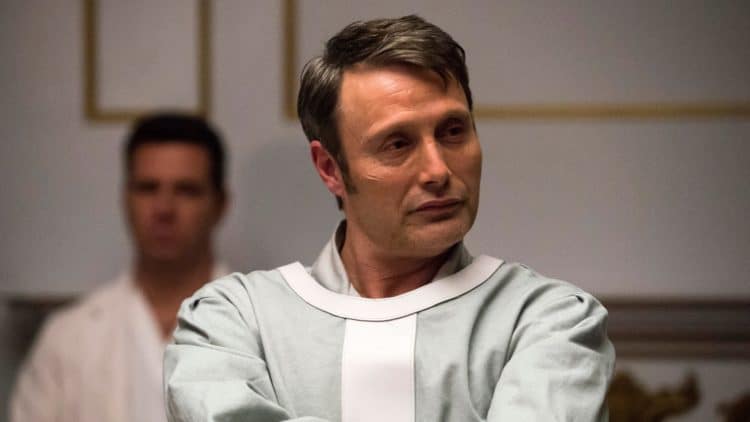 Before the arrival of paid cable television original series of HBO and Showtime in the 1990s, TV shows could seldom get as dark as what was allowed in cinema. Dark Shadows, Night Gallery, Alfred Hitchcock Presents, and Tales From the Darkside are some of the rare examples of pre-1990s TV shows that explored dark content, but it was always safe and never tipped too far into dangerous territory. When we talk about "dark TV shows" some immediately think of horror, and for all intents and purposes, that is certainly not what is meant by "dark." Dark can mean everything from horror and the macabre to the often bleak and depressing aspects of human life, which is where many of the selections on this list are rooted. Lists are subjective, and my goal with this list was to try and find the most unique aspects of darkness in unexpected places in addition to naming some of the most obvious choices. Here are the top 5 darkest TV shows ever. Spoilers ahead.
Hannibal (NBC, 2013-2015)
From 2013-2015, in 3 memorable seasons, Hannibal aired on the most unlikeliest of places, network TV during NBC primetime. In what could definitely be an HBO or Netflix original, this series displayed its darkness in obvious ways (blood and gore) but also in cerebral, sinisterly dark explorations of the darkest recesses of the human mind–with commercial breaks in between. Mads Mikkelsen and Hugh Dancy gave the performances of their lives as Dr. Lecter and Will Graham respectively amidst a memorable cast of supporting characters with Gillian Anderson a deliciously-devilish standout. But its the tone of the series set to the twisted internal monologues of Lecter and Graham that crawl under your skin and stay there…forever.
Black Mirror (Channel 4, Netflix, 2011-2019)
There may or may not one day be a continuation of Black Mirror, but if there isn't–and Wikipedia has the show's end date as 2019–what remains is certainly one of the finest TV series of the 2010s, and one of the darkest ever. Presented as an anthology series where each episode tells a stand alone story, Black Mirror can best be summed up as an exploration of humanity's bittersweet vices and virtues as we stumble through our lives trying to hold onto the eternal. Even the most uplifting and heartwarming episodes ("San Junipero") are bleak in their exploration of life's finality and opportunities missed. But for the most part, Black Mirror is an unremittingly dark and grim affair that only the most masochistic of existentialists could ever watch on repeat. Brilliant but ice cold.
The Walking Dead (AMC, 2010-2022)
First and foremost, The Walking Dead is depressing; quite possibly the single most depressing TV series ever made. When you binge watch the first 7 seasons of the show, that reality begins to set in to a higher degree than the experience of watching the show on a weekly basis since 2010. One character after the next dies in gruesome or unfair fashion, and the struggles of those who remain trying to navigate an apocalyptic world run amuck with flesh-eating zombies doesn't ease the bleak tone all too much either. If Lori's painful to watch self-sacrifice during childbirth doesn't disturb you, watching Glenn and Abraham die at the hands of Negan certainly will. But despite its grim tone in hyper drive, The Walking Dead does a great job of allowing us to see what an apocalypse would likely be like, as humankind's most primal and selfish impulses surface repeatedly.
The Sopranos (HBO, 1999-2007)
Calling The Sopranos a dark show will initially throw some people off considering its first season plays like a dark comedy, but when analyzing the series as a whole, especially the last few seasons, it is easy to see just how bleak and nihilistic of a series The Sopranos truly is. This series is firmly rooted in the "slice-of-life" style of narrative, and if reality is the driving force of the series, it is realistic for a show about the mafia to be bleak and depressing a large bulk of the time. But its the philosophical edge of the show that truly sets the bleakness into motion as the viewer approaches the end of the show. Tony frequently has discussions with his psychiatrist Dr. Melfi where he seeks to find some reassurance that life has some higher meaning beyond what is here and now, and by the final cut to black in the last scene of "Made in America," we get the gist that series creator David Chase is answering that question with a firm no.
Rectify (Sundance TV, 2013-2016)
From 2013 to 2016, a quiet, cerebral drama aired on a little seen network called Sundance TV. Rectify turned out to be one of the most devastating, yet oddly enough, moving dramas of the 2010s. But the journey to forming this opinion for many viewers was certainly not an easy one. This is a series that plays out more like a serious play–where its quiet moments speak with an urgent loudness that seeks to shatter the hate and rage that rose up during the decade. The series was essentially a character study that explored life for a man recently released from death row after 19 brutal years when DNA evidence shows that he likely did not commit the murder he was accused of. This is a series rooted in finding catharsis through the pain and torment that humans inflict upon one another, and it is one of the bleakest dramas to ever air on television.
Honorable Mentions: Twin Peaks (ABC, 1990-1991; Showtime, 2017) and Breaking Bad (AMC, 2008-2013)
Breaking Bad will likely top many lists like this, and deservedly so, but for me, this series is more like a ticking time bomb of a movie that builds and builds to a frenetic crescendo. Twin Peaks is also a fairly dark TV series in both of its iterations, but there is also a great deal of comedy to be found throughout the darkness–not to mention the large focus on alternate realities and time travel that go far beyond pure darkness.
Tell us what's wrong with this post? How could we improve it? :)
Let us improve this post!