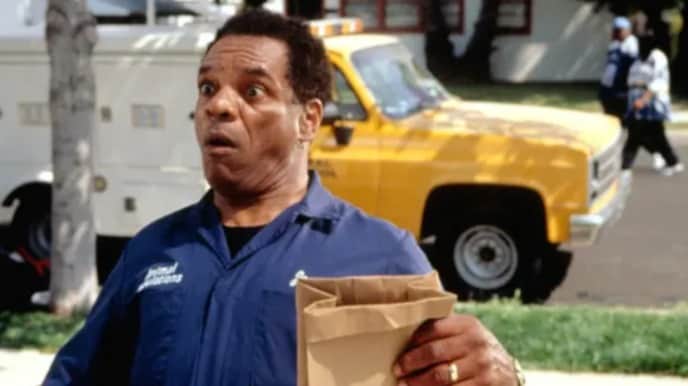 John Witherspoon is the latest in a long list of celebrities who have died in 2019. The cause of his death is not yet known, but friends, family, and celebrities are already paying tribute to this talented actor and comedian who was 77 at the time of his death, says the BBC. Here is an overview of John Witherspoon's career in memory of this talented actor. Born as John Weatherspoon in Detroit, Michigan, on January 27, 1942, Witherspoon grew up as one of 11 siblings. One of his siblings is William Weatherspoon who was a Motown songwriter and record producer. As a child, he enjoyed performing, although his preference was for playing brass instruments.
As a young man, John Witherspoon worked occasionally as a model before working as a stand-up comedian in the 1960a and 1970s. During this period of his life, he befriended many other famous comedians. He also made his first television appearance during the 1970s when he appeared in 'Barnaby Jones'. Other series in which he appeared during this decade included 'The Incredible Hulk', 'What's Happening!', and 'Good Times'. Witherspoon's first serious job in television was in the NBC American comedy series 'The Richard prior Show' as he became a series regular in 1977. As his appearances on this series were a success, he went on to appear in the fourth season of 'WKRP in Cincinnati' in 1982.
During the early 1980s, he had several small roles in television series and not all of these were comedy performances as he was taking on some more dramatic acting roles. Some of the series in which he appeared in the early 80s included 'L.A. Law', 'Hill Street Blues', 'You Again', and 'What's Happening Now!'. In 1988, he played a bailiff in the NBC sitcom 'Amen' which was well known for having an all-black cast. Witherspoon continued to play small roles in television series during the early 1990s, and he landed roles in series including 'Townsend Television', 'Living Single', 'Murder Was the Case', and 'Cosmic Shop'.
Throughout the late 19809s and early 1990s, Witherspoon also starred in some films. These included the 1987 film 'Hollywood Shuffle', 'Boomerang in 1992, and the 1995 movie 'Vampire in Brooklyn'. However, it is probably the 'Friday' series of films which began in 1995 for which he is most famous. He played 'Pops' in this series of films, and this character name became Witherspoon's nickname. In addition to the original 1995 film, the series also included the films 'Next Friday' and 'Friday After Next'.
By 1995, Witherspoon had landed his biggest television role when he played John 'Pops' Williams in 'The Wayans Bros.' This was a comedy series that aired on The WB. The series starred real-life brothers Shawn and Marlon Wayans, and Witherspoon's character was their father. Witherspoon appeared in this series from 1995 to 1999. His connections with the Wayans family continued as Damon Wayans created a children's animation series based on his life called 'Waynehead', and Witherspoon starred in this series. He then provided his voice for a second time for the character Oran Jones in the series 'The Proud Family'.
In 2003, Witherspoon took part in the reality television series 'The Last Man Standing' and was selected out of the group to win a contract. This led to him starring in The Tracy Morgan Show. He appeared in all 18 episodes of the series between then and 2004. Witherspoon appeared in multiple other series in the 2000s, including 'Soul Plane', 'Weekends at the DL', 'Little Man', 'After Sex', 'The Super Rumble Mixshaw', and 'The Hustle'. During this time, he also had roles in a few television movies, including 'Pryor Offenses' and 'Thugaboo: A Miracle on D-Roc's Street'.
One of his most famous roles from this period was playing Robert Jebediah 'Grandad' Freeman in 'The Boondocks' on the Cartoon Network. This series ran for four seasons. Another of his famous roles was portraying a homeless man called Lloyd in an Aaron McGruder series called 'Black Jesus'. This series was aired from 2014 and is ongoing. Although television work was the main part of John Witherspoon's career, he also diversified into other activities. These included writing a film called 'From the Old School' and appearing in several Internet skits.
Witherspoon also appeared in several music videos throughout his career. These included Jay-Z's single 'I Just Wanna Love U (Give It 2 Me), Field Mob's 'Sick of Being Lonely', Google Mob's 'They Can's Dance No Mo, and LL Cool J's 'Ain't Nobody'. In the later years of his career, Witherspoon predominantly focused on his comedy tours. He did his first comedy tour in 2008, and this was televised for the Showtime Network. The following year, he did a tour across the United States that included 19 stops. He then performed his tour routine at the Funny Bone Comedy Club in Mississippi in 2011.
In his personal life, Witherspoon married Angela Robinson in 1988. Together, they have two sons. Their oldest son, John David who is known as JD, is a social media star. He hosts a game show called confetti that is featured on Facebook Watch and also makes YouTube skits and gameplay videos. The couple's younger son is called Alexander. John Witherspoon passed away on October 29, 2019. He was 77 years of age at the time of his death. Other than the fact that he died at home, very little information about his death has been released so far and his family has not yet publicly discussed the matter. More information about this talented comedian and actor's death may follow.
Despite his death, his fans may have the opportunity to see Witherspoon in some new works. At the time of his death, he had a film in post-production called 'Bring Me the Head of Lance Henrikson'. He had also intended to appear in a fourth film from the 'Friday' film series called 'Last Friday'. As this film was only in pre-production when he died, it is unlikely that this film will feature Witherspoon.