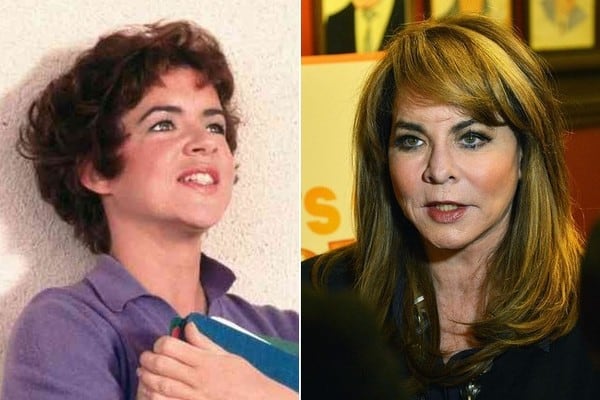 Susan Antonia Williams Stockard, professional name Stockard Channing, was best known for playing the character of Betty Rizzo in the classic musical Grease. She's also become pretty well known for playing First Lady Abbey Bartlet on The West Wing. Throughout her career she's picked up many roles and been widely known as one of the greatest actresses in show business be it onstage or in film. She's been nominated so many times for the Primetime Emmy Award and the Tony Award that you would think that she'd have a baker's dozen between them. She does have her share of awards though and has been through so many different roles that listing them all would take its own page. It's been seen throughout the years that she was anything but a one-hit wonder and that her influence in Hollywood has stretched way beyond Grease and into the spotlight where she really belongs.
Her early career started on the stage and went on from there.
Channing got her start with the experimental theater company Boston and performed in their off-Broadway production of Adaptation/Next. From that point she went on to star in several more plays before she finally made her TV debut on Sesame Street.
She played the role of the woman that had various items painted on by the Mad Painter. Her first leading role didn't come until 1973 when she starred in a black comedy written by Joan Rivers. Throughout her early years however she didn't earn a whole lot of praise or fame as the parts she took were sound enough, but the movies were deemed box office flops. In fact it wasn't until she came upon the part of Betty Rizzo in Grease in 1977 that people really started to pay attention to her.
After Grease her career went just so-so for a while as she played various parts in film and TV that didn't always pan out but were interesting to watch. Stockard has always had the ability to entertain, but it's finding the right movies and shows that makes an actor appear as anything other than pure talent to the audience. Even the most talented actor can't do much unless they have the right platform to work from.
By the 1980s her career was well-established but she had returned to the stage.
She tired a couple of sitcoms that didn't go anywhere and thus returned to the stage after a while where her success rate took a turn for the better as she started winning awards and gaining recognition without fail. It would seem that in earlier year Stockard was really meant for the stage as this was where she excelled the most. She continued to star in movies and TV shows off and on but her real talents still showed through primarily on Broadway. Perhaps it was the boost to her confidence or something similar but Channing actually started winning awards for her TV roles as well during the 80s and 90s. It could have been that she needed more experience or perhaps just the right pick me up, but after a while she started rolling and it seemed like she had finally hit her stride.
It wasn't until the late 1990s that she took the role of First Lady Abbey Bartlet on The West Wing. She started out as a recurring character for the first two seasons and then by 2001 she'd become a regular. She only appeared in four episodes of the final season but this was largely due to the fact that she was starring in another show, Out of Practice, with Henry Winkler. Unfortunately that show was canceled after just one season.
Channing has been present for a lot of different roles in TV, films, and the theater that have gained her recognition and acclaim. To date she's been one of the most memorable actresses around and people have based a lot of this on her performance in Grease, which was perhaps one of her most iconic roles of all. A lot of young woman wanted to be pretty like Sandy, but they still wanted to have the toughness and resilience of Rizzo since she didn't take anything from anyone and was the kind of woman that went after what she wanted. That seems to explain a lot about Stockard as she has never been the kind of person to back down from a role or just give a half-hearted attempt. She goes for it all and has shown that she has the fortitude to push her limits and either make something work or at least give it the best attempt she can.
Her personal life was kind of a mess early on in life but she seems to be happy now.
She's been married four times since 1963 and has never had children, so it might seem like she's married for reasons that weren't all that smart or perhaps she's just really impulsive. But after her fourth marriage she entered into a relationship with a cinematographer and has maintained it for more than 20 years. When not working the couple reside in Maine, and it seems like the perfect place for her to have ended up.
She's a tough woman no doubt, but she's also been someone that's worth watching throughout the years.
Tell us what's wrong with this post? How could we improve it? :)
Let us improve this post!