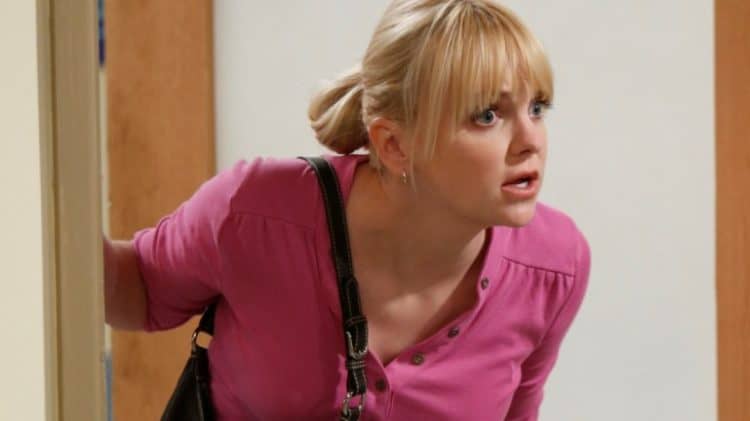 Anna Faris is best known for the ditzy, funny characters she's played on television and in film. She's had a more than two decade career doing what she does best. Her career has been steady and we can expect it to continue. Anna's breakthrough role in "Scary Movie" got her noticed and led to a string of small but fitting roles for her comedy. She reached another level of stardom with the movie "The House Bunny". Along the way, Anna has had both big and small roles in television and film. Most recently was able to settle down with her lead role in the sitcom "Mom" and her podcast "Unqualified". Although she's faced personal difficulties with the premature birth of her son and the breakup of a high profile marriage, Anna forges ahead because of her honesty, her beauty, and most importantly her talent and wit. Here are 20 things you didn't know about Anna Faris.
1. Her parents are teachers
Anna Kay Faris was born on November 29, 1976 in Baltimore, Maryland and grew up in her parents' home state of Washington. Her dad Jack was a professor and department head at the University of Washington, and her mom Karen taught special education. Anna has an older brother, Robert, who is a professor at the University of California, Davis.
2. She's a natural comedian
Even as a child Anna showed signs of creativity, which her parents encouraged. Anna recalls making up skits with her Barbie Dolls and even her retainer. She would play murder mystery with her Barbies. She named her retainer Alex and performed skits with "him" on her knee in front of the mirror in her bedroom. Alex was British and she'd do fake interviews with him on talk shows like "Phil Donahue". Her parents enrolled her in a community drama class for kids when Anna was 6 years old.
3. She started acting at 9
When she was just 9 years old, Anna landed her first professional acting role. The preteen played the several roles at the Issaquah, Washington, Village Theatre. These included Scout in "To Kill a Mockingbird", Rebecca in "Our Town" and Heidi in "Heidi". Anna graduated from Edmonds-Woodway High School and performed with the Seattle Repertory Company. While working on her Bachelors Degree in English Literature at the University of Washington, Anna continued to act on stage. She also appeared in a restaurant training video and a frozen yogurt commercial.
4. She was a drama nerd
Despite her beauty and her natural wit, Anna considered herself a nerd in middle school and high school. She was proud of her theater work and was a self-admitted drama nerd. She didn't thing of herself as pretty. She said she wore weird clothes and had glasses. She felt far from the glamorous woman she would become.
5. She wanted to be a novelist
Although Anna continued to act through college and even landed a small role in a television movie and an independent film, Anna dreamed of becoming a novelist. When she graduated from college, she had plans to move to London but ended up moving to Los Angeles to pursue her acting career. She landed a role in a film that went straight to video, but reviews of her were good. She also appeared in a short film that was shown at the Seattle Film Festival. Anna got her big break in 2000 when she was cast in Keenen Ivory Wayans' parody of horror movies, "Scary Movie", a parody of horror movies that was a commercial success. Anna went on to star as Cindy Campbell in three of the "Scary Movie" sequels. She was noticed for her comedic skills.
6. Early films
In the early 2000's, along with "Scary Movie" sequels, Anna continued to get roles in film. She starred in the independent film "May" which premiered at the Sundance Film Festival. She was in comedy "The Hot Chick" with Rob Schneider and Rachel McAdams. Although the movie was panned by critics, they pointed out that Rachel McAdams and Anna Faris were the stars to watch. One of Anna's proudest moments was her role in 2003's Sophia Coppola drama "Lost In Translation". The following year Anna joined the cast of NBC's "Friends" in the recurring role of Erica who gave birth to Monica and Chandler's adopted twins. She also appeared in Ang Lee's Academy Award winning "Brokeback Mountain" even though Anna was only in one scene. Other early movies include "Waiting…" and "Just Friends", both comedies with Ryan Reynolds. In 2006 Anna appeared in "My Super Ex-Girlfriend" with Uma Thurman and Luke Wilson.
7. Continued Film Success
As Anna Faris' star continued to rise, she continued to act steadily, mostly in comedies. She won a Stoney Award for her role in 2007's "Smiley Face" which premiered at the Sundance Film Festival but its release was limited. Anna was in "Mama's Boy" with Diane Keaton and "Observe and Report" with Seth Rogan as well as other comedies during the 2000's.
8. Animated Films
In 2009 Anna Faris was a voice actor in the animated "Cloudy With a Chance of Meatballs" and the "Alvin and the Chipmunks" sequel. She was also in both movies' sequels. Other animated films that Anna voiced characters for include "Yogi" and, more recently, 2017's "The Emoji Movie".
9. Marriage to Ben Indra
While filming her first movie "Lover's Lane" in 1999, Anna Faris met Ben Indra. Indra had some success as an actor in television and small films. He and Anna married in 2004. However, as Anna's star was on the rise, Ben's career was flailing. He and Anna divorced in 2007.
10. The House Bunny
Anna Faris pitched the idea for a movie about a former Playboy Playmate who is forced to leave Hugh Hefner's Playboy Mansion because she wouldn't have sex with him. Anna's idea was for the disgraced Playmate to move to a small Christian town where she becomes a meth addict. The idea didn't completely fly. Instead 2008's "The House Bunny" is about Shelly, a disgraced former Playboy Playmate who wants to join a popular, snobby sorority but is rejected. Shelly ends up becoming the House Mother for a sorority of socially awkward girls who hope Shelly can attract pledges that will save the sorority. The film was a commercial success mostly due to Anna's comedic skills.
11. Party Days
After her divorce from Ben Indra, Anna Faris admits to going on a party streak. She partied a lot, but she soon tired of it. In the meantime, Anna got lip injections and wore very padded bras while starring as a former playboy bunny in "The House Bunny". She admits to liking the look and had breast enhancement surgery after filming.
12. Chris Pratt
Chris Pratt and Anna Feris met on the set of the 1980's retro comedy "Take Me Home Tonight". They instantly hit it off. The two dated for a couple of years before suddenly eloping in Bali, Indonesia in 2009. The couple were elated to learn they were expecting a child together in 2012. The couple were devastated when Jack was born two months prematurely. Fortunately, Jack was able to come home from the hospital after spending a month in the NICU. The couple would eventually divorce but are both dedicated to their son.
13. Divorce, again
When Chris Pratt and Anna Feris met, her career was continuing to thrive while his career was just beginning to take off. Unlike her marriage to Ben Indra, Anna's marriage to Chris Pratt ended for the opposite reason. Pratt's film career including "Guardians of the Galaxy", "Jurassic World" and "Passengers" continues to thrive. Pratt spent five months away from his family while filming "Guardians of the Galaxy" in London. At the same time, while Anna continues to act in films, she has settled into a steady routine with her CBS sitcom "Mom" since 2013. There has been speculation now that Anna is living the steady life of a sitcom actress, she would like to have more children while Pratt is happy to be away filming. The couple have taken great strides in co-parenting Jake. They even agreed to live within five miles of each other until Jake is in middle school. They have been spotted at outings with Jake including Trick or Treat and Easter Church services. Both have moved on to other relationships and remain a solid front for their son.
14. She can sing
Anna Faris can even sing. She appeared on the soundtracks of some of her movies. These include songs for the films "Lost In Translation", "Just Friends" and "Mama's Boy". Of course her theater training prepared Anna for singing, she was able to carry singing into her films. She truly is talented.
15. She never thought she was funny
When Anna was growing up she never really considered that she was funny. Her parents encouraged her to perform because that's what she loved to do, but she was most comfortable performing because she wasn't being herself. When she started to act in comedies Anna gradually realized that she actually had talent as a comedian. She finally realized that she was funny and could carry on improvisation without much thought.
16. Unqualified Podcast
In 2015 Anna Faris was looking for a hobby. Given her love of fake interviewing as a child and inspired by the podcast "Serial", Anna decided to tape conversations with her friends. She consulted with her friend Sim Sarna and developed the podcast "Unqualified". Each episode features two segments. In the first, Anna interviews a guest. She uses her comedic and improvisational skills as she asks questions about dating and relationships. Anna interviews as "Karen Sarducci" a studio executive along with her sons Milo and Ventimiglia. In the second segment Anna, Sim Sarna and their guest call a listener and offer "unqualified" advice. Obviously Anna Faris admits that she and her friends are not qualified to give advice on dating and relationships, but her humor on the subject is hilarious.
17. Unqualified Book
It may not be the book she planned to write after finishing college at the University of Washington, but Anna Faris wrote "Unqualified" and was published in 2017. The book is part memoir and part of her webisodes from her podcast by the same name. Anna is honest in a humorous way about a lot of subjects that she never thought she'd share with the public. The book is a success, but unfortunately it was published just after Anna and Chris Pratt announced their separation. According to The New York Times, Anna has always hidden behind characters. This book shows the real her.
18. Mom
Anna Faris delved into her first sitcom with the premier of "Mom" in 2013. The Chuck Lorre created CBS show is a comedy about a Christy Plunkett (Anna Faris) and her mother Bonnie (Allison Janney). Both are recovering alcoholics trying to rebuild their relationship with each other. For a serious topic like addiction recovery, "Mom" creates just the right amount of humor. The show's characters are all great as they explore the hardships that come with recovery and relapse as well as other subjects like rape, teenage pregnancy, adoption and overdosing. "Mom" is in its sixth season and has been nominated for several awards. Janney has won a few, but the comic timing of Janney and Faris is what makes the show great.
19. Overboard
In 2018 Anna Faris returned to the big screen. She and Eugenio Derbez starred in the remake of 1987's "Overboard" starring Goldie Hawn and Kurt Russell. In the remake Anna plays the character that Russell played in the original, a struggling single working parent. When Derbez, a wealthy playboy, has amnesia, Anna's character convinces him that they are married.
20. What's next?
For over two decades, Anna Faris has had pretty steady success. She found success in film early on and now she has steady television work. She edged back into film with the movie "Overboard", and we're sure she will continue to do well in both genres. Plus, she has a Podcast and a book. One of the smartest things that Anna has done is stick to the genre she knows best. She's great at comedy, especially slapstick comedy. She's not afraid to let the world see her flaws. She has a great support system.
Tell us what's wrong with this post? How could we improve it? :)
Let us improve this post!