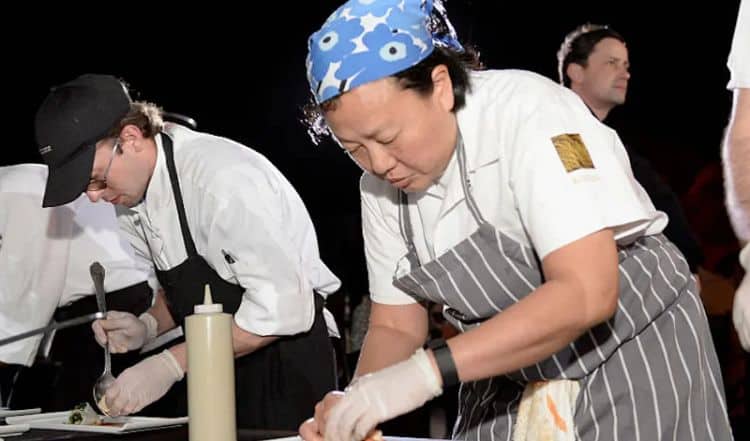 When it comes to cooking, Anita Lo has done a little bit of everything. With over 20 of experience in the culinary and restaurant world, Anita has made a name for herself as a talented chef and fearless business woman. She's cooked at some of the best restaurants in the world and even opened one of her own. She has also become a TV star in the process. Over the last several years, Anita has appeared on almost every cooking competition show there is. She's been on Iron Chef, Chopped, and Top Chef. Whether a judge or competitor, Anita always brings her best and all of her colleagues love her for it. Continue reading for 10 things you didn't know about Anita Lo.
1. She Has A Degree In Literature
Anita Lo's path to becoming a professional chef wasn't a straight line like many of her contemporaries. When the time came for Anita to enroll in college, cooking wasn't even on her mind. She was torn between deciding whether to major in math or French and literature, and ultimately decided to go with French literature. She earned her bachelor's degree from Columbia University. During her time as a student, she studied abroad in France and fell in love with the culture.
2. She Went To Culinary School In Paris
After enjoying her trip to France, she decided to return to Paris after she graduated from college. She enrolled in culinary classes at Riz Escoffier school. The classes were taught in French and translated by an intern. Eventually, Anita became the intern who was translating.
3. Her Father Passed Away When She Was Only 3
Anita suffered a very tragic loss when her fathered passed away when she was just 3-years-old. Although she never got the chance to know him well, she did find out that he loved to cook dishes from his homeland of Shanghai. Anita's mother remarried a man from Denver and Anita remembered being surrounded by many different cultures as a child.
4. She Never Wanted To Open Her Own Restaurant
It's easy to assume that opening a restaurant is every chef's dream, but that's not true at all. Anita actually never wanted to be a restaurant owner. She told the Columbia Spectator, "I never wanted to open my own restaurant, the reason why I wanted to was to have creative freedom. My former employer was like, "You don't want your own restaurant, don't open your own restaurant." It's a lot of headache. It's just… you're responsible for so many people, it's really different."
5. She's Cooked For The White House
Anita has had a lot of cool moments in her career, but one of the coolest was definitely the chance to cook for former president Barack Obama at the White House. Anita says that the experience was incredible and that everyone she encountered at the White House was very friend.
6. She's An Author
If you've always wished you could throw down in the kitchen like Anita, there's finally a glimmer of hope that you can. Anita has released two cook books over the years. Her most recent, Solo: A Modern Cookbook for a Party of One, was released in 2018 and is perfect for people who typically only cook for themselves.
7. She Loves To Travel
Anita has always loved to travel and she's gotten the chance to visit many countries throughout her life. However, when Anita travels, it isn't just about visiting the local tourists attractions. As a chef, travel has always been a way for Anita to experience foods and cooking styles from different cultures.
8. She's In A Relationship
When Anita wrote her book, Solo: A Modern Cookbook for a Party of One, it came from a very personal place. She had spent many years of her adult life as a single woman, which resulted in her having to cook for just herself. Those days are officially over, though. Anita Lo is in a relationship with fellow chef, Marry Attea, and the two have an adorable dog together named Kinako.
9. She Partnered With No Kid Hungry
Anita has made it a point to use her platform to give back to those in need. She has partnered with an organization called No Kid Hungry which is dedicated to making sure kids have access to food. Since working with the organization, Anita has become a dedicated supporter of the cause and has used her talents in the kitchen to help.
10. She Didn't Grow Up Cooking
Many stories of professional chefs involve them cooking a lot during childhood, but that's not how things went for Anita. Although Anita was always interested in cooking and would sometimes help in the kitchen, her mother did most of the cooking when Anita was growing up.