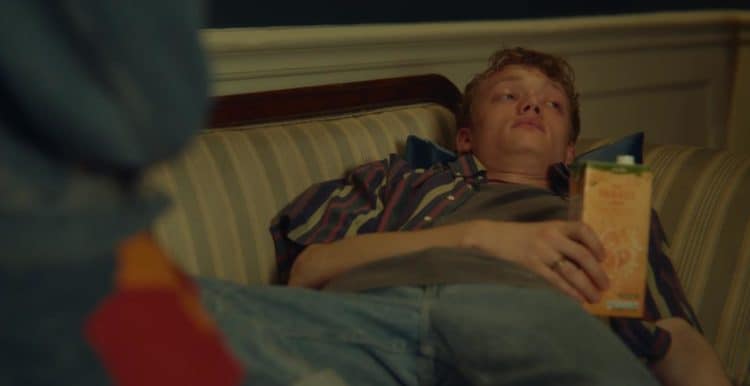 From the moment Jojo Macari made his first on screen appearance, it was clear that he didn't come to play around. He was one of the lucky few actors who was able to land a big opportunity for his first job and he certainly didn't take it for granted. Jojo is keeping the momentum going with a role in the upcoming Netflix show The Irregulars. The series features a cast of talented young actors and there are people all over the world who are looking forward to seeing what they can do. Despite the uncertainty that 2021 is bringing overall, it looks like it's going to be a great year for Jojo. Here are 10 things you didn't know about Jojo Macari.
1. He Was Discovered At His Father's Store
Jojo's father owned a local instrument shop where Jojo often worked while he was in school. Little did he know it would be this instrument shop that would help him get his big break. Jojo told Interview Magazine, "One day this guy comes in and wants to buy a trumpet, and we start talking, and he's like, 'I'm a writer,' and I'm like, 'I'm an actor, and if you buy this trumpet, I'll tell you more.'"
2. He Has Theater Experience
It may seem like Jojo's acting origin story is based on a stroke of luck, but that isn't entirely true. Jojo has also put lots of time into his craft. Although his on screen resume may be a little on the skimpy side, Jojo also had some theater experience under his belt. Most recently, he was in a production of The Past is a Tattooed Sailor.
3. He Hopes To Make It To Hollywood Some Day
Jojo was born and raised in England, and that's where he's been working so far. Although he loves the British entertainment industry, one day he hopes to make it across the pond to Los Angeles. With L.A.'s reputation in in the industry, it's easy to see why actors flock there.
4. He's A Musician
Now that you know Jojo's father owned a music shop, it's probably not much of a surprise that Jojo spent a lot of time around music over the years. In addition to being a fan, Jojo is also a musician himself. He plates with two bands: Koates and Rats and he loves performing live.
5. He Likes Playing Complex Characters
Even this early in his career Jojo is no stranger to taking on complex roles and it's actually something he enjoys. He has no desire to play it safe and this is probably one of the things that really draws viewers to him. These types of roles allow him to show the versatility of his skills.
6. He Loves To Travel
From what we can tell, England is the only country Jojo has lived so far, but that doesn't mean that he doesn't like getting out and seeing the world. Jojo always looks forward to getting the chance to travel and he has been able to visit places throughout Europe. It's unclear whether or not he's been to the United States.
7. He Has A YouTube Channel
Jojo certainly isn't a YouTuber by any means, and there's a slight chance that he actually forgot he even has a YouTube channel. One of the good things, however, is that everything online pretty much stays their forever. Jojo started his channel in 2013 and has only posted one video.
8. He Learned Knife Fighting For His Role In Hard Sun
Sure, Jojo doesn't have a very extensive resume, but that doesn't mean he hasn't gotten access to some cool opportunities. The chance to be part of Hard Sun was a good experience for Jojo for a number of reasons. Not only was it a great accomplishment personally and professionally, but he also got trained in knife fighting.
9. He Only Has 1 Film Credit
So far, Jojo's focus has mostly been on taking small screen roles. With the success many TV programs are having these days, it's easy to see why lots of actors have chosen to stick with film. As his career continues to flourish, there's a good chance that we could see Jojo in more and more movies.
10. He's Not Afraid To Be Himself
The entertainment industry is known for a lot of unpleasant things, and one of them is perpetuating stereotypes and other ideas of how people 'should' be. Jojo doesn't seem to buy into any of that, though. He is unapologetically himself at all times and he doesn't plan on changing.
Tell us what's wrong with this post? How could we improve it? :)
Let us improve this post!