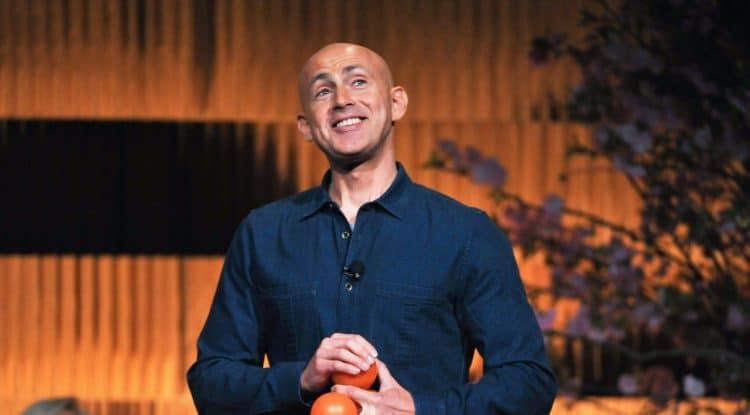 Andy Puddicombe has done more in less than 50 years on earth than some people could imagine in multiple lifetimes. Born and raised in England, Andy is best-known for the work he's done as an author and as a meditation and mindfulness instructor. His ability to make these concepts easily understandable has made him a big hit among people all over the world. He is also the co-founder of Headspace, a healthcare company with a primary focus on meditation. As his business continues to thrive and his reputations grows, Andy is taking it all in and not letting any of it go to his head. Keep reading for 10 things you didn't know about Andy Puddicombe.
1. He Studied Circus Arts
When I said that Andy has done a lot during his lifetime, I wasn't exaggerating. Before he became well-known in the meditation and mindfulness space, Andy had his sights set on the circus. He studied circus arts in the early/mid 2000s where he learned all sorts of cool tricks.
2. He's A Cancer Survivor
Andy does his best to maintain a positive mindset, but that doesn't mean that positive things always happen to him. In 2013, Andy shared that he had been diagnosed with testicular cancer. He credits his dedication to recovery with helping him get through the illness. He told The Guardian, "Rather than it being a terrible experience, it became a transformative one. It may sound a bit fluffy, but the reality is anything but. In fact, it was life-changing."
3. He's A Devoted Family Man
The world may see Andy as a meditation and mindfulness super star, but when he's off the clock at home, he's simply a husband and father. He and his wife, who works as a nutritionist, have two sons together. When Andy isn't working, he is spending as much time with them as he can.
4. He Loves To Travel
As someone who loves to have new experiences and learn new things, it's no surprise that Andy also likes to travel. He has been fortunate to visit lots of places over the years across several continents. In addition to his travels, Andy has also lived in different parts of the world.
5. He Was A Buddhist Monk
Andy initially planned on studying sports science, but in the early 90s he decided that he wanted to change paths completely. He left the UK and and traveled to Asia where he began training to become a Buddhist monk. It was during this time that he developed an interest in meditation.
6. He Enjoys Helping Others
Of course now that Andy has transitioned into the business world, there's a money-making aspect to the work he does. At the end of the day though, he is genuinely passionate about helping other people. He loves sharing tools and resources to help people become more mindful.
7. He Was In A Car Accident Caused By A Drunk Driver
Andy's decision to become a Buddhist monk was partly sparked by an unthinkable tragedy. He told Healthyish, "When I was around 18, there was an accident I was involved in where a drunk driver crashed into a group of us. I wasn't hit, but a lot of people were, and it killed two of the group and seriously injured about 12 others. I think that was a real turning point when I started to question what I was going to do with my life, and what was going to give it some meaning."
8. He Pretty Much Eats The Same Breakfast And Lunch Every Day
Could you imagine eating the same thing for break and lunch almost every day for years on end? Most people would probably answer that question with a hard no. For Andy Puddicombe, however, that's reality. While talking to Healthyish he shared, "…every morning I have a vegan CORE bar with nuts and fruit and sheep's yogurt, and every lunchtime I have a vegan chocolate protein shake. And that's, yeah, pretty much every day."
9. He's Worked With The NBA
Andy's meditation work has gotten him lots of cool opportunities over the years including the chance to work with some of the best basketball players in the world. Through Headspace, Andy has worked with NBA and WNBA players to help them develop mental toughness and learn how to improve focus, confidence, and stress management.
10. He's Most Creative In The Morning
When you're a creative person, it's important to understand when you're most productive. For Andy, that time is during the morning. He is a true morning person who enjoys getting up early and getting started on whatever projects he's working on. On the flip side, this means that he typically goes to bed very early.