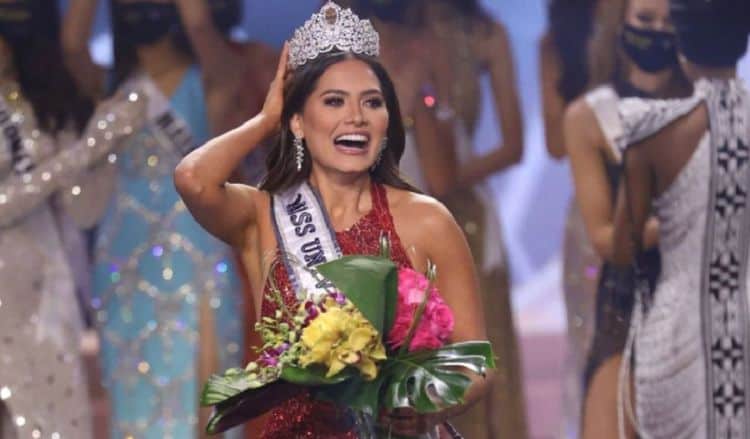 When Andrea Meza started her pageant career in 2016, she had no idea that she could eventually become Miss Universe. In fact, a part of her even thought that it was impossible. Now, however, that day has come, and she couldn't be any more excited about her new title and all of the opportunities that come along with it. Andrea beat out contestants from all over the world to earn the coveted Miss Universe title and she became the third Mexican woman to accomplish that goal. As she settles into her new role, Andrea is looking forward to making a positive impact, not just in pageants, but in the world as a whole. Keep reading to learn 10 things you didn't know about Andrea Meza.
1. She Comes From A Diverse Background
Andrea was born and raised in Mexico and she comes from a large family. She is very proud of her Latin roots, but that isn't the only thing that makes up her background. Andrea also has Chinese ancestry although it's unclear how much and from which side of her family.
2. She Studied Software Engineering
There are some people out there who may think that Andrea is nothing more than a pretty face, but that couldn't be any further from the truth. Andrea also has the brains to back it up. She attended Autonomous University of Chihuahua where she graduated in 2017 with a degree in software engineering. After graduation, she began working as a software engineer.
3. She Is A Vegan
Health and wellness are two things that are very important to Andrea, and she has decided that being vegan is a key component for her own health. While we know that she is vegan, we aren't sure when or why she made the decision. Many see her win as Miss Universe as a huge win for vegans all over the world.
4. Ximena Navarrete Is One Of Her Inspirations
From the outside, it is easy to look at Andrea and assume she must be brimming with confidence all the time, but that simply isn't true. She's dealt with self-doubt just like everyone else, especially surrounding her chances of becoming Miss Universe. During an interview with ABC News, Andrea said, "I used to think that Mexican people were not able to get to these places and to be in these high positions, and after she won, she [Ximena Navarrete] changed the mindset that I had".
5. She Is An Entrepreneur
Competing in beauty pageants isn't the only thing in her life that Andrea is dedicating lots of time and energy to. She is also in the process of launching an athletic wear company called Andrea Meza Activewear. At the moment, it doesn't appear that she's started a website for the business venture.
6. She Loves To Sing
Music has always been a big part of Andrea's life and it's one of her favorite forms of expression. Andrea enjoys singing and she has a great voice. While singing has become one of her favorite ways to pass the time, it doesn't look like she's ever attempted to pursue music as anything other than a hobby.
7. She Enjoys Trying Different Foods
Just because Andrea is a vegan doesn't mean that she can't enjoy a variety of food. She loves trying different dishes and often shares her food adventures with her followers on social media. She also isn't afraid to let her sweet tooth get some attention every now and then.
8. She Likes To Draw
Andrea has a very artistic side to her and she's a very talented artist. She loves to draw and sometimes shares her sketches on Instagram. We aren't sure exactly how long she's been drawing or what initially sparked her interest in the craft. However, by the looks of things she's been drawing for a long time.
9. She Is A World Traveler
If you ask people what they have on their bucket list, most people will probably have at least one travel-related item. Luckily for Andrea, she's already gotten the chance to travel to places that lots of people can only dream of. Some of the destinations she has visited include the United States, England, China, and Italy.
10. She Loves Sports
Don't let Andrea's pretty face fool you into thinking that she's too dainty to like sports. She is actually a big sports fan and she has some pretty impressive basketball skills. In a video on her Instagram profile, Andrea showed her followers that she has more than a few basketball tricks up her sleeve.