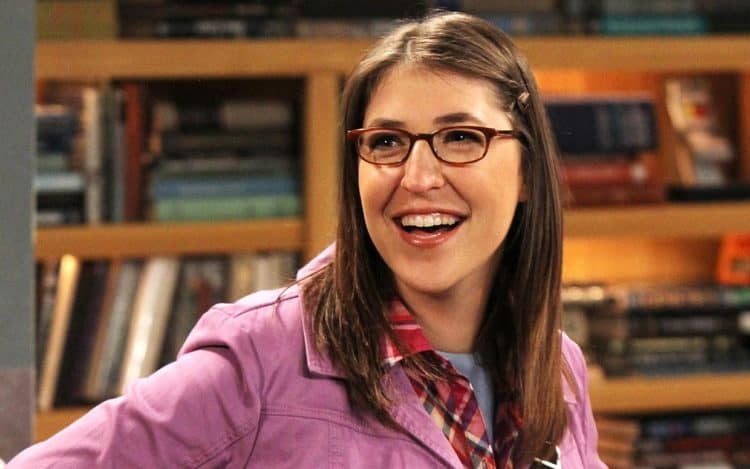 Since coming to prominence as the titular character in the NBC sitcom Blossom, Mayim Bialik has gone through several different incarnations- eco-warrior, restaurant owner, author, neuroscientist, and neurobiologist Amy Farrah Fowler in CBS's massively popular sitcom, The Big Bang Theory. Since the show ended in May this year, Bialik has returned to active parenting duties, but if her past record is anything to go by, it's unlikely we won't see her popping up on our screens again soon. Find out more about the multi-talented star with these 10 quick facts.
1. She's a multi-millionaire
Mayim is living proof that not all former child actors end up squandering their talents (and fortunes) as soon as they hit their twenties. The actress has been working consistently since she started in the industry over 30 years ago… something that is more than evident from the very healthy state of her bank balance. According to Celebrity Net Worth, Mayim is sitting on a very pretty fortune of $25 million.
2. She's won multiple awards
Mayim has been racking up the awards since the late 1980s, and she's shown no sign of stopping since. Her first honor, a Young Artist Award for Best Young Actress in a Motion Picture Comedy or Fantasy, was awarded in recognition for her work on Beaches. Further nominations for her performances in Empty Nest and Blossom followed, and in 2012 she was awarded a Best Supporting Actress in a Comedy Series by the Online Film Critics Society for her performance in the Big Bank Theory. She won again in the same category the following year, while in 2016 and 2017, she won Best Supporting Actress in a Comedy Series at the Critics' Choice Television Awards.
3. She owns a vegan restaurant
Mayim has been an advocate of the vegan lifestyle for years and has spoken publicly about the reasons behind her decision to eschew animal products on many occasions. Recently, she took her commitment to the lifestyle a step further by opening a new vegan restaurant in collaboration with chef Ali Cruddas. Mayim has described the restaurant as "a casual and low-priced place with bowls, salads, sandwiches, and wraps', and is clearly enamored with chef Ali's creations. "I had been testing out her seitans and dressings for years," she told Haute Living. "Now we can enjoy them in what's essentially a vegan healthy Subway sandwich restaurant at reasonable prices in Downtown LA. It's so exciting and my kids and I wish she lived in our house so we could eat this food daily."
4. She's going green
As well as being a committed vegan, Mayim is a dedicated environmentalist and has even served on a panel about raising environmentally conscious children… something she has direct insight into thanks to her own experience of raising 2 sons. "There are certain things I've been trying to do —- mainly with our four-year-old —- to give him a concept that our purpose on this planet is not just to consume," she told Ecorazzi. "Obviously, we need to consume some, but there are limits and things we need to think about".
5. She's the spokesperson for Holistic Moms Network
Mayim has been the celebrity ambassador for Holistic Moms Network (a community of parents dedicated to "natural' child-rearing) for several years, and has described how, as someone who's actively adopted an organic, holistic attitude to life in general and parenting in specific for years, she felt she'd met her "tribe" when she first became involved in the group's activities. "In HMN, I really found my people and it helped me gain confidence so that I did not feel defensive or ashamed to share my parenting choices when asked," she's shared.
6. She's an author
As an actress, Mayim is used to speaking other people's words, but she's no slouch when it comes to writing her own either. Her first published work came with her Ph.D. thesis, Hypothalamic Regulation in Relation to Maladaptive, Obsessive-Compulsive, Affiliative, and Satiety Behaviors in Prader-Willi Syndrome. In 2012, she released the somewhat less intimidatingly titled Beyond the Sling: A Real-Life Guide to Raising Confident, Loving Children the Attachment Parenting Way. In 2014, she released her first cookbook, Mayim's Vegan Table: More Than 100 Great-Tasting and Healthy Recipes from My Family to Yours, while in 2017, she published the parenting guide Girling Up: How to be Strong, Smart and Spectacular, swiftly followed by 2018's Boying Up: How to be Brave, Bold and Brilliant.
7. She has two children
On August 31, 2003, Mayim married her partner, Michael Stone. The couple proceeded to have two children (Mike and Frederick) before divorcing in November 2012. Two years prior to that, Mayim had decided to abandon academia and return to acting as a way of spending more time with her children, "I'm glad that I completed my Ph.D. and I'm very proud of it, but the life of a research professor would not have suited my needs in terms of what kind of parenting I wanted to do," she's explained.
8. She's going back to being a full-time mom
Since the Big Bang Theory aired for the very last time in May 2019, Mayim has been plagued by questions about what she plans to do next. For now, Mayim has returned to what she was doing before Big Bang: being a full-time mom to her 10 and 13-year-old sons. While Mayim is relishing spending more time with her kids, there's been some changes since she last filled the position. "Another amazing and profound thing about being a stay-at-home mom again is the realization that they don't need me the same way anymore. This has been kind of rough," she explained of the change.
9. She's got fond memories from Big Bang Theory
The Big Bang Theory was a vital part of Mayim's life for 9 years, and she managed to build up more than a few fond memories of her time on the show. Her fondest? According to an interview with Haute Living, they would be "Tender scenes with Jim Parsons. Coitus for the first time for Shamy. Our first kiss. That stuff stays with me".
10. She's the founder of Grok Nation
In August 2015, Mayim founded Grok Nation with the intention of creating a platform for people of all ages and backgrounds to discuss topical issues around parenting, faith, feminism, and more. 3 years later, she relaunched the website as a contemporary women's lifestyle site, introducing a newsletter, a fashion segment, and a question/ answer commentary section.