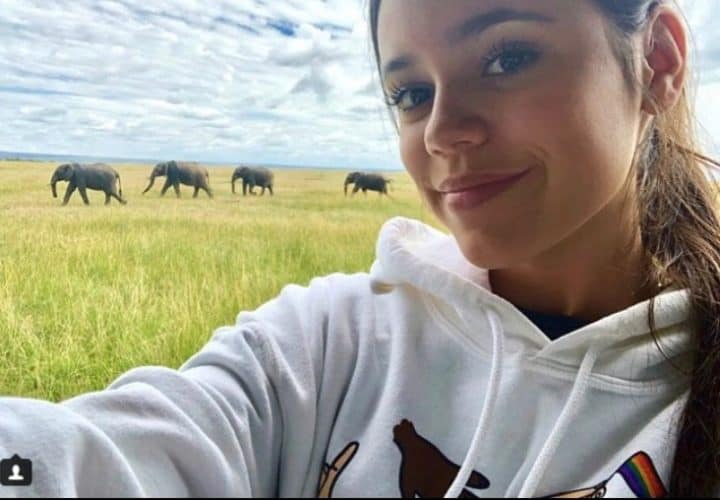 Jenna Ortega has done more in a span of six years than many actors older than she is. It's probably a prediction of what's to come from this talented young actress, but for now, we're seeing the beginning of a prolific and successful career. We can probably attribute it all to her charm on screen and her obvious penchant for acting. Ortega is a breath of fresh air in a sea of faces that come and go in the industry. Her roles in Jane the Virgin and Stuck in the Middle are wholesome, funny, and quite insightful. Ortega is surely just getting started, and we know that more's to come. Here are 10 things you probably didn't know about this rising star.
1. She's also a voice actor.
Now that you know this, you'll probably recognize her voice now when you hear her. She happens to be the voice of Princess Isabel in the famous Disney show, Elena of Avalor. Princess Isabel is Elena's younger sister.
2. She started really young.
Ortega is now 15 years old, but she knew she wanted to become an actress from a young age of six. At the time, her mother thought that it was just one of those passing things that kids say just because. However, by the time she was eight, she was already receiving offers for auditions.
3. She's a social media star.
With over 6 million fans on her musical.ly account, Ortega is considered to be an online success. She was cast as Nina in the DreamWorksTV's show on their YouTube channel, Know It All Nina. At the time of casting back in 2014, Ortega was only 12 years old.
4. She comes from a big family.
Ortega can very much relate to her character Harvey from Stuck in the Middle. She's one of 6 children, which is comprised of four girls and two boys. It's easy to get lost in the middle, but when you're a star, you're born to shine. That's exactly how it is for Ortega when it comes to her family life. There's just something about her that sets her apart from all her siblings.
5. She's a definite foodie.
If you thought you were obsessed with the Food Network, you probably have nothing on Ortega. She claims to be obsessed with food shows, not necessarily for eating but more for cooking. Ortega says she wants to learn how to cook, so she watches these shows religiously.
6. She's a certified chocoholic.
If she were to eat anything for dessert, it would have to be something, anything that's chocolate. If there were one food that she can't resist, Ortega claims that it would have to be chocolate cake. She'll also take chocolate ice cream flavors over anything else.
7. She loves spicy foods.
It could be coming from her Mexican heritage, but Ortega loves spicy food. She likes it and she certainly can handle it. If she could have one topping on pizza, it would be jalapeños; that's how much she loves more than just a little bit of spice.
8. She's an advocate for HIV awareness.
You might think it's odd for such a young person to be an advocate against HIV and AIDS, but Ortega has been doing it since she was twelve years old. Her reason is as personal as it gets considering her grandfather passed away from AIDS-related causes 20 years before she was even born.
9. She stands up against bullying.
Bullying is a big issue in today's society, and Ortega has chosen to actively speak and stand against bullying and all its negative effects in today's society, particularly among today's youth. She was a victim of bullying, and now she speaks out in behalf of those
10. She's more than just her beauty.
She's got beauty and talent, and she's got the brains to top it all. As busy as Ortega may be, she makes sure that she maintains her 4.0 GPA. She even says that it's not as difficult as it sounds. She takes advantage of the schedule that she has and truly makes the most of the opportunities that she has in front of her. As big as her brain may be, she's definitely as levelheaded as they come.